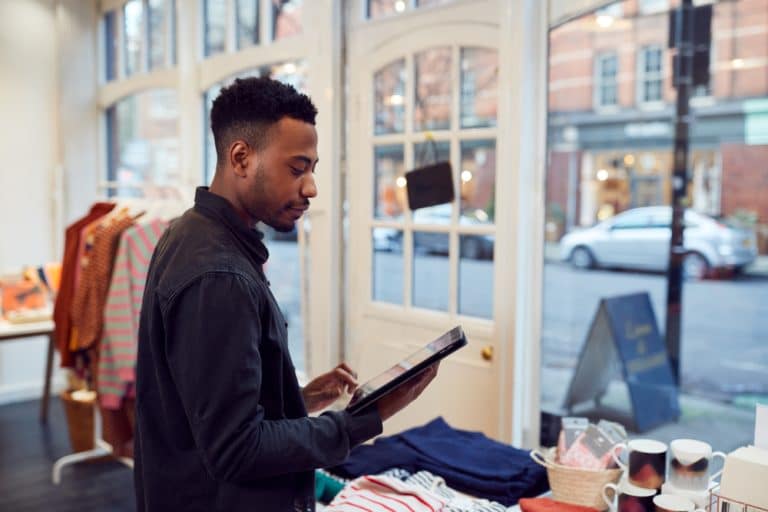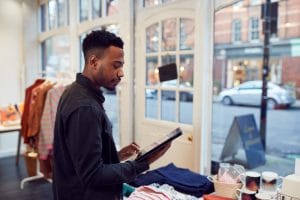 Today we will walk you through the process of starting up a shop and give you essential details along the way from how to launch your own clothing store to finding clothing suppliers and marketing your business.
The wide world of retail is certainly a busy and competitive one, but room for newcomers is always being made available. If you believe you can fill a gap in the market or add something to your local area that will prove to be a strong money maker, nothing should hold you back from fulfilling your business dream.
There are no signs of people falling out of love with buying clothes in the UK, with new records of spending being made each year.
Statista reports that, "Consumer spending on clothing in the UK from 2005 to 2020 has continually increased year after year. In 2019, spending on clothing reached an all-time high at 61.2 billion British pounds.
In ten years, from 2009 to 2020 UK consumer spending on clothing increased by almost 17 billion British pounds". So, now that you know there is demand for your business and the products it will eventually sell, it is time to do some further market research.
How to start a clothes store
There are a few key things that you need to consider when starting your own clothes store. The first, and perhaps most important, is the selection of products that you offer. It is typically best to start with a small, curated selection of items in order to ensure that you have the necessary space and resources to adequately display and support them. Additionally, it is important to pay attention to trends and emerging trends in fashion so that you can keep your store stocked with the latest styles.
Another essential component of any clothes store is customer service. You'll want to hire sales associates who are friendly, knowledgeable, and well versed in both style and trends so that they can help set your customers up with pieces that work for their unique needs and tastes. Of course, offering great customer service also means providing top-notch shopping experience – from a clean and well-organized store layout to shipping promotions and easy returns policies.
If you want your clothes store to be successful in the long run, it's also important to focus on marketing your business effectively from the very start. This means engaging in online marketing strategies like social media marketing as well as offline efforts like signing up for local vendor fairs or hosting pop-up shops at busy areas.
Researching the clothing market
As we have already established, there will always be demand for clothes in the UK; it is an industry that will continue to thrive based off people's love for fashion, and the basic need to purchase new clothes.] from time to time. This means you will be coming across different types of customers throughout your business ownership journey: those that buy clothing on a weekly basis, and those that only make purchases when they need something new.
The other thing you need to be aware of is your level of local demand. Firstly, it is a good idea to check out the competition located near your target area. Tot up how many other outlets there are selling clothes nearby. Is the high street already packed full of clothing stores? Or is this an area that is lacking retail clothing options?
You should also include non-specialist businesses that sell clothes that's similar to the type that you're intending to stock up on. This could include sports shops, supermarkets, and other types of retail stores.
Consider selling online as well as in-store. This will open up your market and award you with instant access to a far wider audience. Almost every major clothing outlet now sells online, so if you want to keep up with the big boys of the clothing industry, you should set yourself a website up and promote it through the use of social media.
This shift away from the high street has unavoidably impacted the volume of sales made by conventional premises-based clothes shops with no online presence. Practically all the significant clothing chains, for example, Next and Zara currently sell online as well as from their physical stores and online-only specialists like Asos likewise exist. Recall also that a lot of clothing brands sell direct through the eBay Fashion Outlet and through Amazon, as do physical retailers of all shapes and sizes. In April 2017 Amazon started up its own fashion brand named Find.
All good business owners are forward thinkers, so planning ahead and having a website ready to go, which will act as an online presence, for the launch of your retail company is perfect practice.
The location of your shop 
Finding the perfect location for your shop is one of the biggest early hurdles to overcome. You will want to get as much passing trade as possible, so being in a town or city centre is often ideal.
On the other hand, you should seriously mull over setting up in an out-of-town retail park or a rural shopping area. A shop in a secondary location, such as a suburban precinct might have less passing exchange than one in the city centre, however the premises costs are probably going to be more affordable. Premises in a retail park are probably going to have higher rents, yet these are regularly justified by the expanded footfall. Likewise remember that research has found that retail organisations situated in retail parks have outperformed their high street counterparts in numerous instances lately.
Between 2017 and 2022 there was a projected 13.8% growth within the UK retail park sector.
You could also investigate local crime rates, to ensure that aren't going to set up shop in an area that suffer from high levels of shoplifting, break-ins, theft, and vandalism.
What is your unique selling point? 
Your business needs to have a unique selling point if it isn't going to stand out from the crowd within the world of retail clothing.
You need to have an element that stands your business apart from others. You should look at other companies and see:
what range of products they offer
whether they stock recognised brands
what services they offer, if any
what prices they charge
what their opening hours are
what type of customer they are attracting
if the premises and fittings are modern and smart
If you haven't yet come up with a unique selling point, perhaps you need to take more time to fully develop your business idea. It is always better to be patient and enter the market at a stage where you are fully prepared.
Key three stages to developing a new business idea
Analyse your competition – Look at what's happening within the market or sector you operate in. Are your main rivals and competitors getting the better of you? Then find out exactly why that is and do something to stop it from happening. Develop a unique selling point that takes pieces of what other businesses do if you are becoming left behind.
Segment your customers– Divide your customer base into smaller groups that share common characteristics, such as age, gender, location, or lifestyle, attitude or purchasing habits. This allows you to analyse the demand for your products or services and target each segment with specific marketing, promotions and offers, ultimately helping you to seize new business opportunities.
Look at other markets – By looking into other markets and areas of the world, you may be presented with new prospects. See for yourself just how other ships are being sailed and you'll likely go a long way into finding new opportunities that apply to your own life in the world of business.
Look into future developments
Attempt to affirm that there are no immediate intentions to open a large clothing store in your proposed area which would present an unwanted degree of rivalry. Nonetheless, a few other big improvements might help your business. For instance, another grocery store can essentially expand how much passing exchange. It's likewise smart to see whether there are plans to fabricate new street frameworks which imply that local traffic will sidestep your shop. Additionally check for any proposition to force stopping limitations close by.
Find out what people are looking for
It very well may be hard for independent, smaller shops in the clothing retailing industry to get by because of rivalry from popular stores, retail chains, online specialists, mail order companies and other non-expert outlets that sell clothing. So, you should ensure that there will be a business opportunity for the merchandise that you will stock. You could do a few studies of individuals in your local area to discover:
what sort of products and brands they would want you to stock
what opening hours would suit them best
if there is a demand for a clothes hire service
what they think of your proposals in general
what they like and don't like about the existing clothes shops in your area
What are you going to sell?
The scope of items you sell will particularly rely upon the kind of shop you plan to run. You might be proposing to spend significant time in a specific type of clothes like ladies' wear or men's wear, or garments in strange sizes. On the other hand, you might choose to cook for individuals of any age and sexual orientations, as much as the space accessible in your premises permits.
Most clothes shops will normally sell some or all of the following:
men's wear
women's wear
children's and babies' wear
specialist garments for a variety of purposes and occasions, for example, workwear
These broad categories include such clothing as:
trousers, shorts, skirts and dresses
shirts, tee-shirts, sweatshirts, jumpers, waistcoats, cardigans and blouses
jackets and coats
underwear, lingerie and hosiery
hats, scarves and gloves
suits and ties
swim wear and beach wear
overalls, waterproofs, sportswear, surf wear and track suits
There may likewise be a keen interest for ethically sourced items like Fairtrade clothing, sustainably created garments and specialty items like natural cotton articles of clothing.
You may likewise think about loading embellishments, like footwear, shades, outfit adornments and calfskin products (for instance satchels and belts). You may significantly offer 'way of life' items like home decorations.
On the off chance that your shop is tiny, you may offer an effective requesting administration rather than holding a lot of stock. This will likewise assist your money with streaming as you will not have truckload of cash restricted in stock.
Notwithstanding, remember that the development in online clothes retailing implies that most things are presently promptly accessible from a scope of various retailers such countless clients may essentially go somewhere else on the off chance that you don't have what they need in stock.
Selling on eBay and Amazon
This point may seem rather obvious to you at first glance, but it is so very important these days. We want to inform you that even if you do not possess the cash to build an ecommerce website right away, you can just as easily begin to sell products over the internet by utilising services such as eBay, Amazon, and Etsy.
It is free to create a profile on these massive online marketplaces, and you will not have to do much work to get the ball rolling; these services lay out much of the groundwork for sellers as they begin. This may seem like an obvious option for clothing shops, and it is becoming more popular as time passes on.
You may as of now have your very own eBay account that you use to purchase things for you and to sell things that you needn't bother with anymore. Yet, assuming you're trading as a business on eBay you're legitimately obliged to make it clear in your postings that you're a business seller, rather than an individual. This implies that you'll either must register another business record or overhaul your own record to a business one. There's direction in the eBay Seller Centre on the meaning of 'trading' if you're uncertain about whether you really want to register as a business seller.
Likewise, with Amazon you can utilise an existing account or make another one when you register as a business merchant.
Assuming you're not previously maintaining a business and you plan to begin selling things on eBay or Amazon – maybe in a little manner in the first place – then, at that point, you'll have to inform HM Revenue and Customs (HMRC) that you're exchanging. There's direction on the Gov.uk site that gives an outline of what considers exchanging and what considers independent work. It additionally gives subtleties of your assessment and record keeping commitments.
Advertising your clothes shop
Whatever the unique qualities of your shop, you should ensure that your potential clients are aware of you and your range of products.
Try not to disregard the capability of your window display – a brilliant, routinely changed showcase is a decent approach to drawing in passing exchange. Signs in your shop window can illuminate passing clients with regards to what you offer, in spite of the fact that they can make a well organised shop window look chaotic.
You can likewise utilise your shop window to publicise any exceptional offers or promotions you are running, or to feature the new season's range.
You could promote your business in the local press, in spite of the fact that it's critical to screen the impact of this sort of publicising to see whether you are getting an incentive for cash. For instance, utilising vouchers that clients can remove from your promotion and present coming up for a rebate should provide you with a smart thought of how successful your mission has been
You might have a handout printed illustrating a portion of the remarkable elements of your business which you disseminate to local inhabitants and work environments. For instance, you could welcome individuals to a style show to see the most recent assortments.
At whatever point conceivable you should leave the entryway of your shop open to invite customers in.
The price of clothing on offer
Some suppliers suggest retail costs for their items. You may choose to adhere to these, to utilise them just as a rule or to disregard them through and through. Other suppliers may offer no direction on valuing, surrendering it to the retailer.
Getting the price right is vital. You should have sure that the effect between the expense cost and the selling cost is to the point of covering the entirety of your working expenses, including your own wages.
Likewise think about the accompanying points of concern when setting your costs:
what do your competitors charge for the same items? Don't forget that many customers will shop around for the best prices by looking online, so you may have to charge in line with your competitors
will you aim to compete on price? Undercutting your competitors can be effective in achieving sales but your business may struggle to survive on slender profit margins
do you really need to discount? People may be prepared to pay high prices for the latest season top quality and exclusive designer labels
How much does it cost to open a clothing shop?
The cost to open a clothing shop in the UK will depend greatly on how large your shop is and where you locate, since rental costs will be a major expense. The location of your shop will determine how much you pay on to rent.
Storage space for stock will be also required, so you may need a store room. You shop will need equipping with display rails and shelves, chairs, mirrors and changing facilities. A handy tip would be to contact shop fitting companies to see if they are working with large chains who will be disposing of figures and fittings so you can purchase them at a discounted price.
Lisa Mitchell who runs Lush in Sheffield a ladies fashion boutique, refitted her shop completely when she purchased the business. "Renovating costs was £15,000, although it was done expensively and involved a new floor and all new fixtures and fittings. The display shelving alone were £6,000 and the floor is maple. But the clothes are upmarket, so it has to be displayed in a nice environment," she explains.
A basic cash till can cost from £150 for a basic stand-alone machine to around £3,000 for an EPoS machine and software. To ensure the administration side of the business is taken care of you will need a computer, printer and basic accountancy software. Clothes shops suffer from shoplifting so it is worth investing in CCTV and a security tagging system if necessary.
Finally, you stock to sell. This is the expensive part, as a new business, suppliers may refuse to give you credit. If suppliers are offering you credit terms on 30 or 60-days, the supplier will need to take out credit insurance. As you are a new business they will not be able to get insurance against your business, so will request payment on delivery or up front.
You may wish to ask the following questions to the supplier:
Is there a minimum order value?
What is the cost of delivery?
What are the payment terms?
Is there a sale or return policy
The initial cost is dependent on where you are based, and the standard of shoplifting you require. With this all said, you will probably need upwards of £30,000 to get going.
Good luck on your business journey
You should now be more than ready to start a clothing retail business of your own. Armed with the knowledge provided throughout this article, and your unique business idea, you are ready to fill a gap in your target market.
The key things to take away are as follows:
Research the market before you jump into it
Create a target customer persona and understand who you are going to be targeting
Get the location right; you want to set up shop somewhere that people are going to notice you and become intrigued enough to step inside the store
Develop a unique selling point that will help you to beat competitors in your local area and online
Consider selling on either eBay or Amazon as a starting point for the online counterpart of your business venture
Advertise and market your clothing shop successfully
Give your clothing lines a price point that won't be instantly dismissed by the consumer
Useful Contacts for future clothing shop owners
Association of Suppliers to the British Clothing Industry www.asbci.co.uk
British Retail Consortium www.brc.org.uk
British Shops and Stores Association www.british-shops.co.uk
The Wholesaler UK www.thewholesaler.co.uk
Drapers magazine www.drapersonline.com