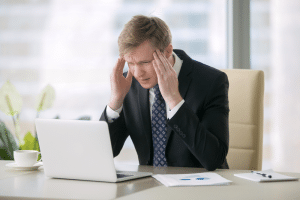 If money is tight, cash flow loans for small business could be a great way to keep going until business picks up. Here's a familiar problem for small businesses.
The basics of your business model are sound, unfortunately for one reason or another you need a short-term cash injection.
It may be because business is slow this month or because your clients are late paying their invoices.
Either way, you need money to ensure you can meet your payment obligations. here we look at ways in which as a business owner you can over come cash -flow issues as well as have a strong command of cashflow management.
What are business cash flow loans?
Business cash flow loans are a form of short-term unsecured funding to help with the businesses cash flow. The 'short-term' part is very important with these types of loans. This type of finance are not a long-term solution for managing cash flow. Business owners need to understand the importance of cash flow forecasting to help build sustainable business plans.
Cash and cash flow is the lifeblood of any small or medium sized business. If you reach a point where you don't have enough of it to meet your payment obligations, you can find yourself in severe problems. Indeed, many of the small businesses which do cease operations over the next 12 months will do so despite being in a basically sound financial position.
Small business cash-flow loans could be the answer. This a short-term lending option for small businesses and can typically last from between 30 days and 180 days. This is a good option if you only need a small amount of money and are certain you will be able to make repayments within the time period.
This can be a useful alternative to conventional business loans. Some lenders may not be willing to work with small business or lend small amounts over the short-term. Banks and financial institutions are, in general, becoming more risk-adverse which makes it more difficult for small businesses to access capital.
The problem is even greater if you have a poor credit rating. If you've missed payments in the past or have a limited payment track record many business lenders may simply refuse to work with you.
Cash flow lending is a fast and flexible way for small businesses in the UK to gain working capital, from alternative cash flow lenders in the UK.
Cash flow management for SMEs
An important part of any business is cash flow, as it is the very thing that keeps ventures alive and running, However, for SMEs it actually holds an even greater level of importance as it is at the very core of their operations. Cash flow is the amount of money coming in and out of a business and a positive cash flow level makes for more opportunities and possibilities; having a wider range of areas to develop your business within is always a positive thing to contemplate.
The accountancy firm Xero found that roughly 50,000 small businesses fail each year due to cash flow issues, and 65% of these state that access to funding is the main issue they faced. Although, cash flow issues can be caused by many different things and in many unique sets of circumstances. These issues can include making payments late, experiencing a period of reduced profit margins and other issues that direct affect financial performance within a business venture.
Cash flow issues are becoming more common as we go through the final stages of 2020, though things may start to look up a little more as we progress on into 2021. So, before we get there, ensure that you're doing the right thing by your small or medium sized business and get your cash flow going the way you want it to.
In order to help you avoid any future cash flow problems inside of your SME company, we've taken the time to come up with 5 simple steps to follow. These steps can be found listed below, so please do take the time to read them and consider how they might be a help to your venture's goings on.
Set some clear payment terms
Setting clear payment terms can occasionally be a rather tedious and challenging task to complete. This problem is particularly apparent for smaller sized businesses, where time is often very precious. However, by setting your payment terms upfront, you have the opportunity to compromise rather than having no control and will therefore have a clear understanding before entering into any agreements.
Having clarity is the key thing to think about here, so take the time to plan and set your payment terms in a way that specifically works for you and your particular sector.
Have a cash flow forecast ready and accessible  
Cash flow pre-planning is one of the very best ways to ensure that you'll be staying on top of things and not allowing them to get out of control. You'll have more chance of growing your business into something larger if you lay out a series of accurate cash flow projections, as it'll give you a clearer understanding of the money at your business' disposal. That is why this form of financial management is extremely important to those businesses which are searching for growth in key areas.
Small business owners can make a prediction of the both the profit and loss their business ventures may run into throughout the financial year, which will help them to avoid a negative cash flow. By making accurate predictions about the money your business will make, you can make changes for the betterment of your company.
Keep a watchful eye on your business' cashflow
You should aim to monitor your business' cash flow with a high level of regularity. By doing so, you'll be able to track all incomings and outgoings within your venture and trace any areas of concern. This is a great way to shut any potential problems down before they develop further into something larger and less manageable.
You'll need to keep your books updated constantly and ensure that all accounting information you have on file is correct and up to date. A general rule to follow is to make sure you have at least three months' worth of expenditure in the bank at all times, so that you can get out of any financial trouble you may find yourself in.
Stay on top of invoicing
You can take a high level of control with your cash flow management by staying on top of your business venture's invoicing. Be sure to set up a system you can utilise that helps to order and send out your invoices as soon as possible. Letting them stack up can be disruptive to cash flow. The sooner your invoices are sent out, the sooner you can get money pumped into your business, so look at it like that and get a move on when it comes to invoicing, in order to stay on top of things.
It's also worth considering how easy it is for invoices to be paid, the simpler the process, the more likely a client is to complete it quickly and therefore you'll avoid unexpected delays that could negatively impact on your cash flow.
Enhance your finances when you need to
Here at PDQ Funding, we can help your small business when it runs into financing problems. Our product is designed to meet the needs of small and medium sized businesses that need a little financial boost to get them to where they want to be. The cash advance services we offer allow your online business venture to access between £5,000 and £200,000 in fast, simple funding.
We differ from bank loans, as mentioned previously, as what we offer is classed as 'unsecured'. Instead of focusing on fixed monthly repayment loan terms, you'll need to repay the cash advance over time with a small percentage of your monthly debit/credit card sales. This fee will be agreed upon before you sign up for the loan, so don't worry about hidden fees and charges as there won't be any.
This basically means that when things are going well and your business is taking a lot of cash via card sales, you'll repay more of your loan. Although, when you're facing a more difficult financial period, try not to worry too much as you'll be repaying a much lower amount, ultimately making things easier and more convenient for you.
Why you might need a business cashflow loan?
There are many reasons why you might need a short-term cash injection, even if your business is basically in a healthy position including:
Late payment of invoices: Business is good, but one or more of your clients are being slow to pay. This can be an enormous problem for businesses. If you find yourself unable to make crucial payments, such as PAYE or tax obligations you could be in trouble despite business being good.
Seasonal business: Some businesses may be seasonal in nature. For example, if business is slow during the Christmas period you may need a cash injection to keep you going until things pick up.
You want to invest: A business is a lot like a shark – it needs to keep moving forward or it dies. You may be in a position where you need to invest in order to keep pace with your competitors. A cash flow loan may be an affordable way to boost your finances in the short-term to make that investment.
Choosing the right business cash flow loan
Whatever your reasons, you will need to choose the right cash advance online loan lender for your requirements. This starts with making certain you qualify.
Like all lenders and business funding providers will assess your application on the basis of your credit history. Compared to conventional business loans, they are more likely to be willing to work with you if you have a poor credit history, but this will vary from lender to lender. You may be able to make a quick enquiry on their website to find out if you will qualify. Some will give you a decision within a few minutes, while others will make you wait a few days.
The amount you can borrow will differ from lender to lender. Assuming you do qualify the amount could range from a few thousand pounds to several hundred thousand pounds. Interest rates will vary. In general, the better your credit score the lower your interest payments, although business funding solutions are available for a wider range of finance profiles than other types of credit.
In general, this type of cash advance loan is better for more established businesses rather than start-ups. As well as checking your credit history, they will look at the performance of your business. As such, a start-up with relatively little trading history may have to find alternative forms of finance.
This option, then, will not be ideal for every business. You should make sure you understand all the costs involved and how repayments will be restructured. As with any short-term personal loan it's vital you are certain you can pay on time. If you can't, the costs may mount up. That said, in a world in which cash flow problems are common, this could be a saviour for your business.
We can provide a business cash flow finance solution
PDQ Funding are online lenders and offer cash flow finance solutions with our Business Cash Advance. The cash advance product is an Alternative Business Funding Solution which has been designed with small businesses in mind. We understand that a businesses cashflow can be up and down with seasons or buying habits. Cashflow finance repayments reflect your businesses cash flow so you only repay when your customers pay you. Business Cash Advance is designed to match irregular rising and falling in the working capital. This cash flow finance product supports business owners in those times of year.  We approve over 80% of applications due to the speed and technology of our software integrations with your merchant account.
When the amount you have requested has been received the Business Cash Advance UK repayments are automatically deducted. A small agreed percentage of about 7-10% per transaction is held back from your card takings. The cash flow is never affected as the payment amount is the same on every card payment you take. If you have a productive and busy month, you will pay back faster. Should the month be going slow and not as productive, maybe due to a bank holiday, the amount is paid back slower. 
If your business has traded for at least 6 months and takes an average of £5.000 in card payments each month. Hold a business bank account. This means you are eligible for a Business Cash Advance .
Is my business eligible for a cash flow loan?
Business cash flow loan products are one of the easiest products to get approved for. We have helped businesses across the UK secure a this type of cashflow finance solutions should you meet the following basic requirements:
Your business is registered in the UK
It has been actively trading for 6 months
You are over the age of 18
A minimum monthly turnover or card sales that average £5,000
Apply for cashflow funding
We will first ask you some basic details to verify your business with our "Get a Quick Quote" needed to apply for business cashflow funding.
The amount you want to borrow
Average monthly card sales
Annual turnover
Trading name of your business
Company number if registered in England and Wales
Number of years trading
We will also need the following information.
Title, first name and surname
Email and phone number
Once completed just click our terms and conditions. Your application will be processed and reviewed by one of our account managers, you are welcome to call us to track the progress.
Once the application has been reviewed by a direct cashflow finance provider, one of our dedicated account managers will be in touch to discuss the terms of your loan agreement within 24 hours with a decision on the same day.
At this point you are welcome to ask the lender any questions or have concerns about the loan, these questions could including repayment plans, to make sure there are no nasty surprises along the way and are comfortable with repayments for the loan amount.
After you have carefully read through all the terms of the agreement, you will need to sign all of the relevant documentation and return it to the lender. You will then be able to access the money from your account once the lender has received your completed agreement
In summary
Keeping a positive cash flow is very often down to the actions of the business owner themselves, so ensure that you're staying on top of things and ending disturbances at their source, rather than letting them develop into something less controllable. By following the simple guidelines we have laid out for you throughout this article, you'll be able to avoid the potholes that can present themselves to small and medium sized firms, in terms of financials, and even hopefully achieve your desired level of growth in a quicker amount of time than first planned.
If your business has a requirement for cash flow lending then please complete the online enquiry form, one of our asset based lending specialists will contact you in return.
F.A.Q's
What are business cash flow loans?
Business cash flow loans are an alternative type of business finance that steps in when the business is having issues funding things like suppliers and wages.
Is cashflow finance for small business easily accessible?
Cashflow finance for small business is becoming more popular as a way to finance and short fall in a businesses cash flow. It is accessible to any business that is registered in the UK, as well as partnerships and sole traders.
How do we apply for a cashflow finance solutions
You can apply for cashflow finance solutions if you meet the criteria for this type of borrowing. Simply go to our website and make an application online.