PDQ Cash Advance

PDQ cash advance is most commonly known as a merchant cash advance or business cash advance but what does that mean? Merchant cash advance loans are becoming increasingly popular within the UK for small businesses. so we've put together a simple guide to explain the benefits behind this new type of loan, and how it can work to your advantage should you need business funding.
What is

PDQ Merchant Cash Advance?
A PDQ cash advance is a short-term unsecured business loan. The repayments are taken at source from the transactions received from clients via the PDQ machine. These repayments are charged at a percentage split, usually 5%-25% of each transaction goes towards repaying the unsecured business cash advance loan.
If your business takes card payments and needs a business funding, then a PDQ cash advance may be the right solution. It works in a similar way to a business loan but with flexible, instead of fixed, monthly repayments.
The loan is normally paid back within a twelve to eighteen month period.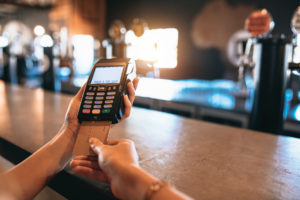 Benefits of
PDQ Cash Advance
No early settlement fees
Repayments are due when you earn, through your PDQ terminal – ideal for renovations or seasonal businesses
Merchant cash advance loans are quick to arrange and can often be deposited within five working days
Loans repayments are minimal on "bad" months with low turnover and higher repayments on good months
Merchant cash advances are generally offered with an agreed repayment amount upfront, for instance, an advance of £20,000 could have an agreed repayment of £24,000. The amount of time taken to repay the money is less clear, with repayments linked to your revenue. This can make an APR comparison slightly tricky, but is counterbalanced by the certainty of cost upfront.
To qualify for a PDQ Cash Advance, you generally only need to have been trading for 3 months and ideally be taking over £500 per month in card payments. If you don't quite meet these points, don't worry, we may still have options available to you.
Every PDQ cash advance application is considered individually and the amount charged is dependent on business performance. A company with a good performance history could negotiate a lower upfront fee as they pose a small credit risk to any merchant cash advance lender.
Repayments are automatic and calculated as a pre-agreed percentage of a company's future credit card takings, so you only have to pay back the advance and fee when the sales come in.
Advances between £500 and £200,000 are generally available and you could be approved within hours. You keep all of your non-card income, meaning you don't have to make any payments on top of the agreed card payments
Most businesses need a little extra help at times. The important thing is to know whether additional finance is needed because the business is expanding and requires more resources.
Type of businesses that use

PDQ Cash Advance
UK based sole traders, partnerships and limited companies are welcome to apply for a PDQ business cash advance. We offer alternative funding solutions for all UK businesses. That includes restaurants, hotels, pubs, hairdressers, beauty salons, MOT Stations, the list is endless, but all must take card payments via their card payment terminal.
Contact Us
Should you like to know more about PDQ Cash Advance please complete the online enquiry form, and a funding expert will contact you by return.