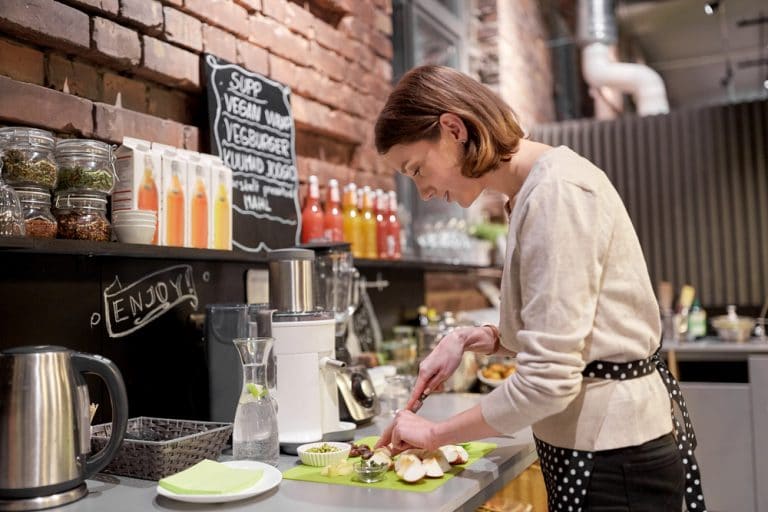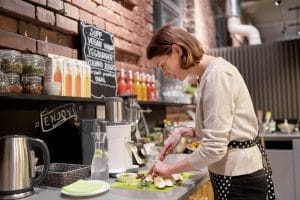 As our daily life returns to normal the emphasis is shifted towards a healthier life style with the importance is placed on healthy and nutrition. Out with fast processed food and a desire for a replacement, we look at an opportunities such as filling that demand by starting your own vegan restaurant business.
There are many benefits to living a vegan lifestyle, which is likely the main factor behind the popularity of it growing so much over recent years. The meat-free and dairy-free existence is one that offers massive health benefits to its adopters.
As well as playing a massive part in helping the environment in many ways, sticking to a vegan diet is also linked to lower risk of heart disease and sleep quality enhancement.
How to launch your vegan restaurant
If you are thinking about starting a vegan restaurant, there are a few important things to consider. For one thing, it is essential to have a clear vision for your business and solid marketing strategies in place from the outset. You will also need to develop an understanding of the current landscape for vegan businesses, so that you can anticipate and address potential challenges.
And finally, you will need to properly plan the launch of your restaurant – from selecting a location and hiring staff, to determining your budget and creating appealing menus. With careful planning, attention to detail, and dedication to your mission, you can successfully launch your vegan restaurant and become part of a growing movement towards plant-based eating.
If so, you have come to the right place, as our detailed guide is packed full of helpful tips and tricks on exactly how to do just that. We'll walk you through the method of conducting market research, writing a business plan, developing your concept idea, and more.
Read on further to find out exactly what you need to open a vegan restaurant.
How many vegan restaurants are there?
It really is no wonder that the number of vegans has multiplied in recent years, with a 700% surge in the UK and a 300% increase in the US. If you're a business-minded individual and one that is passionate about all things vegan, you may be looking into starting your very own vegan restaurant.
Conducting market research  
The initial phase in launching any business is to conduct the proper market research. This empowers you to assemble the data expected to set up the framework for your vegan or vegetarian restaurant and evaluate whether your business idea is achievable. Indeed, leading a top to bottom investigation of the vegan restaurant sector is an incredible method for dealing with consumer expectations and get a look at the competition.
By doing this, you will be able to view whether there's enough interest for you to effectively launch in your area of choice, yet additionally identify a marketing strategy that will separate you from the competitors. The market research process, especially the part where you analyse your potential competitors, will help you to understand how much turnover you can expect to make.
The main areas of your vegan restaurant market research:
Conducting market research will be based primarily on your analysis of current trends within your business' sector.
You should start by looking into what caused the initial rise in veganism and create an image of what caused its rise in popularity. Once you begin to understand this thoroughly, you will be able to identify what it is that attracts people to veganism in general and further develop your concept around these discoveries.
You may also want to look at how quickly the trend is developing in the UK. This will help you to decide on whether it is an idea worth pursuing or not. For instance, research conducted by Finder, states that 12 million people within the UK claim they will be vegetarian, vegan, or pescatarian by 2021, with the number of vegans increasing by 62% in 2019.
You should now be able to clearly see that the appetite for vegan food is extremely high, and a trend that is constantly increasing in popularity. You will not be the only entrepreneur in your area thinking about starting a vegan restaurant, but you could put your stamp on it before the market becomes overcrowded.
Understanding your target market 
It is essential you know who your target audience is, which is why the next part of this guide will walk you through how to identify it effectively and connect with it on a higher level. You should make an effort to check out:
The profile of your potential clientele, including age, gender, and income
What they typically spend when going to a restaurant
If they visit the same restaurants regularly
Do they normally go to these places for lunch with friends? Or for dinner with loved ones? You should identify the purpose of their trips
You also need to consider the fact that it isn't only vegans that attend vegan restaurants and eateries. Many of your customers will likely be vegetarian or meat eaters looking to reduce their intake of meat and dairy products, and instead increase the amount of fruit and vegetables that are in their diet. Therefore, you should probably think about balancing out your menu with obscure dishes, as well as rich meals you believe may appeal to meat-eaters in your area.
Analyse the competition
The next part of your market research procedure will involve you keeping an eye on your competition. You should run an analysis of rival vegan restaurants in close by areas.
During this stage you will look to identify the following:
Establish who your direct competitors are
Are these competing business ventures independent restaurants or part of a franchise?
How close is the competition to your chosen location?
The type of dishes these restaurants offer
How expensive the competition is and if this matches your price point
How successful is the concept of these ventures?
By looking into these points further and answering the questions they present to you, a clearer picture of the local vegan market will start to be presented.
Ensure you incorporate your indirect rivals too, for example, classic restaurants offering meat-free dishes and delivery services such as Deliveroo or Uber Eats and assess the effect they could have on your business venture.
Utilise this phase of market research to get an outline of possible suppliers and partners (like general stores or vegan wholesalers). Distinguish who you might want to purchase your goods from, and whether you want to set up a delivery service with at least one partnering company.
The rules of opening a vegan restaurant
Now that you fully understand what is involved in the market research phase of opening a vegan restaurant, it is important that we move on to the rules and regulations behind this procedure.
As an establishment that welcomes members of the public through its doors, you, the small business owner, will need to abide by several regulatory requirements when it comes to food safety, hygiene, and reception of the public.
You will also need to register the premises with your local council's environmental health service at least 28 days before you start trading. Thus, this will need to take place before the initial opening of your vegan eatery.
Take comfort in the fact that this will not cost you anything, so your financials will stay intact during this phase. All you'll need to do here is allow a local official to visit your premises and make sure and make sure the area you'll be preparing food in is both safe and hygienic. You can register a visit by going to the UK government website.
Lastly, if you plan on selling alcohol at your restaurant, you'll require a premises license. The other benefit here is that it will allow you to play live and recorded music and serve hot food and drinks after 11 pm. You can find out more information on how to obtain a premises license by clicking here.
Writing the business plan of a vegan restaurant 
The next, critical stage in our walkthrough on the best way to open a vegan restaurant is composing the business plan. Drafting a business plan is a fundamental stage in the development of any company.
A business plan is a report containing a monetary estimate (featuring the financing necessities to begin the business and the expected profitability of your venture), as well as a written section introducing its qualities and the organisation's goals for the coming years.
Your restaurant's business plan is especially significant as it will allow you to make sure that your business is potentially profitable. Additionally, it is the report you'll use to introduce your venture to the bank and potential investors to get the capital needed to launch. Therefore, having a high quality and professional business plan is fundamental.
The business plan is likewise, obviously, a report for you. Specifying the construction of your business, its brand image, and the objectives you desire to accomplish – it should fill in as a kind of perspective point for yourself as well as your team as your company advances.
Making your vegan business plan look professional
A business plan needs to be a clear, precise, and inspiring technical document to its readers. It should make people want to get behind the business idea and believe in it fully.
There is certainly a lot riding on your business plan and the way it is presented/written. This is because it will be the deciding factor that lenders, banks, and other forms of finance look at while injecting cash into your business before it has begun. If they do not believe in your business plan, they will not part with their money.
You may feel a considerable amount of pressure when putting together your business plan due to the previous reasons we have stated here. If you haven't pieced one together before, it can seem like a highly difficult task at first. You should know that there are many tools online which you can use, that will help you to structure your plan, as well as help it to appear professional.
How much does it cost to start a vegan restaurant?
The cost of starting a vegan restaurant will vary depending on the size and location of the restaurant, as well as the menu, but you can expect to spend somewhere in the region of £20,000 to £30,000 just to get your restaurant off the ground.
However, there are some basic costs that all restaurants will incur. For example, you will need to purchase commercial kitchen equipment, including an oven, fridge, and dishwasher. You will also need to obtain a food license from your local authorities.
In addition, you will need to buy ingredients for your vegan dishes. While some ingredients may be more expensive than others, overall, vegan ingredients tend to be less expensive than meat and dairy products. Consequently, with careful planning, it is possible to start a vegan restaurant on a shoestring budget.
The investments needed to make to open a vegan restaurant
The main big investment you'll make in setting up a vegan restaurant is your premises. Whatever space you choose to go for, you really want to ensure its large enough to include your kitchen, stock room, and dining area. Also, don't forget about toilets for your paying customers.
Give close consideration to the seating capacity of your dining area, as the quantity of customers you can seat at any one time will massively affect your turnover. Assuming you go too big, you may be paying beyond what you can bear for those additional couple of square feet, however picking a room where you can only host a handful of visitors in at once will scarcely be beneficial – so try to find a fair compromise.
The furniture needed to make your premises stylish, or cosy could prove to be costly. You'll likewise need to put resources into two or three cars or bikes if you want to set up a delivery service. Therefore, you should add this into your calculations.
There are also the administrative costs to remember, including staff hygiene training and paying for a premises license, as we previously mentioned.
Getting the funding required to open a vegan restaurant 
Opening a vegan restaurant requires high initial investment. You will not, nonetheless, need to bear the weight of subsidising the whole sum all alone – as there are numerous ways of raising the capital needed to launch your dream business venture.
To start with, you'll need to dunk into your personal savings. Regardless of whether this amount addresses just a humble piece of your underlying financial necessities, don't go without – as it'll go quite far in persuading possible investors of your commitment to the business.
The next step is to apply for loans from several banks. Ensure you send multiple applications to a variety of banks, so you can analyse their offers and pick the one that will benefit your business the most.
You can also consider crowdfunding. Here, there are two main options for you to think about.
The first is crowd equity, where people or private backers give funding to help your business in return for shares in your business. This can double as a chance to observe potential colleagues, who can give you guidance in regard to the creation of your venture, and permit you to divide out the overall funding and give the bank proof that your business merits supporting.
The second is donation-based crowdfunding, which includes setting up a mission on a crowdfunding stage, recounting your story, and gathering gifts from merciful people who wish to monetarily uphold your endeavour.
Being vegan food lovers, benefactors might expect a little reward connected to your business in return for their liberality, for example, a free meal or VIP welcome to the restaurant launch event. It's dependent upon you to evaluate the size of the motion as per the generosity of the donation.
Assuming your crowdfunding effort takes off, make this an argument when pitching to possible financial backers – as showing the boundless excitement for your business could go quite far in persuading them that investing in it will be worthwhile.
A further option would be to find out about regional business start-up awards and competitions that take place in your area. If you see any that give out cash prizes to the winners, you could try to get involved in some way.
We have now reached the end of our guide and we hope it's painted a clear picture of how to open a vegan restaurant. If you have any more questions or queries, do not hesitate to get in touch with a member of our expert team today and fire away.
Beyond this point, we will give you a few reasons why opening up a vegan restaurant of your own could be a highly beneficial (and profitable) business endeavour.
Inspiration to build your restaurant from the ground up?
There are so many positive aspects to launching a vegan restaurant in this day and age, so if you still need a nudge to get you over the edge, hear us out for a little bit longer. As well as becoming your own boss, developing your creation from the ground up, and putting a team of individuals together to make your dream venture become a reality, there are even more reasons to go vegan in the restaurant world.
The Veganuary effect 
Every January you could be in for boosted sales, in a time that is slow for the vast majority of business ventures out there beyond the Christmas period. People going vegan for January is something that has inspired a sharp rise in plant-based diets for many people across the UK. Last year, according to The Guardian, 130,000 people have pledged to stick to the strict diet that sees completely giving up on animal-based foods. They will opt for a healthier, more environmentally friendly solution.
The scale of this business opportunity is huge for food manufacturers and restaurant chains alike. That's the reason why we can already see a huge rise in the number of vegan options we have in supermarkets and other big-name retailers.
Greggs was truly the first of the large-scale companies to change their ways and begin to spot a gap in the market. In January 2019, the release of their 'Vegan Sausage Roll' caused controversies on social media and British television shows.
The uproar from well-known celebrities such as Piers Morgan inadvertently helped the product's popularity grow, allowing it to cause a bigger splash than it ever would have done without this attention.
This has allowed Greggs to choose to release further plant-based products, such as the new 'Vegan Steak Bake'. The fact that large corporations have begun to engage with the ever-rising vegan movement means that we will start being more plant-based as a country. If these products are on the menu and you've heard continuous news reports about them, your curiosity will lead you to trying them.
Your restaurant could help prevent future pandemics
Doctors have suggested that adopting a vegan way of life may be the way to stop pandemics, such as the one currently being caused by Coronavirus, from happening again in the future. This idea comes from the suggestion that the UK needs to drastically cut back its intake of meat to avoid a future health crisis.
The Metro have reported on these suggestions and stated, "Plant Based Health Professionals (PBHP) say the connection between major disease outbreaks and factory farming is being 'swept under the carpet' amid the coronavirus pandemic, as they join a wave of experts urging people to go vegan. The virus has brought the world's attention to the illegal wildlife trade, thought to be behind the spread of Covid-19. Scientists believe the bug jumped to humans from bats via an animal host, possibly the pangolin, with early cases related to a wet market in Wuhan, China".
The chances of many of us turning to a vegan diet are slim though, even though plant-based lifestyles are becoming vastly more popular in many parts of the world, including the UK. Over time it seems safe to state that veganism will gain popularity, to just what extent though, only time will be able to tell.
Your selling point will be on the rise
In recent times it has been proven that going vegan isn't just a simple fad or trend; it has proven to be a big life choice that many people are taking on. The number of vegans in the UK is permanently on the rise, which indicates how seriously people take it.
Just take a look at this quote from Plant Based News, "A 2019 survey by Ipsos Mori, commissioned by The Vegan Society, found that the number of vegans in Great Britain quadrupled between 2014 and 2019. In 2019 there were 600,000 vegans, or 1.16 percent of the population but only 150,000 or just 0.25 percent in 2014".
With vegans now being so widely spread across Great Britain, the competitive nature of plant-based business ventures is at an all-time high. Audience members are very active online within the vegan community and you can find common Google search phrases, such as 'Vegan restaurants Chesterfield', or 'Vegan shop Milton Keynes', amongst so many others.
Businesses that specialise in vegan products can be found all over the country, so, to attract your areas' target audience to your business venture, you are obvious going to have to stand out from the crowd.
Vegan business is a market that is becoming more crowded over time, so try and utilise your unique selling point whenever you can, as it will ensure that you are maximising your potential reach.
The number of people trying to live a more environmentally friendly lifestyle and consuming a greater amount of plant-based food is clearly still on the rise. The product releases that have led the way and the news stories written about them, have encouraged more people to try vegan diets. Therefore, each year, you'll see more businesses going at least partly vegan than ever before.