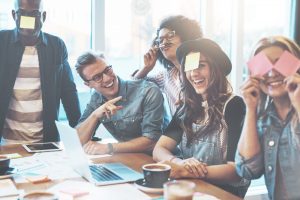 Coming up with a name for your company is an obvious, but crucial step in the creation of any new start-up business. This can be something that describes to the customer exactly what your business is, or something more abstract, the decision is completely up to you.
One thing which you will need to consider however, is the originality of your chosen name, check that no other business has the same title. GOV offer this handy name checker service to everyone starting a new business, so ideally you'll be able to look on their before attempting to make your business go live.
The name you choose will be the identity of your new business and will stick with it throughout its lifespan, so think long and hard about what you want it be called before you make the decision. Go for something memorable that carries with it some meaning to you.
How do I name my small business?
We have compiled a list of useful tips for any upcoming entrepreneur struggling with ideas on how to pick a business name for their newly formed small business.
If you ask anyone what should my business name be, you will get a different answer every time. To overcome this issue we have put together a few does and don't' to forming that perfect business name for your start up
How do you create a unique name?
If you want to build a recognisable brand, and one that is easily identifiable to customers around the UK and beyond, it simply cannot be difficult to spell or pronounce. How do you expect customers to tell their friends and family members about your new start-up business venture if they cannot even spell the name of it? This could harm you on social media, as people may not be able to find the accounts attached to your company, and in more places that you may have not even thought about.
If people cannot spell the name of your brand in the digital age, there is no chance of them spending more than 30 seconds searching Google for it. With more online competition currently out there than ever before, you need to be sure that you're catching people's attention easy. Make your business' name simple and easy to spell.
Another thing to look out for is that if your company name is 'made up' (not a real word found in the dictionary), smart phones may try to autocorrect the spelling of it and change it to something else. Be wary of this and test your new name first before finalising it.
Check the name isn't already being used
You can't go using the name of an already existing business for legal reasons. However, you will also not want to name your brand new business idea after anything else that shares the same name. Not only will you want this to try and remain as unique as possible, but also because you don't want your potential audience to be searching the internet for you, only for them to find some obscure band from a completely different part of the world.
You need a name that will only bring you up when typed into a search engine, so make sure you do some serious research into this before setting your heart on something that will struggle to deliver the required results.
The name should sound good when it's spoken aloud
Again, some of these points may seem a little bizarre to you, but your business' name should sound just as great as it looks. You know now to avoid things that are awkward to say, but you should also be aware that having a name which sounds great when it is said out loud is another beneficial feature to be on the lookout for.
Perhaps you could use some alliteration for example, think of Coca-Cola, PayPal, Blockbuster, Blackberry. All of those names either use alliteration, or sound like they do. They also all share the common theme of having huge success at a certain point in time and being one of the biggest brands out there. So, don't go writing alliteration off straight away without first carefully considering it.
People need to be able to confidentially state your company name on the radio, on an online video, on a television advert and even on the news. If you have an attractive sounding name to customers, it'll almost work as free marketing every time it is spoken out loud. This is the importance of having a 'cool' name, or a name that means something; do not go too overly obscure, no matter what your business model is.
Choose a name that doesn't limit business growth 
This is an important point to take on board for any new business owner looking to put a name to his/her venture. If you call your business 'The Best Book Store' (we wouldn't recommend that name), but then a little further down the line you decide you want to sell more than just books, your business won't be in a great place to do so.
Remember that your company name is the first point on connection and communication you'll likely have with any of your target audience members. Therefore, you should call it something that is open to future growth, but also something that will connect with people as quickly as possible. Do not allow naming confusion to limit your projected sales.
Names for sole traders
In the event that you decide to turn into a sole trader, you're permitted to work your business under your name, although you can actually use anything you like. Be that as it may, there are some lawful aspects to keep an eye out for:
The name of your business cannot be offensive; incorporate any of the terms for a public limited company (PLC) or limited (LTD) or LLP or any Welsh counterparts.
On the other hand, it can also not contain any sensitive words or expressions (for example there are some words/phrases you're not permitted to utilise except if you have official authorisation, for instance, 'English' and 'Authority').
Then, watch that nobody else is using your proposed business name. Remember, that if a sole trader at the opposite end of the country has a similar name, there probably won't be an issue. In any case, you could run into inconvenience if another local firm is operating under it.
If you are wondering how you check to see if anyway else has your business name, you are faced with multiple options. Either search around on Google for businesses using your proposed name or look through the telephone directories. The best option, however, would be to use the ever-reliable Companies House Web Checker.
Limited companies have unique factors to consider
If you are developing a limited company, you should enrol your name and other relevant details with Companies House. Remember; it's fundamental your proposed name doesn't break any principles on name endings, 'same as' rules or incorporate a sensitive word without earlier consent. Here are the standards, so you don't become stuck in the middle of the process. You should guarantee that:
Your name – ends in 'restricted' or Ltd
Your name – isn't classed as offensive to anyone in any way
Your name – isn't the same as any other found in the index of company names (which you can check by means of the Companies House site)
Your name – does exclude anything sensitive as far as words – except if you've had official consent to include them
Check trademarks and then check them again
You need to ensure your proposed business name isn't something similar or basically the same as an enlisted brand name. Find a convenient Company Name and Trademark Checker online in order to make these clarifications.
Showing your business name
Did you realise that each business should show its name, as well as other relevant details, to show clients who they're working with? In case you're a limited company, you need to show your enrolled name on all printed version and advanced correspondence and archives. It incorporates letters, sees, messages, bills of trade, solicitations, and your business' webpage.
Here's all the information a limited company must be able to show:
The place of enrolment and the enlisted street number of your business venture
The registered business number
If it is a limited company or not
Your VAT registration number on your business website
Choosing a domain name for my business
Be sure to get the '.com' for your business rather than the '.net' or '.biz', etc. This is because customers and consumers are more likely to associate a professional business with a '.com' than they are with a company that uses an alternative domain extension. If someone already has your requested domain name, they are likely not using it and may therefore be willing to sell it to you, just as long as the price is right.
As soon as your company name is fully confirmed you should head over and grab that all-important domain name. Having a professional looking website is a key to gaining an online following, so act quickly to build up your business' online profile.
Also make sure to grab your desired business name on popular social media sites such as Facebook, Twitter, and Instagram. If you have managed to come up with an original name, there shouldn't be too many obstacles in your way when trying to land those social media profile usernames.
Make sure the name is catchy enough
This may not sound all that important to you, but at the end of the day you'll want your team of employees to be able to state where they work without hesitation. You'll also benefit from customers being able to spread the word about your business through word of mouth, so ensure the company name is something that sticks in their heads for longer than the amount of time they spend on the premises.
In order to make your name catchy, it is often a good idea to call it something short and simple. A short, snappy name is a great way to catch the eye of the consumer on the high street and get them intrigued as to just exactly what your business is all about.
Ask other people about your business' name
One way to decide on a name for your company if you're really struggling to finalise your decision, is to get your friends and family involved on the decision making process. You may want to draw up a list of around five or six different potential names, hand them to a group of your peers, and wait for them to pick what they think the best option is. After doing this, you'll either find yourself with annoying split decision, or a clear winner that decides on the name of your company for you. It is often the best approach if you're stuck on a few different ideas that you like in equal measure.
The name of the game 
At the ned of the day all great businesses, be them big or small, independently run or a global phenomenon, need a great name. Take your time when deciding on what's right for your business, as a name change further down the line could potentially confuse your audience and have somewhat of a backlash effect on your venture. However, do not get too hung up on the name of your company, it isn't the be all and end all of your business proceedings.
If you have a strong business idea, take the time to give it a great name, and you'll hopefully see the profits start to roll in.