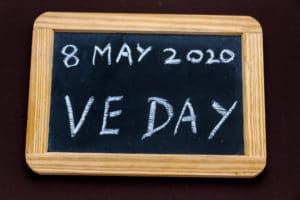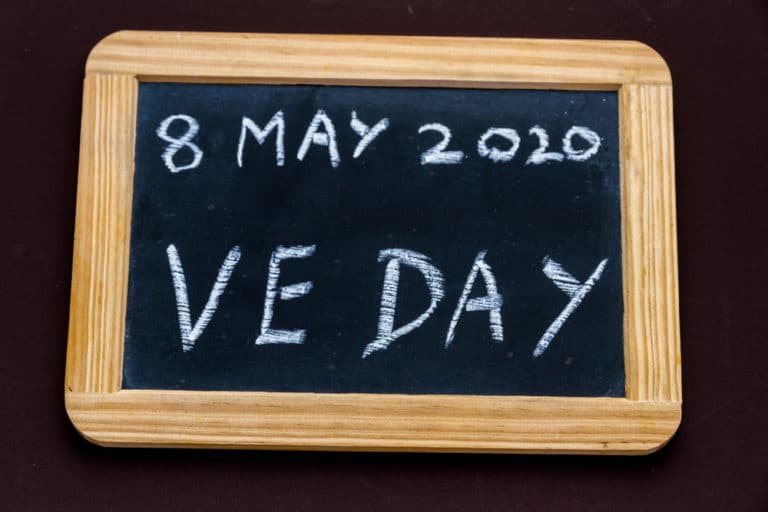 Victory in Europe day on the 8th May 1945 witnessed Britain and its ally countries formally accept Nazi Germany's surrender from the previous day that year.
On that day at preciously 3PM Winston Churchill announced to the public via radio transmission, that the war must now come to an end, following the surrender of Germany from the day before.
We now celebrate this day yearly in Britain and despite all the problems in the world right now, this year isn't going to be any different. Not only do we celebrate this day for all the brave troops that gave their lives in the fight for peace, but also for the people that work hard every day within our armed forces now. They're the ones continuing a legacy of protection and bravery and thoroughly deserve our thanks and gratitude for all that they do.
How we can show our appreciation
The government has very wisely moved our usual May Day Bank Holiday from the 4th to the 8th this year in order for a number of celebrations to take place this Victory in Europe day. This is yet another way we can be brought together even while we're having to stay apart, and though coronavirus and the whole pandemic around it is causing problems for every walk of life at the moment, many things are still going ahead.
These events have been sourced together by the BBC and will taking place all throughout the 8th of May:
10:50 BST – at a service in Westminster, Commons Speaker Sir Lindsay Hoyle will lay a wreath on behalf of the Commons. Lord West will lay a wreath on behalf of the Lords
11:00 – a national moment of remembrance and a two-minute silence will be held
14:45 – in a special programme on BBC One, extracts from Churchill's victory speech to the nation announcing the end of the war in Europe will be broadcast
14:55 – solo buglers, trumpeters and cornet players will be invited to play the Last Post from their homes
15:00 – as Churchill's speech is broadcast, people will be invited to stand up and raise a glass in a national toast, saying: "To those who gave so much, we thank you"
20:00 – another television special will feature Welsh soprano Katherine Jenkins, actor Adrian Lester and singer Beverley Knight, who will be performing some well-known songs from the 1930s and 40s. The programme will culminate in the nation being invited to sing along to a rendition of wartime classic We'll Meet Again
21:00 –the Queen's pre-recorded address will be broadcast on BBC One at the exact moment her father, King George VI, gave a radio address 75 years ago. It will be her second televised message during the coronavirus outbreak after a rare speech to the nation last month
21:30 – Spotlights will light up the sky in Portsmouth to recall the experience of blackouts during the war. The local council says the lights are also to remind people "that lighter times will come again"
Love for our armed forces 
Showing appreciation to those that need it can inspire them even further to continue doing a brilliant job; this is something we've been highly effective at recently with services such as the NHS, where every Thursday evening at 8pm we have applauded their hard work in our thousands.
That same level of appreciation needs to be conveyed this Friday, so make an effort, join in with one of the many street parties from your own driveway and prove that we can still achieve things together regardless of social distancing rules and the like. Together we are stronger and we need to show people how highly valued they really are in times like these.
You can choose to decorate your house, just as many others currently are, with flags and bunting, or you can make some VE-inspired snacks if that's more your kind of thing. Whatever talents you have, display them within the VE celebrations on Friday and join in with the rest of your street or neighbourhood. 
VE silence 2020 – when is it
 There will be two minutes of silence during VE day to commemorate all of those that gave their lives during the second world war, though this day the Royal British Legion have said that it will also be to think of those that have struggled throughout the coronavirus outbreak over the past few months.
They have said that, ""At 11am, we're encouraging people across all generations and communities to take part in a national moment of Remembrance and pause for a Two Minute Silence to honour the service and sacrifice of the Second World War generation and reflect on the devastating impact Covid-19 has had on so many lives across the world."
"There is no right or wrong way to take part in the Silence, some may wish to stand at their windows, step outside their homes while remaining distanced from others, watch the broadcast on television, or simply sit in a quiet moment of reflection".
Following this there will be a repeat of the Winston Churchill speech that he made to announce the end of the battle with Germany during the second world war in 1945, which will be 75 years ago to the day. Churchill also mentioned the (then still to come) Victory over Japan day in this speech, as he stated that we would still need to overcome that threat in order for World War II to truly be over.
Business loans for members of the military service
The Ministry of Defence has released new statistics and predicted that that by 2028, there will be around 1.6 million UK-based, armed forces veterans. At the moment around 4% of those go onto begin their own business; this number could definitely quickly rise. Here at PDQ Funding we aim to help veterans go onto building their future businesses with the use of our loans and methods of funding. We have specially designed programs for veterans to received business boosting funds.
Your military service doesn't necessarily need to have come to an end, you may still be serving in the forces and are simply looking ahead to your future life. Either way, you can contact PDQ Funding today in order to receive further information and get a free quote on your potential business loan.
If you're a member of the armed forces, or have been previously, and you're thinking of starting up a business venture, a business loan for veterans may help to gain traction.  You should look into exactly what funding opportunities are at your disposal, you may just have more helpful schemes to take advantage of than you think.
Use this day to celebrate the many men and women that gave their lives for the safety of our future during World War II and remember all the sacrifices other people have made for us in the past. Now is a time for us to simply follow the rules in order to help other people all around the world, which if we're honest, really isn't that difficult of a task.