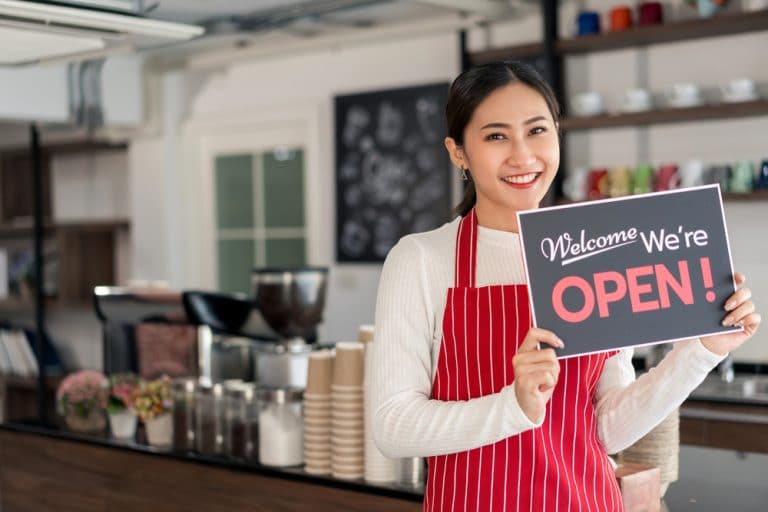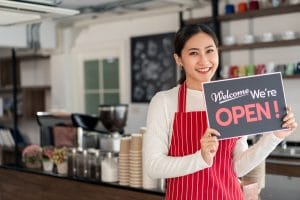 Do you think you can serve up the best drink in town? Check out this bite-sized guide for helpful advice on opening a coffee shop
As the UK has embraced café culture over the past couple of decades, its neighbours in continental Europe have lagged behind us – a high street without Costa or Starbucks is a weird sight indeed.
A variety of opportunities are offered by the coffee shop industry for budding entrepreneurs with coffee shop ideas. According to Mintel's 2016 research, the UK coffee shop market has experienced its fastest growth since 2008, when it was worth £2.2 billion. It reached £3.4 billion in 2016.
Also in the UK, coffee shop sales are on the rise. Between 2015 and 2016, sales increased by 10.4%, the largest year-over-year increase in five years.
Starting your own coffee shop
A coffee shop is the perfect place to gather with friends, catch up on work, or simply relax with a cup of your favorite brew. However, starting your own coffee shop can be a daunting task.
There are a few key things you'll need to consider before taking the plunge. First, you'll need to find the perfect location. Look for a spot that's centrally located and has plenty of foot traffic.
Next, you'll need to develop a menu that includes both classic coffee drinks and unique specialty items. Be sure to price your items competitively so that customers will keep coming back.
Finally, it's important to create a warm and inviting atmosphere. Use comfortable furniture, soft lighting, and pleasant music to create an environment that's welcoming to all. With careful planning and execution, you can turn your coffee shop dreams into reality.
Despite the popularity of coffee shops, consumers are always seeking the intimacy that only independent coffee shops are able to achieve.
Here are the five steps to opening a coffee shop that will help you capitalise on this market:
Have a great coffee shop idea
Get valuable work experience in the coffee shop industry
Find a location for your coffee shop
Decide on your coffee shop size
Raise the funding
Know your food safety
Find out what it takes to open a coffee shop by reading on.
1. Have a great coffee shop idea
As a high-street coffee shop, you have no chance of making an impact – chains have a better handle on that sector of the market and can thus undercut your prices.
Thus, developing a unique identity is crucial – by demonstrating your independence, you can make your establishment stand out from generic high-street cafes.
Look at your business through the customer's eyes – see it from their perspective. You want to delight your customers. A word such as 'delight' might seem a bit flimsy, but when you think of it in this way you realize how powerful it is.
Do your research on the coffee shop market and emerging trends; think about how your target customer would like a coffee shop to be.
We might be able to offer unusual or ethically-sourced brews, cold brews, or reading materials or other distractions to provide a 'homely' experience rather than Starbucks' sterile surroundings.
By and large, though, quality ought to be the byword – doing things more efficiently and with more care than comparable high-street coffee shops. There's been a recent trend in quirky coffee shop ideas, from a cat cafe in London to breakfast cereal cafes, so make sure you find your niche within the industry!
2. Get some work experience
You should at least spend a few weeks – if not months – working in a coffeeshop if you've never done so before to understand how to run one and what it takes to succeed.
This time can also be used to learn how to make your coffee business successful. You will find many coffee shop owners to be surprisingly helpful as long as you're not going to compete directly with them.
3. Choose your coffee shop location
It is important to choose a location with high footfall: two-thirds of people buy coffee on the way to another place, so it makes sense to put your coffee shop there.
It will not be cheap, though – you may want to move to a larger space away from the tourist area and use that money to purchase better beans and improve the quality of your coffee.
However, in most cases, you should look at where the largest chains are setting up – these are carefully selected areas that will draw in large numbers of customers, some of whom might consider an independent alternative.
4. Decide on your coffee shop size
Would you rather install a coffee kiosk for commuters to get their caffeine fix, or a large, comfortable suite for people to relax and meet with friends?
Consider what you need in a coffee shop space, as well as how many customers you expect to attract. You will need to consider how much space and equipment you need for your coffee shop idea (and of course the costs involved). To help you, here are some guidelines:
Small coffee shop (15-45 people seated – known as covers): 500-1000sq ft
Medium coffee shop (45-100 covers): 1000-2000sq ft
Large coffee shop (100+ covers): 2000sq ft +
5. Raise the funding
When it comes to funding a new business, there are a number of options available to entrepreneurs. One popular option is to seek out investors who are willing to provide capital in exchange for a share of the company.
This can be a great way to get the funding you need without taking on any debt. However, it is important to remember that giving up equity in your company can also come with certain risks.
Another option is to take out a loan from a bank or other financial institution. This can provide you with the money you need up front, but you will need to repay the loan with interest.
Alternatively, you could consider using personal savings or raising money from friends and family. These methods may not provide as much money as other options, but they can be helpful in getting your business off the ground.
Whichever method you choose, it is important to carefully consider all of your options before making a decision.
6. Know your food safety
You must be conscientious about the relevant laws if you plan to serve food or drink to the public. The Food Standards Agency (FSA), responsible for regulating food safety in the UK, produces a leaflet called 'Safer Food, Better Business' that provides key information about serving food and what to do when it's contaminated.
You should also become familiar with Hazard Analysis Critical Control Point, or HACCP, a method that has been internationally recognized for identifying food safety hazards in the preparation of foods.
F.A.Q's
Is it possible to open a coffee shop in the UK?
Yes, the UK coffee shop market booming, there's never been a better time to open your own coffee shop.
Is it profitable to open a coffee shop?
Yes, coffee shops are extremely profitable due to the high profit margins and low cost of stock
What qualifications do I need to open a coffee shop?
You do not need any qualifications to open a coffee shop, just the ambition and a great interaction skill with customers.
How To Start A Coffee Shop 2022