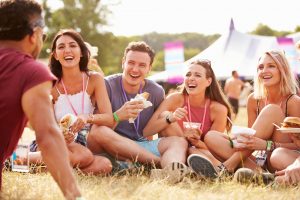 If you are the proud owner of a food vendor and considering setting up shop at one the many UK festivals making a comeback this year, there are certain things you need to be aware of.
While it is great news that live music is officially returning to the UK this year, with the likes of the recently announced Tramlines Festival and Reading and Leeds, as well as many more, the one thing on food-based business owner's minds is profit.
Will it be worth it for them to venture out into those large open fields this year and get their grills heated up? The answer is very likely a resounding 'yes'.
Will music festivals return in 2021
A reasonable concern for food vendors to have this year is regarding how music festivals are actually going to function, as we're currently in a world where Coronavirus is still very much at large. However, the vast majority of live events taking place beyond 21st June 2021 have seemingly been given the green light by the UK government and Prime Minister Boris Johnson.
These are the proposed rules commencing June 21st in the United Kingdom:
All legal limits on social contact removed
Government hopes to reopen nightclubs and lift restrictions on large events such as festivals
Testing could be used as a condition of entry
Ministers hope to remove restrictions on weddings
Upon analysing this section of the lockdown roadmap back to normality, it is plain and clear to see that outdoor music festivals are very much planned to be back on the cards for us all. This is due to the fact that by this date all adults should have had to COVID-19 vaccine, or at least the first dose of it. People starved of entertainment and the hosts of the festivals themselves will no doubt be beyond happy to hear this news, as we finally all have things that we can look forward to attending. Though, our concern today lies with the food vendors potentially attending these festivals.
With all this being said, I think it is rather clear to see that people will be attending festivals all around the country this year, so there will definitely be an audience for your business. Leeds festival has sold out for the first time in years, so there is arguably even more demand for the food items you are selling than there has been in the past.
Should my food vendor business be active at UK festivals?
These next few points will apply to festivals that take place in any given year, not solely 2021, so don't be worried that we are only thinking about the current pandemic climate. Read on to discover more about whether or not your business is right for a music festival and how you can get the most out of your weekend-long experiences from a business standpoint.
What food sells best at UK music festivals?
The question you're initially going to ask yourself is likely: Which types of food sell best at music festivals?
The genuine answer is that it relies upon the festival itself. At more modest festivals where there's only going to be a couple of vendors, your Japanese sushi bar isn't likely to bring in the punters, as individuals will be going for the old reliable options such as burgers, pizza slices and hotdogs.
Although, at a more mainstream festival that attracts crowds with some spare cash in their wallets (think Glastonbury), the basics will already be out in full force. So, at an event like this you may well stick out from the crowd if you can offer up a little something different to your potential customer base for the weekend. The exact same thing can be applied to food festivals, where people are likely going to want to try something they can't normally get their hands on.
So, even though burger vans are always going to make a large share of the cash at any UK-based music festival, you can put your own stamp on proceedings by sticking out from the crowd in the right environment. If burgers and chips is what you know however, don't be afraid of festivals of any size, as you'll likely always be on to a winner.
You'll need to be able to cover the cost of your pitch
To sell your food at a music festival, you need to pay the organisers for a pitch. This is the place where you'll your stall and dish your food out to customers.
The larger the festival is, the more you'll probably have to pay for a pitch. You'll normally have to cover this charge before the start of the event, either upfront when the expense is in the hundreds or in a couple of separate portions if it's in the thousands.
Along these lines, on the off chance that you don't have the current cash to pay for the pitch, you will not have the option to join in. Before you go any further, you need to contact the festival coordinator and ask the amount you'll be required to pay for your pitch. This is something you need to consider well ahead of time to guarantee you have the cash and a space at your targeted festival of choice.
What is it going to cost you?
Keep in mind that festivals are not always cheap and affordable events to become a part of. You need to be able to cover all of the upfront costs, not only the initial price of your pitch. So, it is a good idea to tot up all your costs before confirming any decisions and setting them in stone.
These costs will include the following (there may be more in certain situations):
The price of the pitch
The festival's portion of your profit (which can be 25–30%)
The cost of renting power from the organiser or running your own generator
Enough stock to keep going all weekend long
Any wages owed to staff members
The cost of fuel
It is never easy deciding which event your food stall should be a part of, and is anything but a choice you should make lightly without first becoming well-informed on all aspects of it. Ensure you run the numbers cautiously, considering everything, and you'll go to the best event for your business.
Think about the competition
If you find yourself thinking about heading down to Glastonbury nex year, then the chances of similar suppliers being there will be extremely high. Glastonbury has around 800 traders, over 400 of which are selling food. Therefore, you may come across similar competition in your nearby surroundings once you get that and pitch up.
Be sure to ask the festival organisers how many traders are going to be there before you commit to showing up, and if you can, further investigate on the number that will be selling something similar to you. It's okay if there are a handful of similar traders but this is where experience is key. Knowing how to outperform your competitors and attract more customers than them will definitely help with reducing the risk the high pitch fees at larger events roll in at.
Find a festival location
Think about where you will be able to set up shop at a festival as the location of your pitch will have a big impact on how much you might be able to sell at a festival or event. Be sure you understand where your pitch will be located before you sign any contracts or formally agree to anything. And remember that pitches cost more if they're in a prime location, so factor that into your thought process. 
Operating costs
We really want to beat people over the head with this point as it is so important; knowing your operating costs is essential to understanding if an event is a good move for your venture. You will have to factor in the cost of supplies, staff, parking, travel, pitch fees and deduct these from your final sales projections.
How much money am I going to make?
To wrap things up, you need to be sure that you are going to make enough cash from your time at a music festival. After all, this business assignment obviously needs to be worth it for you.
When you've chosen a festival where you can bear the cost of the forthright expense of the pitch, it's an ideal opportunity to get the number cruncher out and gauge the amount you'd be set to make at the occasion. When you know this, you can remove your expenses, and afterward you'll know whether the net revenue will be sufficient to make going to the event worthwhile.
You can never be sure on how much cash you're going to be bringing home, but the more accurate your predictions are, the better you'll be at making decisions over the course of your business career. The more experience you have, the better you'll be at assessing your expenses and benefits. That is the reason it's a smart thought to try things out at a more modest occasion prior to moving straight onto one of the UK's largest events.