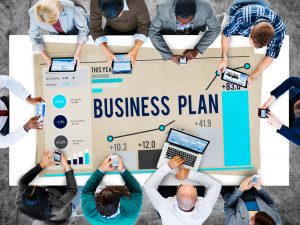 Knowing what goes into a business plan is the perfect way to ensure that you aren't missing out key information which will be key to the future of your venture.
Take your time when developing your plan as it will not only be important for guiding you through the beginnings and near-future periods of your company, but also for landing you the loan you'll need to get your venture lifted off the ground.
The importance of the business plan
All successful businesses start with a plan, it doesn't necessarily mean you have to stick to it completely over time, but it will help to guide you and keep you on the right road at the start of your business and beyond. Your plan can include all kinds of things, meaning it will likely be unique and completely different to others.
All business plans are different, but share a few key similarities throughout. Your plan may cover elements such as social media, venture capital, how much office space you'll need, etc. This is how widespread they can be and why it's such a good idea to create one. If your business required a bank loan, you would also most likely have to show your business plan to a representative of your chosen bank too.
The business plan run-through
We'll now run you through our checklist for everything you need to include in your own small business plan. Certain features may not apply to all business types, such as if you're located solely online, or are planning on having no online presence (not recommended) whatsoever, but many of the following points will be universally applicable.
Business plan template
It's always a good idea to go and get a free business plan template from somewhere on the internet before you get started on everything. This will give you a good idea of most things you need to include and ensure that you aren't missing out on any key elements that will have a negative effect on your business venture further down the line. This will hopefully make sure that you've got all of your financial information firmly lodged into the business plan, as well as how you'll cover the cost of things if your run into trouble.
There are many free templates that can be found with a simple Google search, so try not to worry about the layout too much, as you'll be able to change it as you see fit.
Here's some advice
We understand that not everyone has past experience of writing business plans, regardless of the scale; after all, this is probably why you are reading this article. So, with that in mind, we feel the need to not only let you know what to include in your business plan, but actually how to write it. While nobody can write up your own plans for you, here are our top tips on making a great small business plan:
Don't be afraid of keeping it short 
At the end of the day if your business plan is extremely long and detailed, nobody is going to want to read the whole thing, and therefore no one probably will read it all the way through. This, of course is an issue, because when it comes to gaining funding, you need the potential loaner to know the ins and outs of your future company.
The other issue with making it overly extensive is that your business plan should ideally be a tool that you can use in the future. When you get to a point where you want to make refinements to the structure of your company, you should be able to look back over your plan and finalise some decisions from there. So, keep things short and sweet and have an easy time during the years ahead.
Use it as an idea tester for your business
Working through your business plan, and beginning with a one-page pitch, can help you test the feasibility of your business' original concepts and ideas well before launch day rolls around.
As you work through everything from your branding and mission statement, to your budget and future hopes, you are best of getting some feedback in different areas and look out for any recurring criticisms that seem to be popping up. This can be as basic as having a tutor or peer reviewing some of your ideas, or leading statistical surveying and talking straightforwardly to your potential client base.
The more you test and survey components of your plan, the more effective your plan and organisation will ultimately be. This can save you from going through days building up a strategy that simply isn't doable.
Try not to become intimidated
 You should be well aware that the vast majority of people opening up small businesses in the UK year after year are not business professionals with first class degrees and a long history of success. Most new business owners are simply beginning their ventures to try new things, pursue a career in something they are passionate about and change their lives for the better.
Remember that you are in the same boat as everyone else with this and there is very little to actually be afraid of. Enjoy the experience while you can and get creative. If you have a strong concept for your business, there is no doubting that it has the chance to succeed.
Executive Summary 
This section should also include your mission statement and basically be the outline of what your company is and what it will try to achieve in the future. Use this section of the business plan as your elevator pitch if you like; if somebody only read this one part of the overall plan, they would have a clear understanding of what you are as a business and what you stand for, as long as you write it effectively.
It is important you get this section right, as it is the first and arguably most important part of the plan that potential lenders will read before deciding whether or not to award you with a business loan, so that you can get your company off of the ground. The executive summary will likely be a few pages long, so don't shy away from going into detail where you feel the need to.
You could include:
The outline of what your business is and aims to be
Company background
Market opportunity
Management overviews
Financial highlights
Competitive advantages
Business description and structure
If the last section of the plan contained your elevator pitch of the business, think of this part as going into further detail and getting into the nitty gritty and what your business actually is and what it'll sell/offer. If you're selling products and services, detail what they are and how they'll be manufactured here. Also include information on how you'll handle inventory, the availability of materials you'll need to use, as well as other operational details.
If you're planning on offering a service to your customers, talk about the value proposition they have to your customers and describe exactly what they will be. You can also cover topics such as, strategic relationships, administrative issues, intellectual property you may own, expenses, and the legal structure of your company, in this section of the business plan.
You could include:
The products and services you'll offer to customers
The manufacturing methods you plan to use
Value propositions
Product-related expenses
Market research 
In this section you will want to include your up-to-date analysis of the market your business will going into. Look at the positions of other companies in the current market and iron out which will be your main competitors. Also, be sure to include your main strategies here in this section of the plan, so mention your potential sales forecasts, any milestones you aim to reach within your first year as an active business, advertising and public relationships.
You should aim to provide as much market analysis as possible in order to demonstrate the vast amount of research you have conducted before thinking about starting a business of your own. Nobody should go into any sector with a blind eye and think they can be successful.
You could include:
Detailed market analysis
How you'll stack up against your competition
Sales forecasts and financial milestones/targets
Advertising and marketing strategies
Management and personnel
This section is rather straight forward as all you really have to do is provide bios of any company executives and managers that will have active roles within the business. You could also mention how their past experience and market-expertise will help you to achieve your business' goals/milestones.
Remember that all investors will start off as non-believers in your company and it is the role of your business plan to win them over as they read through it. Therefore, highlighting how your team has vast amounts of experience will be extremely useful when it comes to winning the lenders over. They need to know that their investments will be secure and worthwhile, so do everything you can to show them.
You could include:
Bios of your management and company executives
Information on their previous roles within the industry
How it will all help your business to accomplish its goals
Financial documentation
This is the part of the business plan where you will provide the numbers that back up everything you described in your organisational and marketing sections. Include realistic projections of your profit and loss statements, a balance sheet, and your cash flow statements for the next three years. These should be future projections, not your current accounting output.
You could include:
Balance sheets
Realistic financial projections
Cash flow statements
What else makes a great business plan?
Along with all of the things we've already mentioned (which are the key points to include), you could also add in these extra inclusions to make your plan stand out from the rest of the pack that lenders receive on a weekly basis:
Target market
Marketing plan
Financial forecasts
Long term strategies
Need a financial boost for your new business?
A start-up business loan is a form of finance for individuals who are in the early stages of planning or growing their business who have been trading for less than 24 month or have no credit history. Start-up loans can help entrepreneurs to growth their venture as well as support them to purchase stock, fund marketing campaigns, assist with advertising costs or give them straightforward working capital to launch the company.
Business start-up loans
Prior to the beginning of the Coronavirus pandemic, new start-up businesses in the UK were at record levels. Britain is rated as one of the best places to start a new business, despite all the troubles of Brexit, according to a survey from Weebly. This new breed of entrepreneurs come in all shapes and sizes. While millennials make up the largest group of these new entrepreneurs. A growing number of baby boomers are ditching retirement plans to start a second career. 45% of those surveyed were women, with many entrepreneurs finding ways to turn their hobbies into a living.
However, the biggest thing standing in the way is money and where to find loans for business. To get started you'll need enough money to buy all the equipment you need, employ people and keep the business running until it starts generating revenue. This can be the biggest challenge. Most new companies will fail within the first 24 months, so from a bank's perspective new business lending appears high risk which is why many of them will be wary about offering start-up and new business start-up loans for small Businesses.
In summary
Ensure that you spend enough time developing your small business plan, so that it is detailed, lengthy and covers all aspects that need to be covered. Hopefully by reading through this guide you will now be more aware of exactly what you need to put into your business plan and understand the reasons as to why.
Do your market research, see how you'll fit into the sector and begin to develop your target audience. Afterwards, you can ensure that you have all the correct financial information included in your documentation and you'll finally be ready to submit your business plan to potential lenders and investors. Good luck with the future of your business ventures.