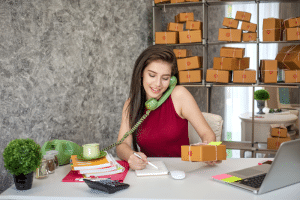 Becoming the owner of a business at a young age can seem like a rather daunting task at first glance, although if you know what you're actually doing and have some clear goals to aim for, you've got as much chance as anyone else at being successful in the modern world.
Perhaps you're fresh out of university or college and you're looking to begin your very own entrepreneurial venture, well, there's a thing or two you should know before you dive in head first into the world of business.
There may not be any older relatives you can turn to and ask for advice if you're the first of your more recent family members that's going to be starting up a business of their own. If that's the case, you're in a good position to be reading tips online and looking for advice beyond the people you surround yourself with on a daily basis.
Below you'll be able to go through our top tips and tricks to getting off to a good start as a young business owner.
Stats worth taking note of
The following statistics were collected by FSB:
There were 5.9 million small businesses at the start of 2020.
Compared with the previous year, the private sector business population increased 1.9% (+113,000 businesses).
At the start of 2020 there were 5.94 million small businesses (with 0 to 49 employees), 99.3% of the total business. SMEs account for 99.9% of the business population (6.0 million businesses).
SMEs account for three fifths of the employment and around half of turnover in the UK private sector.
Total employment in SMEs was 16.8 million (61% of the total), whilst turnover was estimated at £2.3 trillion (52%).
Employment in small businesses (with 0 to 49 employees) was 13.3 million (48% of the total), with a turnover of £1.6 trillion (36%).
Have a vision
Don't simply set up a new business because it feels like the next step for you in life or as a time filling gap between now and the start of your actual career path. Have a vision for your business and be aware of what you really want to do with it. If you aren't completely sure what your idea is or where you want to take your company in the future, you're setting something up to simply watch it fail.
Create a strong business plan that is heavily detailed in its design and that captures the essence of your business venture.
Make sure your website is secure
Any new business venture will be instantly judged on the security of its online counterparts; if it operates completely in an online environment then this is of even greater importance to you. Some customers, particularly those of a slightly older generation, will often question the security of your website, especially if it is new to them. This means that starting out as a new business online could potentially have its difficulties in the sense that you'll need to provide customers with some proof that you are safe and legitimate to shop with; this could prove to be very tough, as some people still don't even trust online banking after all these years.
Make sure your site is secure and trustworthy, the best way to do this is to seek out customer reviews and display them across your website and respective social media pages. The words of fellow customers and consumers will be much more important to potential clients, than your own words will be. Wear your positive reviews as a badge of honour and work to make every customer transaction go as smoothly as it possibly can.
Start firing off some emails to early customers
Speaking of taking advantage of the online world, you'll need to connect with your early customer base in a way that's relatable for them. This means using online communication, such as email marketing, to your advantage. Every new business should certainly look into promotional email usage and we're here to tell you exactly why that is. You see, the use of promotional emailing isn't solely for the big businesses in your industry, the smallest of business can use it to widen their reach and stay in the minds of their respective customers as well.
Brush up on your industry knowledge before it's too late
Nobody wants to have a new business start-up on their hands and then suddenly find themselves running into trouble due to a lack of knowledge in key areas, so eradicate this problem by reading up on things you'll need to know.
There are so many benefits to reading, that you're likely unaware of many of them. Did you know that it has been found that reading a book can make us smarter, improve our memory, stimulate our brains and increase our overall knowledge of something? It has also been discovered that reading can work as a better stress reliever than drinking tea, which has many health benefits of its own.
Allow online reviews to shine a light on your venture
Even if your business has already managed to gain a decent amount of online customer reviews, it doesn't mean your work is done. Though, we fully appreciate the fact that it is indeed helpful to gain plenty of online reviews, regardless of the rating attached to it. You should however note that for the very best results, you'll need to boost that Trust Pilot review score up to at least a 4 out of 5.
By gaining customer reviews through your company website itself, or through the use of online review services, such as the likes of Trust Pilot and Yelp, you're putting your venture on the map. You're getting it on the radar of your customer base, and more importantly than that, a potentially new, more extensive amount of customers. Gaining new customers is often the secret to success when it comes to the world of business, especially within sales-heavy industries and sectors, so don't be afraid of trying to branch things out.
If a customer sees a product with 1000 online reviews and compares it to a product with 50 reviews, they'll always be more trusting of the more heavily-reviewed one. This is because they can clearly see that more people have tried and tested the product and therefore it is more reliable in the mind of the customer. There is a key deciding factor to know of here though, and that is that if you have a product with a thousand reviews, which average a rating of 2 out of 5, but the competing product with only 50 reviews has a rating of 4.5 out of 5, you'll still almost certainly lose out to them.
Learn from customer complaints
If the online reviews your business is managing to collect are bad, it may not be the end of the world for you after all. Entrepreneur states that, "Bill Gates once said that your most unhappy customers are your greatest source of learning. Let unhappy customers teach you where the holes in your service are".
By taking your complaints on board in the early stages of your business' life, you'll be able to evolve as a young business owner and reach new heights in the future. Don't fear things that present themselves as barriers to you, instead embrace them at the time and see what lessons can be learnt from each individual scenario. You might just end up learning something very useful that can be used to great effect in the future.
Stick to your strengths
If you know your talents lie in a particular area, then begin to expand your business and help it to get noticed by putting them on display. Maybe you're a top marketer or a creative content maker, if so you should aim to pour these skills into your business regardless of what type of venture you own. By doing this you may be able to make your business venture stand out from the crowd, particularly if you're heading into an packed industry.
Chase your passions
By doing something you love and have a strong passion for, you'll be pouring more of your heart and soul into your new business venture, so every young business hopeful should start off by pursuing their passions. There is very little point in going into business just for the sake of it or simply to make money from a platform that won't peak your interests. Remember that you're going into business to carve out your own path, so it might as well be down a route that's worth travelling down.
Also by building your business around your own passions, you may just be able to find a niche in the market in an area you're well-informed about. This will save time on market research, as well as likely awarding you with that unique selling point many young entrepreneurs struggle to find.
Manage your time wisely
Time management is a skill needed to be successful in most positions of employment, but for the young business owner it is extremely valuable. As you're a young entrepreneur, you may be juggling your business with your studies at university or college, etc. This means that you'll have to know exactly how much time you can pump into expanding your business venture and how much time you'll need to complete your other objectives.
It is a good idea to get into the habit of keeping a diary so that you know when you'll be attending meetings, completing work-related activities and spending time on other things that are important to you. More experienced business owners will always tell you that planning and preparation is of the upmost importance when striving for success.
Find a business mentor 
Speaking of more experienced business owners and entrepreneurs, by finding a mentor that works in the same industry as you can be a highly rewarding experience for any young business owner. By seeking out helpful tips and guidance from people in the same industry as you, but with much more experience, will allow you to avoid some of the pitfalls and traps they may have ran into back in the day, while also being able to take advantage of the things that helped them to become more successful along the way.
Don't be too demanding of yourself
Any young, new business owner will make mistakes along the way and run into some problems which they'll find difficult to predict. It is important in these cases to not be too hard on yourself and get too bogged down over things that may have seemingly gone wrong. There will always be a level of naivety to the way a young business owner operates, so in reality the more mistakes you make, the more lessons you will learn and the better prepared you'll become to face up to future challenges.
Could a start-up loan be your key to success?
The number of new start-ups in the UK is now at record levels. Britain, meanwhile, is rated as one of the best places to start a new business, despite all the troubles of Brexit, according to a survey from Weebly. This new breed of entrepreneurs come in all shapes and sizes. While millennials make up the largest group of these new entrepreneurs. A growing number of baby boomers are ditching retirement plans to start a second career. 45% of those surveyed were women, with many entrepreneurs finding ways to turn their hobbies into a living.
However, the biggest thing standing in the way is money and where to find it. To get started you'll need enough money to buy all the equipment you need, employ people and keep the business running until it starts generating revenue. This can be the biggest challenge. Most start-ups will fail within the first few years, so from a bank's perspective new business lending appears high risk which is why many of them will be wary about offering start-up and new business start-up loans for small Businesses.