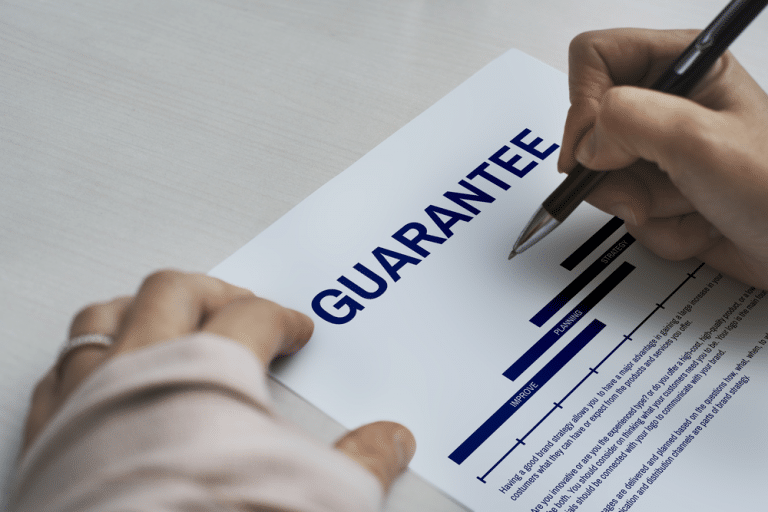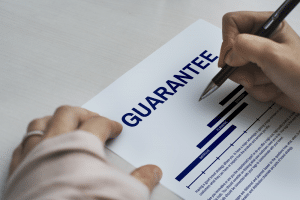 Personal guarantee's holds a company director that has taken some sort of business finance out from a lender, personally liable if the business is unable to repay money owed. A personal guarantee agreement is typically a requirement when taking out a business loan.
If you're in need of a cash injection so that your UK-based business can continue to grow, you should be aware that you're certainly not alone. A business survey has discovered that 27% of all SMEs that took part in the British Business Bank survey 2018 were financed by loans in some way.
With everything that has happened in 2021 and all the troubles that have been brought on with Coronavirus, business loans have become more important than ever before.
There can be any number of reasons why a company director might be willing to provide personal guarantees in support of a business loan, property lease or line of credit.
What is a personal guarantee?
A personal guarantee is a term personal guarantee refers to an individual's legal promise to repay credit issued to a business for which they serve as an executive or partner. Providing a personal guarantee means that if the business becomes unable to repay the debt, the individual assumes personal responsibility for the balance.
Personal guarantees provide an extra level of protection to credit issuers who want to ensure they will be repaid in full and on time. By signing a personal guarantee you're giving your creditors confirmation that they'll be receiving the required repayments from you, hence making it a more likely outcome that you'll come away with the funding your business needs
Personal Guarantee 
Setting up a new business can be a costly endeavour, with the average UK start-up costs being around £12,500. On top of the general start-up costs however, you'll also be faced with the expense of actually running the business on a permanent basis. Are you aware that late invoicing issues and cash flow problems are two of the regular downfalls of the modern day business venture? For these reasons, as well as many others, more business owners than ever before are now seeking out finance options to help their respective companies to grow and further develop.
If you're a company director with no business collateral to secure against a loan and you're facing money troubles more frequently than ever before, you needn't worry, as there are solutions out there that will fit perfectly into your situation. A personal guarantee may just be what you've been searching for.
By signing a personal guarantee you can help yourself to obtain unsecured business loans with much more ease than ever before. Many small business owners currently view personal guarantees as the only way for them to access those all-important finances they so desperately need to get through difficult financial periods.
Throughout this article we will take you through the pros and cons of personal guarantees, as well as explaining to you exactly what they are. By reading on you'll also discover the differences between limited and unlimited personal guarantees.
Does my business require a personal guarantee?
The answer to this question depends on your business type and your individual position within the business itself. You may or may not be required to sign a personal guarantee depending on multiple factors.
Are you a Limited company or an LLP?
For Limited Liability Partnerships (LLP), lenders will generally expect to be provided with a personal guarantee. All stakeholders and directors that hold at least a 20% stake in the business are likely to be required to give a personal guarantee. This is why it is important to first establish whether you're a limited company or an LLP.
Are you a sole trader or partnership?
Any and all business owners that are sole traders or partnerships with unlimited liability will always be held personally liable. Therefore, the funding will be dependent on the personal credit history of the business owner.
Unlimited and limited personal guarantees – knowing the differences
There are two different types of personal guarantee for you to consider, these are known as limited and unlimited. Not all lenders will offer you the full loan amount you are searching for and instead give you a capped funding total. Lenders will often assess how suitable you are as an applicant before deciding on what sort of offer to put forward to you. In order to do this they will look into your net worth, taking both assets and credit history into their consideration.
If your business ends up closing down due to extensive financial difficulties, or for any other reason, an unlimited personal guarantee agreement allows the lender to pursue you for the full total amount of the loan. In a situation such as this, you will also be held accountable to cover any interest fees and legal costs associated with the proceedings. If you simply don't have the money to offer, your pension and savings can be put at risk. If you still don't have the cash to make these payments at this stage, your car or home, etc. will be taken towards covering the costs.
With that being considered, you should aim to make sure you have enough financial stability before agreeing to an unlimited personal guarantee.
A limited personal guarantee is where the lender can only take a set amount from you. If you've got multiple partners in your business, this means everyone can be held responsible for loan repayments – with each of the partners owing a set personal amount if the company goes under or defaults.
The pros and cons of a personal guarantee
The following is a quick run-through of both the pros and the cons of a personal guarantee agreement that you may wish to take into consideration before pursuing one yourself:
Pros
Lend a higher amount of money
Chance to expand your business
A good option for new businesses
Decreases risk and increases security for the lender
Cons
Personal repercussions – you could lose your house, your car and other personal assets
If your assets fail to cover the loan repayments – you could be made bankrupt
If you can't pay the loan back, you will have to seek court permission to become a company director in the future
How do I lower the level of risk when signing a personal guarantee?
Firstly, like most other business endeavours, you should take the required time to assess the situation and evaluate the risk factors before signing up to anything or making any quick flash agreements. After all, this is your business venture that you're trying to save, so make sure you're doing the right thing for it.
Talk to an expert in finance
If there's an accountant you can talk to we'd highly advise discussing all your future plans with them and just generally getting their take and opinion on the situation as a whole. By getting the opinion of someone who is an expert in the field, you'll be covering your own back and protecting your business from falling into any nasty mistakes that will prove to be costly in the near future.
Think about personal guarantee insurance
Knowing your assets are on the line if the business loan repayments default is an extremely worrying possibility to think about. If you take out insurance you can cover up to 80% of the total loan amount and give yourself peace of mind that your assets won't be up for grabs. The safer you are about proceedings, the less you'll have to worry about throughout the entire process.
In summary
All in all you need to assess your options carefully and take the best interests of your business into consideration, rather than simply your own. During difficult financial moments where finances are tight and hard to come by, it can be easy to rush into something that proves to be a mistake and make some rash decisions. Don't fall into this trap, keep your options open while ever you can and contact an expert to help see you through. Remember, the more information you have access to, through both your own findings and the thoughts of others, the better your judgement will become.