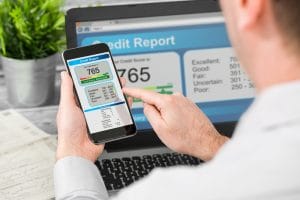 Your credit rating can have either positive or negative effects on everything from purchasing a house to applying for a small business loan.
Should you have concerns over a poor personal credit rating will prevent you from securing business finance, it might help to understand how credit rating works, and how lenders come to the decision to lend.
Today we will be talking you through how your personal credit score can impact on the commercial finance you are able to apply for and receive.
The importance of credit ratings
It doesn't matter if you are looking to purchase a new car or apply for a loan that will help your business to grow, your credit score is still going to be checked. This is what makes it so important.
The way these checks on your credit history are made will differ from situation to situation. If you are a sole trader, the checks will be slightly different than if you were a limited company for example.
Assuming you are a Sole Trader, almost certainly, your own record will be similarly as much your business' financial record. They will be viewed as very much the same. So, guarantee that your own credit rating is both protected and further developed where possible.
For Partnerships it works similarly to a sole trader, aside from both of your own credit records are checked and analysed preceding any loaning to your business. Regardless of whether you have a faultless history of credit, you may not meet all requirements for a business loan because of the bad credit of your accomplice. This can often be a difficult thing to accept, but it is often the unfortunate case.
If you run a Limited Company, it will have a business credit rating of its own. However, that doesn't block banks from determining the status of the individual credit records of the partners and directors of a company. That score however addresses the danger that you posture to either non-payment or monetary security. It likewise impacts on the amount of credit you can apply for, which again could be detrimental to your business if it is unfavourable to you.
As you can clearly see, regardless of what sort of business venture you are running, your credit score is always important.
Difference between personal credit and business credit
An individual credit rating is normally discovered somewhere close to 300-800, the higher it is the better, (700 tends to be classed as very good). While a business credit score is appraised between 0-100, again the higher the better.
Your own credit score comprises of every one of those late credit card payments, missing payments, advance arrangements, contract payments and everything about your past monetary conduct.
Each time you apply for another monetary item, it will appear on your credit record. This data comes from banks, credit card companies and store cards.
It is normally a precise record of when and where you have acquired cash and regardless of whether you reimbursed it on schedule. It will likewise incorporate any CCJs, IVAs or insolvencies you have gotten or gone through.
Anyway, it will exclude your compensation, your university loans, criminal record, stopping or driving fines, any reserve funds you own, or your clinical history.
Your business credit rating estimates the financial soundness of your organisation overall. It depends on your business' financial history including advance applications, credit accounts, advance reimbursement history and provider payment times.
With a decent financial assessment your business will find that it's both simpler to get business finance and higher acknowledge restricts just as getting lower paces of interest. A poor credit score – through missed payments or saw poor monetary wellbeing – is probably not going to have credit applications acknowledged and will very likely effect on the loan fees advertised.
While having the option to see your own credit score, which is normally offered free, seeing, and getting to your business' credit rating will require a paid for administration from a business credit file company.
Why is my credit history important?
If you are looking to develop your business at a time when your personal credit history has a few issues, things can turn out to be very difficult for you in this area. As unfortunate as this is, it is simply the truth.
Your own credit choices will have had enormous effects upon your business' capacity to acquire cash and your score is determined as follow:
Past credit performance
The debt you currently have
Time of credit
Type of credit
New credit
The two most significant parts of your credit score are the past credit execution and your present degree of obligation.
Banks, regardless of calls to make them more open to loaning to private companies, still don't care for doing as such. It implies that your own credit record turns out to be a higher priority than at any other time when attempting to get business financing.
This implies for example that if you chose to start a business account you should pass a credit check before they offer you one.
Since the banks have a steadily diminishing pool of money, they will loan out to business clients, it implies that their standards for loaning it become more severe.
Each moneylender has their own loaning necessities, and your own credit rating is only one manner by which they can evaluate how well you can deal with cash.
It is often the case that an expansion in the danger of loaning credit implies that a 'hazard premium' is added to the cost. The lower your credit rating, the higher the premium added will be, and things simply won't be as favourable for you.
Developing your business with bad credit
On the off chance that you are in a lot of debt or have a bad credit record, you ought to take care of business. As we have examined your individual accounting records are almost consistently (to some extent) connected to and will influence your business funds.
Get Your Personal (or potentially Business) Credit Report
Your credit report will show:
Existing records
Reimbursement history
Credit applications
CCJs and insolvencies
Accessible credit on your records
Your monetary affiliations (shared services and so on)
Search for any false information
Assuming you have any data on your credit record that is incorrect, you need to get them taken off straightaway. At times it may show little adjusts remarkable on advances and Visas that you thought had been settled.
Speak with creditors
For any remarkable obligations and missed payments that you might be hoping to question, reach out to the significant loan boss and open up a discourse with them. There might be a few errors, either on your or their part.
Understanding business loan underwriting and bad credit
Having a poor record can be harming to your shots at getting a business loan through a bank since bad credit approaches a lot of hazard. What's more, it doesn't make any difference the amount you fight either, the banks will have their standards, and once in a while do they adjust their perspective over issue like awful credit.
Be that as it may, there are business advances accessible for those with awful credit. The solitary inquiry is, would they say they will be ideal for your business?
The majority of alternative lenders will offer a business advance to those with poorer credit ratings, so you should understand that you still have options available to you.
Loans are regularly orchestrated that are not settled upon because of the worth set on layaway rating scores yet more explicitly with basic reference to income, net deals, business execution and projections
The reality here is that a bad credit score shouldn't block you from developing your business. Sure, it may be a stumbling block to overcome, but the options are definitely out there for you to pursue.