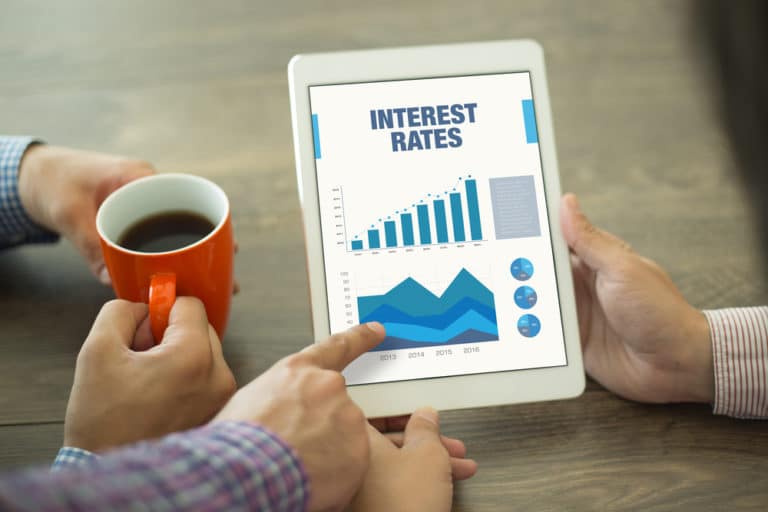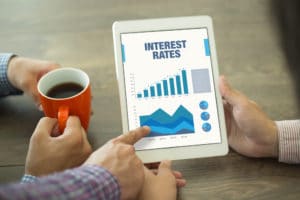 A business loan is an amount of money a lender such as a bank or alternative funding provider offers a business.
The loan is then taken on terms provided by the funder and paid back over a period of time with interest. The type of business loan you apply for is likely to depend on your business circumstances and why you need the money.
You can apply for a start-up loan to help get your business off the ground, a short-term loan to help ease cash flow issues, maybe a long-term loan to fund your expansion or take your business to the next level for example may be required.
What is an interest rate?
An interest rate is the percentage of money a lender will earn back from the amount you want to borrow. So, if the fixed rate is 7.1%, the lender will receive the amount you borrow back plus 7.1%. The annual percentage rate (APR) is simply the way lenders describe the cost of borrowing over a year.
Rates affect most of us. You might not realise it, but a change in interest rates can impact your day-to-day life; from the cost of getting a loan, through to the prices of everyday goods. An interest rate is a percentage charged on the total amount you borrow or save. Even a small change in interest rates can have a big impact. It's important to keep an eye on whether they rise, fall or stay the same.
If you're a borrower, the interest rate is the amount you are charged for borrowing money – a percentage of the total amount of the loan. You can borrow money to buy something today and pay for it later. Interest is what you pay for the privilege. It's a bit like hiring a car. Interest is what you pay to 'hire' someone else's money. If you're a saver, it's the same except the interest fee is paid to you – because banks are paying to hire your money.
The Balance states that, "Interest is calculated as a percentage of a loan (or deposit) balance, paid to the lender periodically for the privilege of using their money. The amount is usually quoted as an annual rate, but interest can be calculated for periods that are longer or shorter than one year".
What interest rate can you expect from a business loan?
The interest rate on a business loan is largely determined based on an independent assessment of your circumstances and business borrowing. There are literally thousands of unsecured business loans available to business owners on the market right now with interest rates ranging from a few percent to over 10 percent, with large variants of rates due to the large marketplace. Arrangement fees are also another cost to be taken in to account with unsecured loans.
The average rate on a conventional small business loan is around 4% to 6%, though with that said, obviously interest rates will vary among lenders and there are a lot of factors that can contribute towards those differences.
Value Penguin says that you should consider multiple aspects before applying for a business loan, "We'd caution against automatically applying for the cheapest financing you qualify for, as cost isn't necessarily the only factor to consider. You'll need to consider the size of each loan, the repayment structure, the approved use case of each loan, monthly repayments, repayment holiday and more".
What's a good rate for unsecured business loans?
When you borrow money, you will pay back the amount of commercial business finance you lent plus the apr representative. It is the interest that allows the funder to earn money. This is how they make a profit from lending money by getting more back in return. With that in mind, if you borrow an amount between £10k and £500k for your business, Apr of 5 to 10 percent is typical. This is sufficient to allow the lender to earn money on the product while keeping your repayments affordable.
Anything lower than 5 percent is considered exceptional. An annual percentage rate (APR) of 3.6%, for example, is very desirable. However, high-street banks rarely offer such enticing interest rates. For low, low rates, independent lenders are best. Nationwide Corporate Finance who lend to limited companies are a good example of such an independent lender.
High street banks won't match that on an independent lender because they believe the stature and reputation they've acquired over the years is more than enough to make people go straight to them rather than considering what is quite frankly, a much better alternative. If you go to the high street in search of a low rate like you may get from an unsecured business loan lender, you'll end up disappointed and met with talks of collateral backing, instantly putting pressure on every choice you have to make.
Long term vs. short term business loan
You'll also need to make a decision about your loan for business term, which is the length of time that you have keep up repayments for. This is likely to depend on what you need the small business loan for, and how quickly you think you'll be able to repay it. Different lenders have different minimum and maximum loan terms, and the term you're offered may depend on your circumstances. Gone are the days when you had to have business banking to get a loan from that bank.
Credit cards are useful for short term borrowing but this is not a total fix as the interest rate will be high. Personal loans are an option if you are a sole trader and do not operate under limited company status. Peer to peer has long been around for companies to gain finance, with companies ties like funding circle this is an option worth checking out.
With our business funding, you can expect within 24 hours of completions to have the funding supplied to your current account. Once you have received the loan, the repayments will be made in monthly instalments, with interest rates included. The application process is carryout online and is quick and simple. The whole application process just takes a few minutes.
Short term loans tend not to be authorised and regulated by the financial conduct authority.
How do lenders determine interest rates on business loans?
The amount and term you expect to pay on a business loan depends on a few factors, so consider these carefully before applying for any single one in particular.
Bank of England: The Bank of England sets the bank rate or base rate, which directly influences the interest rates set by banks and independent funders. If the base rate goes up, it is likely banks will also raise their loan prices. If the base rate goes down, then banks can lower their entry-level rates for new customers.
Your credit score: Your credit score is a 3-digit number that determines how likely you are to be accepted for credit. The credit rating is based on your credit history. A low credit score carries a higher financial risk for funders, this is why subject to credit is always written.
Loan market conditions: It is a fact that in times of uncertainty and financial turmoil, banks like to 'shut up shop' and reduce the amount they lend to new customers. This is achieved by either removing products from the market or raising interest rates.
Loan term: Although this does not play a factor with all lenders, how long you want to take to repay the amount you borrow can influence interest rates. The shorter the period of the loan, typically the higher the interest rate will be with come lenders.
Frequently asked questions
What is the average interest rate on a business loan?
Traditional bank loans: 2% to 13% Online business loans and financing: 7% to 100% SBA 7(a) loans: 5.5% to 11.25% Invoice financing: 13% to 60%
What is a business loan interest rate
Business loans are offered by lenders. And in exchange for the money, they'll charge interest on top of the loan amount—in the most basic loan structure, interest is charged as a percentage of the loan's principal. Typically, business loans are paid back over a set amount of time, with regular repayments.
What is a good interest rate on a business loan
The loans are interest-free for the first 12 months, and no repayments are due within this period. The rate of interest is fixed at 2.5% p.a (£50,000 @ 2.5% p.a over 5 years is £887.37 p.m) BBLS loans are 100% backed by the government, whereas the CBILS loans are 80% government-backed. There is no arrangement fees or early repayment charges. No personal guarantee The maximum term of the loan is six years.
What is a good interest rate on a business loan
Lenders will quote an annual interest rate (annual percentage rate or APR) when you apply for a loan. You must pay back this amount in addition to the amount borrowed (the principal) of your business loan and any applicable fees. For example: £5,000 at 10 per cent APR over a five-year term (60 months) is a monthly repayment of £105.18 per month. The total amount that must be repaid is £6,310.80.
Which bank gives lowest interest rate for business loan
NatWest Small Business Loan NatWest emphasises the flexibility of its loans, ranging from small, short-term cash injections to bigger, long-term loans. Up to 10 year terms may be available to some businesses, but security and/or a director's guarantee can be required. Loan amount: £1,000 – £50,000. Interest rate: Fixed. The rate depends on your circumstances and loan amount, but using a slider on the website, you can see an example of how much you may need to repay. Loan term: Up to 10 years. Fees: No arrangement fee or early repayment charges. Eligibility: You'll need to be a director of the business to apply. If you're in a trading partnership, limited liability partnership (LLP) or Limited Company you'll need to provide additional information.