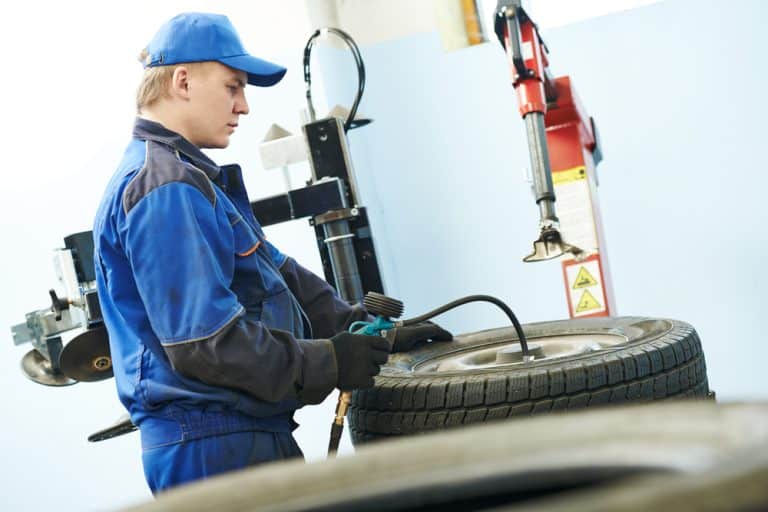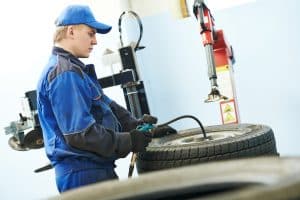 Starting your own business can be a daunting task, but with the right planning and preparation it can be a rewarding experience. If you're considering starting a tyre fitting business, there are a few things you need to keep in mind.
Providing quality service is crucial for independents to compete against national fast-fit chains in the tyre fitting market. By reading through the useful tips and pieces of information within this article, you'll be putting your best foot forward and creating a positive launch pad for your future business tyre fitting venture
Research your target market
Making an accurate assessment of your potential demand and competition is essential when planning your tyre business.
Estimating demand
In addition to tyres, exhausts, brake pads, and shock absorbers, there is a large market for replacement vehicle parts. The number of tyres that are replaced on cars, vans, and lorries in Britain is estimated to be well over 130,000 every day. As a result, there is a lot of competition in the tyre industry and tyres are available in many different outlets, including online.
Approximately 3,000 tyre fitting outlets exist in the UK, according to Tyre Industry Federation, with another 20,000 garages selling and fitting tyres as well as performing other repairs and maintenance work. While the overall market for tyre fitting is large, you should check whether your area has enough demand to support a new business.
You will need to consider factors such as the number of cars in your area, the size of the local population, and the level of competition.
Your market
There is a good chance that most of your customers buy replacement car tyres from private motorists. In addition to taxi companies and car dealers, you may be able to get business from driving schools in your area.
Other potential customers may include motorcyclists, farmers, and racing enthusiasts, depending on your location and the tyres you sell. You can also find work by providing mobile tyre fitting services for commercial vehicles.
Check out the competition
ATS Euromaster, Kwik-Fit, Halfords Autocentres, and National Tyres and Autocare are some of the most common fast-fit chains in towns and cities. Additionally, you may face competition from:
Others that fit tyres independently
Chains like Protyre that are local and regional
A mobile-only fitting service without an outlet
Most franchised motor dealers sell tyres, and some have their own fast-fit operations
Dealers in used cars
Garages that provide general repairs
Breakers yards (offering part-worn tyres)
Find out how many of these businesses already sell and fit tyres in your area. Look at each competitor's services to determine:
Whether they replace exhausts, shock absorbers, brakes etc
How much they charge
Participation in a quality assurance program
Are they able to provide mobile fitting services?
If they specialise in certain types of tyres (such as off-road, motorcycle or commercial vehicle tyres)
What are their opening hours?
Their target market
Their staff's knowledge and helpfulness
Modernity and smartness of the premises and fittings
If you plan to open a new business, you need to carefully consider how it will compete with the existing ones.
Online retailers like Black Circles, Mytyres, and Tyre Leader are also fierce competitors for tyre fitting specialists. Tyres are also sold online by Asda. A network of affiliated fitters, who are often independent garages, can fit tyres for these retailers online at highly competitive prices. You might reduce the effects of competition from this source by becoming affiliated with an online tyre retailer.
Why will people choose your business
To make your business profitable, you must ensure that enough people will use it. Customer attraction depends to some extent on your location. Rather than selling your tyres elsewhere, you will need to convince people to use your business in towns and cities.
You probably replace a lot of standard size car tyres, and many people will simply choose the cheapest. Some people look online while others call around.
You need to make sure that you are at least broadly competitive with the prices charged by other companies within the local area in order to compete with the prices charged by the large national fast-fit chains and online specialists. Motorists can easily search online and find out what their tyres should cost – and some very competitive prices – by simply searching online.
The price of the tyres you sell is important, but potential customers also consider other factors, such as convenience, accessibility, parking availability, your reputation, and the ease of getting any specialty tyres you may need. By focusing on these aspects, your business can compete.
Sign up for TyreClick (provided by Micheldever) or Click2Sell (provided by Michelin) to compete with the large national chains online. Despite offering transactional websites, both allow you to remain independent, promoting your own tyre range and setting your own margins.
It may be more difficult to find enough customers in small towns and rural areas than to compete with local competitors. In order to increase sales, you may need to offer specialist tyres in addition to standard car tyres. If your company provides tyres for quad bikes, agricultural vehicles, four-wheel drive vehicles, etc., you might consider providing tyres for these types of vehicles. If you want to get enough work, you should provide other replacement services (such as exhausts, suspension, and brakes) as well as general servicing and oil changes.
Convenience
To be convenient for customers and attract passing traffic, it is ideal that the tyre fitting business be located near or on a main road. You can increase the convenience of your service in other ways if this is not possible. It may be beneficial to offer a mobile fitting service (fitting tyres at a customer's home or workplace). Customers who discover they have a flat spare tyre after getting a puncture, or whose car is stranded for any other reason, can also benefit from an emergency call out service or vehicle recovery service. It may also be beneficial to offer other services, such as oil changes, exhaust replacements, brake replacements, and suspension repairs.
Standards of service
You should emphasise the quality of your services regardless of where you are based or what tyres or spares you offer. It is a great way to demonstrate to potential customers that your business is run to a high standard by joining a trade association quality scheme. The National Tyre Distributors Association (NTDA) maintains a code of practice for its members and an approved repairer scheme. Potential customers will feel more confident if you are friendly and knowledgeable.
It's important to remember that a considerable proportion of your customers are female motorists. Consider whether they would feel comfortable buying tyres on their own in your workshop. Consider the following points:
How clean and tidy are your premises?
Posters and pictures on walls should be appropriate
Customer service attitude and language used by fitting staff
The temperature, cleanliness, and comfort of the waiting area
Would customers without a lot of mechanical knowledge or interest feel confident getting straightforward and honest service?
To demonstrate your female-friendly credentials, you might consider joining the Foxy Choice Lady Approved Garage scheme.
Untidy and 'laddish' workshops may deter not only female motorists, but also many others, especially older people.
Quality of tyres
Including re-treaded tyres and part worn tyres, all tyres supplied for road use must meet certain standards. The quality, cost, and specifications of tyres within these standards vary greatly. Make sure you offer a wide variety of tyres to meet everyone's needs – some people will be satisfied with cheap tyres, while others are more concerned with the performance of tyres.
In all cases, however, a quality product is essential. You should be able to satisfy most customers by offering a wide range of tyres.
Niche markets
Offering specialist tyres in addition to standard car tyres could increase your business's potential customers regardless of where you are located.
Motorcycle tyres
Due to the strong demand for motorcycles and scooters over the past few years, tyres have also increased in demand. Fitting motorcycle tyres will require additional equipment and training, but the additional business may be worth the investment.
Caravan and trailer tyres
Over 500,000 touring caravans are estimated to exist in the UK, each with at least two tyres. The tyres on caravans usually don't clock up a lot of miles in a year, but they can degrade over time and need to be replaced from time to time to ensure they're safe. Trailers are no different. In order to attract this type of business, you will need to offer a reasonable selection of caravan and trailer tyres. When it comes to trailers with large capacities, you should be able to advise your customers about things like load rating.
Winter tyre fitting and storage
Winter tyres are becoming more popular among motorists as the temperature drops. In addition to offering winter tyres, you may choose to offer seasonal tyre storage and swap-over services.
Commercial vehicle and truck tyres
There is a huge market for commercial vehicles and lorries tyres, but it is highly competitive. In addition to regrooving, maintenance and balancing, puncture repairs and replacement, lorry fleet operators need mobile emergency call out services.
Industrial vehicle tyres
Often, forklift trucks and other industrial vehicles require special tyres, such as foam-filled or solid tyres. In order to offer on-site service for many of these vehicles, you will have to be able to drive them on the road.
Budget, retreaded and part-worn tyres
You may gain extra sales if you offer good quality budget or retread tyres to local businesses that use a lot of tyres, like taxi firms or used car dealers. A largely unjustified poor image of retreaded tyres has led to a sharp drop in demand from private motorists. In 2004, two EC Regulations relating to retreaded tyres were introduced in the UK. Retreaded tyres have been manufactured in the UK to the requirements of a British Standard for many years.
The use of recycled tyres is environmentally sustainable, since they reduce waste and raw material consumption. It might be possible to increase demand in the future by increasing awareness of environmental issues and the benefits of recycling tyres.
Budget-conscious motorists may also prefer part-worn tyres. Most part-worn tyres are imported from countries with more stringent tyre replacement laws than the UK, such as Germany. Motorists can buy top-quality tyres at half or less of the price of a new pair if they buy them from them. Check them all carefully, however, to ensure they are safe and undamaged, and make sure they meet all safety requirements.
There may not be a market for part-worn German tyres in the future if the National Tyre Distributors Association (NTDA) succeeds in increasing the legal tread depth in the UK from 1.6mm to 3mm. Also, members who remove tyres not suitable for the part-worn market may drill sidewalls or cut beads.
Competition tyres
The members of local motor clubs who need competition tyres may be able to help you. Among the most popular tyre choices are retreaded competition tyres and part-worn tyres. A new set of tyres may be required after two or three races in sprints, track days, hill climbs and rallying, depending on the conditions.
Therefore, partnering with local motor sport clubs can lead to significant sales increases. Maybe you can sponsor a local sprint or rally series and offer tyres to the winner. A discount on competition tyres could also be offered to club members. With a large van equipped with fitting equipment, you can take a selection of tyres to events to sell to competitors.
Vintage and classic tyres
Classic and vintage vehicle owners have specific tyre requirements. Tyres will need to be fitted in special sizes and the tyres should be authentic and fit the vehicle's age. A classic period looks and crossply tyres will often be sought after.
Agricultural tyres
Farmers still have a large market for agricultural tyres, despite recent difficulties. Rural areas require special tyres for tractors, machinery, cars with four-wheel drives, and quad bikes. If you can supply and fit tyres to local farmers and farm suppliers, you should consider tapping into the market.
Farmers usually request tyre fitters to visit them to discuss their needs, before ordering the appropriate tyres from a wholesaler or manufacturer. There is such a wide selection of agricultural tyre sizes and applications that it is impractical to keep them in stock.
Earthmover tyres
Earthmovers and other civil engineering equipment require specialised tyres and fitting services. In addition to on-site fitting services, repairs and re-seating, and re-treading, these very large tyres require special handling equipment and skills.
Pricing policy
When you think about your pricing policy, remember that you must be able to cover all your costs, overheads and drawings and still make a reasonable profit.
How will you set your prices?
There are usually items on tyre bills, with the cost of tyres (or exhausts) listed alongside any additional charges, such as wheel balancing, valve replacements, and steering alignments. It is often necessary to charge a small fee for disposing of old tyres. For each of these items, you'll need to determine a price. It is important to keep in mind, however, that most customers will want an inclusive price for fitting – the price they actually pay – without any hidden costs.
Tyres and other parts
Usually, you charge your customers the cost price of the tyres or other parts multiplied by a certain percentage – this is your gross profit margin. You may be forced to set your prices in line with those charged elsewhere locally if you sell tyres with slim margins.
If you want to win customers, you may need to match or undercut your competitors' prices.
Labour
In addition to fitting tyres, you might charge for labour if you perform other tasks. A set rate per hour and the length of time it takes to do the job will determine the amount. Depending on your local competition, hourly rates can vary considerably.
Fitting tyres and exhausts is generally not subject to a separate labour charge – it is usually included in the price of the tyre. Wheel balancing and steering alignment, however, often incur an additional fee.
For fitting tyres sold through the website of an online tyre retailer, you'll probably agree on a standard rate.
Other services
Take a look at how your other services will be priced (such as recovery services or mobile fitting), when your prices will be reviewed, and if you'll offer discounts (perhaps reduced rates for trade customers).
Special offers and discounts
Fleet and trade customers may well receive a discount as a matter of course. Discounts will vary depending on your pricing policy and local competition.
In addition to employee discounts, regular customers, family and friends also receive discounts from many businesses. Members of a motoring club or pensioners could be offered a reduced rate. Through your website and/or social media, you may offer special discount codes and vouchers. Keep an eye on any special offers you make to make sure that they are effective and look out for ideas from your local opposition. This type of promotion might bring you extra business, but it will also affect the profit you make.
Promote your business
Keeping consistently high standards and projecting a positive image is very important for your business. In addition, you must make sure potential customers are aware of what makes your company unique.
The right image
The way your business looks will influence people's first impression of you – so it is crucial to present the right image. To brighten up your premises, consider re-painting if necessary. Keep your premises clean and tidy. Your services should be clearly displayed on signs. It would be great if you had a separate reception/waiting area where you could talk to customers or where they could wait while their car was being repaired. Consider installing a hot drinks machine and providing information about tyres and tyre safety.
If a female motorist were to enter your garage alone, ask yourself if she would feel comfortable doing so. There are a few things you might want to avoid, such as nude pin-ups, a grimy, uninviting outlet, bad language, and a 'blokey' culture among the staff. Be clear about what you expect of your fitters regarding their conduct and professionalism. Your potential customer base will be unnecessarily limited if you fail to attract female motorists. To demonstrate your female-friendly credentials, you might consider joining Foxy Choice Lady Approved Garages.
Remember that your van or tow truck will be a highly visible advertisement for your business if you operate a mobile tyre fitting service or a vehicle recovery service. A well-maintained vehicle doesn't need to be new, but it should look smart and clean.
Good service
The attitude shown to customers is just as important as the appearance. Garages tend to be associated with poor service and patronising behaviour. Good impressions are created by treating customers with kindness, helpfulness, and politeness.
If people need to replace their tyres, explain their options to them. If you have a high-performance car, for example, you may want to suggest an expensive tyre instead of the cheapest tyre. It takes time to build a reputation, but from the beginning you should offer a high level of service and make sure customers are satisfied with the work done and the products you supply. As a final point, be polite and timely when responding to questions and complaints.
Quality standards
You can demonstrate your commitment to quality by joining a trade association quality scheme. To display the 'kneeling man and tyre' logo, members of the National Tyre Distributors Association (NTDA) must adhere to its code of practice. As part of its approved tyre repairer program, the NTDA also operates a website.
Advertising your business
Advertising your business helps potential customers learn more about you, the tyres you sell, and the services you provide.
A good business website is probably essential if you sell things online like tyres and car maintenance services. A sophisticated website could provide customers with the option of viewing prices, choosing tyres, and booking a fitting appointment. You can also promote your business online by using social media, forums, and blogs. A business directory online is also an option.
Buy an existing business
If you want to start a tyre-fitting business, you might consider buying an existing company. When you purchase a going concern, you will already have the products, the clients, the regular sales, the staff, the premises, and the equipment.
Ensure that you won't end up with a large and expensive stockpile of used tyres!
When you don't have the right skills, experience, and knowledge on your team, you will need the business finance as well as including financial and legal expertise, buying a business can be hazardous and costly. You should establish the business's true trading and financial position before you pay a high price for it.