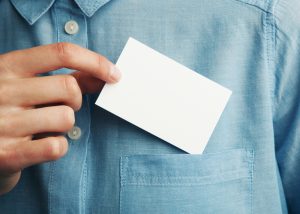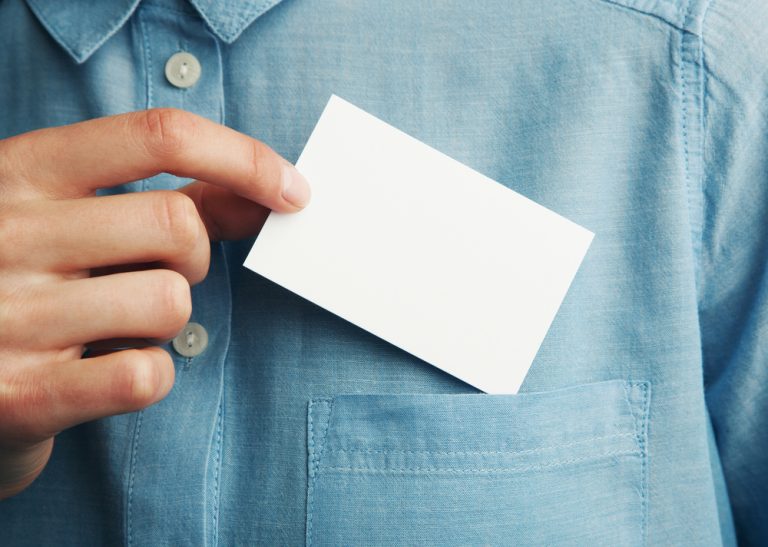 Every small business in the United Kingdom can utilise business cards for a vast number of positive reasons, which undoubtedly improve networking opportunities, growth levels, connections and more.
However, unless the quality of said business cards are high and created with an effective design, the desired effect will not be reached.
So, if you're a business owner that wants to start handing out business cards for the betterment of your company, read through our advice and apply it to your venture.
What is a business card?
A business card represents the next step in making your small business dream a reality. For any potential customers, it's the first interaction they'll have with your brand – so, make sure it's a positive one.
A thoughtfully-designed business card does more than carry your contact information. It will make you look professional, build trust in customers, and set your small business apart from others. But before you start giving out business cards to everyone you meet, stop and ask yourself: What makes a good business card?
How can you make it stand out, and ultimately bring in more business? Many things add up to make the perfect business card, but the main points are listed below:
Perfect business card design
In order to be able to use your business cards effectively, they must in themselves be effective on a number of standpoints. For instance to obtain the perfect look of the business card must be something that catches people's eyes and grasps at their attention immediately.
Of course, the look of your business card will be highly dependent on what sort of company you run, but that is no excuse to make an unprofessional business card. Even if the target audience of your product or service is children, you should still make a professional card, as it is the parents who will be viewing it.
This is why you must always consider who the audience of your firm is, as well as who's hands your business cards will end up in. The target audience isn't always the same as the purchaser of an item and so you should perform the proper research as to where you want your business cards to end up before releasing them into the wild.
Key information
Asides from a professional aesthetic and an eye-catching look, your card should also hold key information about your business venture. This includes features such as the website URL to your business' main online domain, as well as a contact email address and possibly information about the owner of the business.
Again, it is all dependant on what the purpose of your business card is, but it is usually a good idea to ensure that it tells people how to get into contact with either you or the brand itself.
Company name and logo
Also remember to include your company name and company logo on the card. We are well aware that this is a more than obvious thing to point out, but you don't want to be going to all the effort of designing a high-quality business card and then forgetting the simplest set of basics.
This should occupy a large portion of the design of your business card and may even cover a whole side of, should you opt for a two-sided format (we recommend doing so).
Business-matching colour scheme 
Don't forget to capsulate the look of your business venture directly on its representative business cards. These are now a part of the business as they're soon going to be in the hands of potential clients, business partners, investors, etc. This means that it must represent your company and follow the same already-established look of it. Don't fall into the trap of thinking it should have its own unique look, it needs to follow the colour palate of your website, social media accounts, store front sign and more.
Leave some white space
This point may seem a little odd to you at first, but trust us, it i of the upmost importance that you don't over clutter your business card. If you have a card that is crammed full of both text and imagery, everything will be competitions for the consumers attention. This isn't the desired effect you should be looking for with your business cards (Also remember that you can use both sides of the card, so feel free to space things out).
A little bit of white space makes all the difference to your audience; it'll appear far easier on the eyes for starters. Additionally, if you leave some white space on there, you'll be able to add a note to the card before handing it out to potential clients and customers if that is something you wish to do. That would add a higher level of personalisation and potentially create the foundations of a strong relationship builder with an audience member.
The fewer elements you have on your business card, the stronger the impact of them each individually will be.
Proofread it… and then get someone else to proofread it
So, the time has come, and you have ordered your business cards. They arrive at your house, you excitedly unbox them, but the worst possible thing has happened. You've made a spelling error within the text; this is a complete nightmare.
However, you can avoid a situation such as this by simply proofreading your business cards, and then getting someone else that you trust to do the exact same thing for you. Two pairs of eyes are better than one when searching for any mistakes, so grab a friend and let them help you out in this type of situation.
You should not have too much text to go through on your business card, so this task should be completed pretty quickly, without any real level of difficulty. Although, that doesn't excuse you from doing it. So, save yourself time, money and embarrassment by ensuring that you always proofread your designs before ordering them from a supplier.
Tagline 
Vistaprint supply this next point and say, "Try to summarise what you offer in six words or less. "Brand Strategy for All" communicates that Smith Consulting provides branding services to a diverse mix of clients and doesn't specialise in one sector. It's professional, honest and focuses on the core service".
If people are receiving the card without having any prior knowledge of what your business is and what it stands for, you need to explain carefully and quickly what it's all about through the use of your business cards. Try coming up with a few taglines and see what sticks with you the best. You need to be both precise and effective here, which is a hard combination to pull off, but it can be done with a little extra effort.
Links to your social media pages
If your business is worth its salt in the modern age it'll have social media accounts across several different platforms. This is where you can connect directly with your target audience as a brand, so be sure to include your social media usernames on your business card. This is an easy way to increase followers across your business' profiles and get the word out about what social channels you're currently active on.
This has the potential to increase your audience engagement levels and further the reach you have as a business on social media. These two things are very important in the current digital age, so don't go forgetting about them.
Have you considered a digital business card?
The modern age often calls for modern solutions, and this is no different when it comes to business cards. You'll certainly find a way around the current social distancing guidelines by opting for a digital business card over a physical one. It is also likely to be a very cost-effective method of passing your brand/business/firm on to other people, so why not give it a go?
There are a whole host of websites where this is easily done now, plus they often come with free trail design functionality features too. A quick Google search and you'll be well on your way.
What is the point of a business card?
Business cards are arguably the most personal form of marketing, and they get straight to the point. You would often use a business card to either market your company or yourself, as a business owner or potential partner to people working within the world of business. However, you can also use a business card as a networking tool at events around the world, where you plan on meeting up with likeminded people. If you want to grow your social business groups, then handing out a business card with your details on it is a great way to do just that.
Another fundamental role of a business card is to quickly share contact information with an individual. When you meet up with a potential partner or client, for example, you can leave a business card for that person to refer to in a follow-up call or email. Having a card works much faster than writing your name and number down. It is also easier for the contact to read your contact details on a professional card. This also makes you look highly professional when engaging with others in meetings, etc. So, consider the fact that having a business card to hand out in important situations that involve you and your firm, can most definitely seem impressive to those around you.
The business card checklist: 
These are the basics which you simply cannot afford to ignore if you want to create an effective business card that connects people directly to your business venture.
All businesses need a logo of some kind, and with Canva you can easily create your own. This will allow you to give your business its own unique feel and branding. It'll also add some creativity into your job role and allow you to give the look of your company a personal touch, without having to pay a graphic designer for the pleasure of doing so.
Seriously, what is the point of having a business card for a company you don't know the name of. That will be thrown straight in the bin with all the rest of the meaningless things that come through the post or are picked up from business conventions. Ensure you're doing what's right for your business and let the name of it be known.
One of the main goals of your business card should be to connect people with your company. So, don't shy away from including details on how individuals can get into contact with you on your business cards. Embrace the connections you can make and try to grow relationships with your consumers whenever it's possible to.