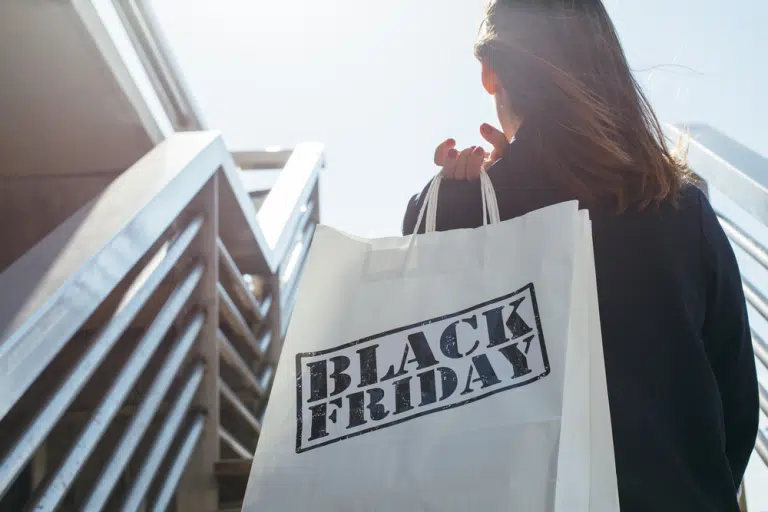 Whether you're a fan or not, Black Friday and Cyber Monday reign as the biggest shopping events of the year.
Retailers worldwide gear up with enticing offers to boost holiday sales, and your business should join the frenzy.
If you're skeptical about its worth, consider that Black Friday 2022 raked in a staggering £12.3 billion, marking an 8.3% YoY growth.
The trend isn't slowing down. Our concise guide will aid you in gearing up for Black Friday, ensuring your business enjoys a standout year. Let's dive in.
Get your Business Black Friday and Cyber Monday Ready
Here's the deal: the earlier you gear up for your Black Friday sale, the smoother it'll go. You're about to dive into prep tips, so start once you wrap up this blog. Stick around for the nitty-gritty of preparation!
Set Up Email Marketing Campaigns
Start with a simple but crucial step: craft email marketing campaigns. You probably knew this, but let's delve deeper. Hubspot data shows that for every $1 spent on email marketing, you can expect a staggering ROI of approximately $36, a whopping 3600%. It's hard to find a marketing strategy with such remarkable returns and minimal upfront investment.
All you require is an email marketing software platform, a well-defined message plan, and a couple of hours to compose it all.
Step 1. Collect Customer Data
For successful email marketing campaigns, harness the power of customer data. Your point-of-sale system's reporting capabilities provide valuable insights like location, age, and buying patterns.
While you don't need to act on it immediately, keep in mind that 'customer segmentation' and personalization will significantly boost your email marketing's open rate, clickthrough rate, and conversion rates.
Step 2. Create a Targeted Email List (Customer Segmentation)
Why bother with customer data, you ask? Sending generic emails might seem easy—compose a one-size-fits-all message, hit 'send,' and hope for the best. But here's the truth: it won't work. Your customers are unique, with different desires. Enter the world of 'customer segmentation.'
Customer segmentation is the art of categorizing your audience based on various factors:
Demographic: Age, gender, marital status, family size, income, education, race, occupation, nationality, religion.
Geographic: Location, climate, population, food habits, clothing preferences.
Behavioral: Purchase behavior, timing, benefits sought, loyalty.
Value: Economic importance to your business.
Needs: Pain points, problems, motivations.
Psychographic: Lifestyle, personality, social status.
Lifecycle stage: Relationship with your business, covering stages like reach, acquisition, conversion, retention, and loyalty.
Still not sure where to begin? Let's see some customer segmentation examples in action:
Engaged Shoppers: Target those who have browsed, favorited, or added items to their cart within specific category types. For instance, as an electronics retailer, you can email those showing interest in laptops or computers, focusing on 'Black Friday Laptop Deals.'
Recent Buyers: If customers have made recent purchases, recommend related products. For example, if a customer bought a laptop, suggest antivirus software, keyboards, or mice.
Step 3: Write Email Marketing Campaigns for Each Customer Segment
Time for the exciting part: crafting email marketing campaigns for your targeted customer segments. Forget the word 'target'; it does sound a bit sinister.
Your task is to compose a series, sequence, or campaign of emails (they're all the same thing). Aim for three or four emails per segment. Plan what you'll communicate at each stage of your customer's journey as you guide them to your next email or website area.
Bear in mind, though, this won't be a breeze. Modern attention spans are shorter than ever, thanks to smartphones, social media, and distractions like Candy Crush and TikTok. That's why excellent writing is paramount.
Be on your 'A Game.' No dull subject lines, preheaders, or lengthy copy. Keep it short, snappy, and clear. Include a strong call to action (CTA). If you're not sure where you want your customers to go or do while reading an email, they won't know either. Your email's purpose should be crystal clear.
Consider employing an email automation platform like MailChimp. It streamlines the creation of personalized email campaigns by integrating customer data from your eCommerce site. If you're currently using Lightspeed, connecting it to MailChimp can supercharge your marketing capabilities. This integration consolidates store and marketing data, offering insights into your ROI.
Automations: Your time is precious, so don't get bogged down with manual emails. Utilize key automations to nurture customer relationships. MailChimp simplifies the creation of welcome emails, abandoned cart reminders, product recommendations, and retargeting emails, among others. Their 'Customer Journey Builder' enables behavior-triggered automations.
Insights and Analytics: With a connected store, MailChimp's analytics can help you evaluate your marketing strategy's effectiveness in generating ROI. This empowers you to refine specific efforts or pivot when necessary. Additionally, MailChimp Smart Recommendations assist in creating more effective content, reaching the right audience, and enhancing campaign performance with data-driven tools.
You can also schedule organic social posts with MailChimp and gauge engagement to pinpoint where your ads perform best. This insight helps determine where to place your paid ads and identify your customers' online hangouts.
This is just a kickstart; there's more to learn about writing email marketing campaigns.
Embrace the Power of Social Media
Social media marketing can be costly and ineffective if not done right. Start with free options. Evaluate your social media platforms to identify those with the most impact on your business, measuring metrics like impressions, engagements, and click-through rates to assess reach, content reception, and desired actions.
For efficient planning, use social media scheduling tools to draft and schedule posts in advance and track performance.
Similar to email campaigns, create a series of posts guiding customers to your website and highlighting important offers. Segmentation might be more challenging with free social media.
Paid social media offers better targeting options. For physical store promotion, narrow your audience by location, known as 'geo-targeting.
Here's the payoff:
Your Black Friday ads reach people in close proximity to your business, increasing the chances of in-store visits and purchases.
A more focused audience leads to a higher ROI. Each ad viewer is more likely to become a customer.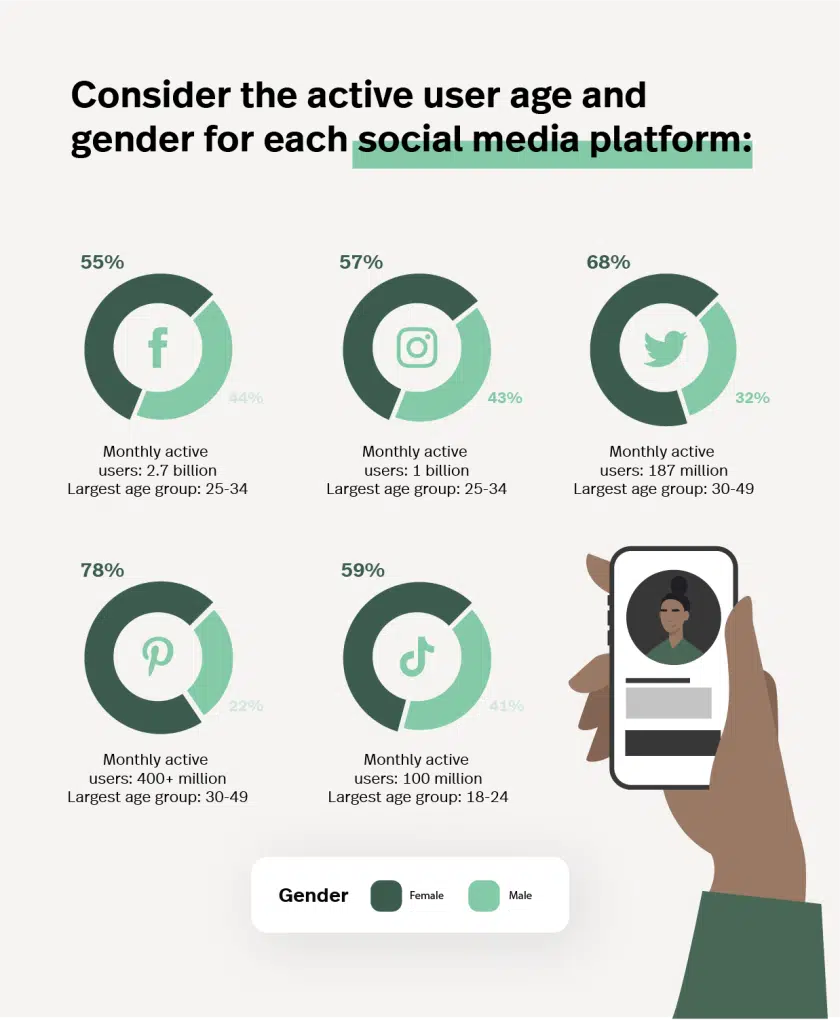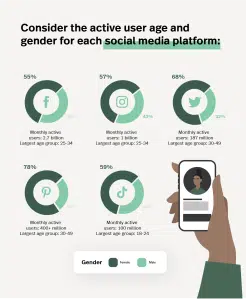 Deploy Dynamic Facebook Ads for a Personalised Touch
If you aim to divert some foot traffic to your online store and reach a wider audience, consider the power of remarketing, which is as effective as geo-targeted ads. Preparing your Facebook and Instagram Ad prospecting audiences can be a game-changer, especially during the holiday rush.
Holidays offer the perfect opportunity to leverage Facebook and Instagram tools to reconnect with previous brand engagers and close the sale. If someone has shown interest in your products online, why not nudge them into action? With Facebook Pixel installed on your site, you can craft ads featuring the exact products they viewed.
For instance, imagine you were eyeing some Mejuri earrings, specifically the Cabochon Studs, but didn't make the purchase. Suddenly, you spot them in a carousel ad on your Facebook newsfeed. This gentle reminder might prompt you to add the earrings to your cart and complete the purchase. Remarketing to online store visitors is a potent strategy for running effective Facebook ads.
Embrace Instagram Shopping for Your Business
If you're crafting Instagram content, explore the incredible feature called Instagram Shopping. It enables users to purchase products directly from your posts within the app. With 20% of shoppers, and a significant 37% of Gen Zers, favoring Instagram for holiday shopping, you should certainly delve into Instagram Shopping.
Once your Instagram Shopping is up and running, your posts become visible to the 200 million daily users of Instagram's Explore tab. This means extensive exposure and sales potential with minimal effort.
Demographics, age, and gender play a role in how people use social media. Identify your target audience, determine which social media platform best connects with them, and concentrate your efforts there. This targeted approach is more efficient than scattering your advertising across all platforms and promises a better return on investment.
Prioritise Search Engine Optimisation (SEO) for Your Business
SEO can prove a potent tool to attract customers organically in both the short and long term. While ongoing website optimization is crucial, it's worth examining and enhancing your existing landing and product pages.
Ask yourself: How can I facilitate search engines like Google to navigate my site and attract customers during the Black Friday sale?
You needn't overhaul your entire site. Even a mere update of copy on strategic pages and products can yield significant improvements. Start by scrutinizing your online store's search queries, paying special attention to terms that lead to unsatisfactory results.
Once you identify target search terms, it's time to optimize. Employ these terms to enhance your site's copy and metadata to align better with customer expectations. Analyzing your website's search terms can also guide your product promotion and sale strategies.
Optimizing your website can also drive in-store traffic. But first, ensure your store details are correctly set up on Google My Business, allowing people to easily find essential information like location and contact details through a simple search.
Boost the Loading Speed of Your Website for a Better User Experience
Online shoppers are not known for their patience, and a slow-loading website can cost you sales. Statistics show that around 40% of visitors will abandon a website if it takes longer than 3 seconds to load.
Prioritizing the speed of your website is vital, especially with the anticipated surge in visitors during one of the busiest weekends of the year, Black Friday and Cyber Monday. A faster website translates to a higher likelihood of generating sales, making it crucial to ensure smooth and speedy performance.
To prepare your website for these peak shopping days, start by evaluating what is mission-critical and enhancing performance on key pages. Focus on optimizing pages with the highest traffic.
You can take simple yet effective measures, such as image optimization, which reduces file size without compromising quality. This ensures quicker load times while maintaining visual appeal across various devices.
Additionally, consider implementing a virtual "stand in line" system to manage high traffic efficiently. This approach restricts the number of simultaneous website visitors, ensuring that everyone has a fair chance to shop while preventing site crashes due to overwhelming demand.
Strengthen Your Website's Security for a Safer Online Shopping Experience
Prioritise Website Security for a Safe Shopping Experience. Black Friday and Cyber Monday are prime hunting grounds for hackers and cyber threats. To safeguard your business, invest in enhanced security measures and protection for your website right away.
Customers' trust and data security are paramount. If they hesitate to input their credit card details or encounter security issues after a purchase, it can result in lost future sales.
With eCommerce platforms, you can fortify your online store using 256-bit SSL encryption. This encryption ensures a secure connection between your web server and visitors' web browsers. All eCom stores are hosted in a secure location, with data transfers occurring over a 256-bit SSL connection, ensuring the encryption of all data.
Whether it's data transfers between your online store and databases or the protection of payment and customer data, everything is stored in encrypted form.
Select the Optimal Products for Discount Offers
While Black Friday has traditionally been an opportunity for retailers to showcase less desirable inventory, it's essential to offer discounts on your top-performing products, not the ones customers don't really want. Shoppers have high expectations for Black Friday deals, and offering subpar discounts can disappoint them.
To ensure a successful Black Friday sale, review your point-of-sale system or eCommerce reports to identify your best-selling products throughout the year. Keep an eye on emerging trends as well, as this can guide your discount strategy.
Consumers begin researching offers and deals early, so advance promotion of your Black Friday/Cyber Monday sale is crucial to land on shoppers' lists and stay top of mind.
With an eCom website, you have the flexibility to offer various types of discounts, including segmentation, upselling, bulk, and combination discounts. Utilize the ones that align best with your business objectives.
Implement a Gradual Approach to Sales and Discounts
The term 'Black Friday' can be somewhat misleading. In the past, it was associated with record-breaking crowds and chaotic scenes, but it has evolved over time, extending throughout much of November and transitioning to a predominantly online event. This means you have more flexibility and time to showcase your deals.
While significant discounts remain a core part of this shopping event, some retailers are exploring alternative approaches. They are opting for extended discount periods rather than concentrating deals on specific hours or the weekend. Staggering sales and discounts helps eliminate the rush and creates a more relaxed shopping experience.
Strategise Your Shipping Approach
If you've successfully completed these steps, you're well on your way to a successful Black Friday. But now, the real challenge begins. Ensuring you can handle the surge in sales is essential, particularly when it comes to shipping and handling. Here are some key considerations:
Temporary Workers: You may need to hire temporary staff to manage the increased sales volume during the holiday shipping season.
Free Shipping: Offering free shipping and returns can boost conversions and sales. However, it's crucial to remember that free shipping is never truly free, so you must assess its impact on your overall sale and profit margins.
To make free shipping more feasible, consider these strategies:
Set a minimum order value to qualify for free shipping.
Offer free shipping on specific products only.
Introduce free shipping as part of a promotion or for a limited time.
Include free shipping as a benefit for club members (e.g., Amazon Prime).
Provide the option for free local pickup at your store or warehouse.
While free shipping may not be viable for every business, it's important to analyse the numbers and balance the potential increase in sales with the associated costs.
Elevate Your Customer Support Services
While your regular customers will be part of the bustling shopping weekend, you'll also welcome new customers. It's crucial to leave a positive impression by delivering exceptional customer service during the busy days of Black Friday and Cyber Monday.
These peak shopping days demand a well-prepared support team capable of handling a surge in inquiries about store hours, offers, shipping, return policies, and inventory. While comprehensive information on your website can address some questions, you must be equipped to manage additional requests. Positive customer interactions not only resolve immediate concerns but can also lead to future sales and the creation of loyal repeat customers.
According to Jo Causon, CEO of the Institute of Customer Service, nine out of ten people who received 'excellent' service during Black Friday shopped with that retailer again, a 37% increase compared to those who received 'okay' service.
Introducing a live chat feature can efficiently handle customer messages and positively impact your bottom line. A study by Kayako found that over half of consumers are more likely to make repeat purchases from companies offering live chat support. Furthermore, 79% of businesses reported that adding live chat had a 'positive effect on sales, revenue, and customer loyalty.'
Monitoring your social channels is essential, as many consumers prefer direct messaging via social media to connect with a real person. Assign specific channels to team members and aim to respond within an hour or less.
Maximise the Benefits of Apps
Succeeding during Black Friday and Cyber Monday may seem daunting, but you don't have to face it alone. By opting for an electronic point-of-sale solution like Lightspeed Retail and eCom, you can harness the power of various applications that seamlessly integrate with your system.
Here are some apps that can help you thrive during the upcoming shopping season:
Facebook Chat: Enhance customer support with Facebook Chat, which enables real-time communication through Facebook Messenger directly from your Lightspeed store. Customize the chat with your branding, including images, colors, button text, icons, backgrounds, and a personalized welcome message. Set trigger controls to manage user interactions. Access 50+ POWr apps like Form Builder and Popup to collect data and boost landing page conversions.
Ikeono: Use Ikeono Business Texting to connect seamlessly with customers through Lightspeed Retail and eCom. The chat widget is easy to install and allows for organic conversations. Text-enable your business phone number to send and receive messages, including high-resolution pictures. Provide real-time notifications and capture customer contact information for creating insightful custom audiences.
QuoteMachine: Personalize the online sales experience with interactive quotes, online order forms, and invoices featuring advanced payment options for contactless sales. QuoteMachine ensures timely payments through professional invoices with payment terms, account statements, recurring billings, and subscriptions. Accept digital payments for any amount and streamline sales through social media. Customize templates to reflect your brand, product descriptions, and more.
To sum up
In preparation for Black Friday and Cyber Monday, businesses must ensure they are well-equipped to navigate these high-stakes shopping days successfully. The strategies outlined above, from optimizing websites and security to offering the right discounts and leveraging customer support, are essential for delivering a seamless shopping experience to both regular and new customers.
By taking advantage of the available applications and integrating modern solutions, retailers can position themselves for a successful and lucrative Black Friday and Cyber Monday, satisfying customer expectations and achieving their sales goals while keeping the shopping rush under control.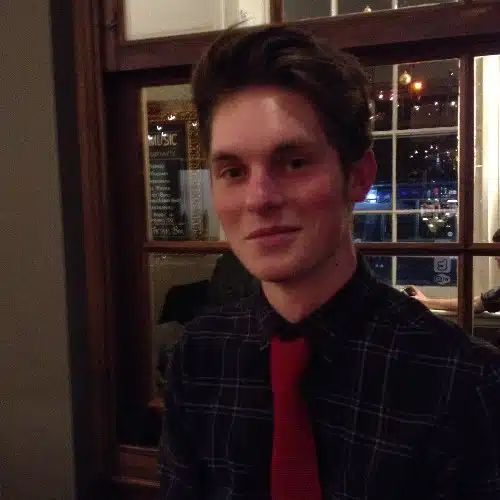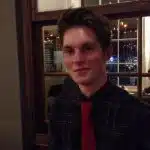 Jarred Musson is a versatile writer with a diverse educational background and a passion for all things business. Holding a Master of Science (MSc) degree in Marketing and a Bachelor of Arts (BA Hons) in Multimedia Journalism from Manchester Metropolitan University, Jarred possesses a unique blend of expertise that allows him to dissect and communicate complex business topics with clarity and precision.