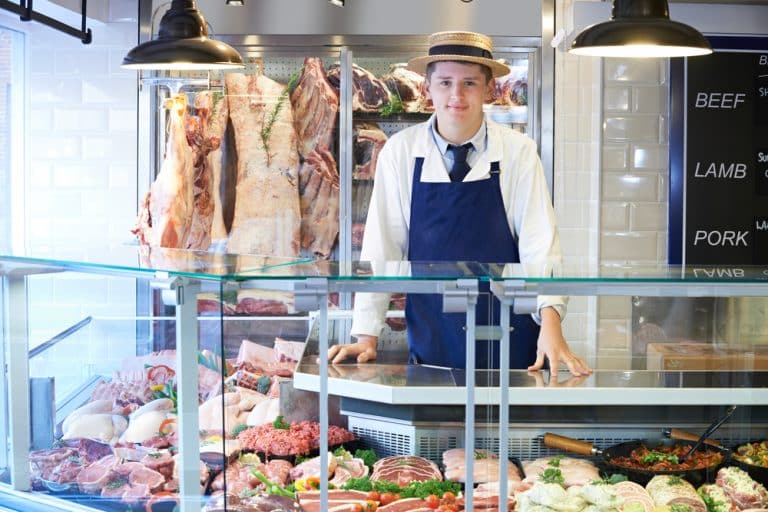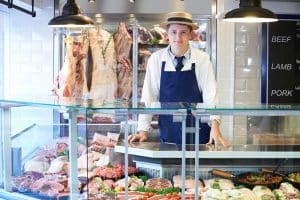 If you're thinking about starting up a butchers in the UK, there are a few things you'll need to take into account. First of all, you'll need to make sure you have the appropriate qualifications and experience. Butchers in the UK must be registered with the Local Authority and fulfill certain food safety requirements. In addition, you'll need to find a suitable premises and source your meat from reputable suppliers.
Of course, starting up any business is a risky proposition, but if you do your homework and put in the hard work, there's no reason why you can't be successful. So if you're passionate about meat and love being your own boss, then starting up a butchers could be the perfect business for you
To build up a loyal clientele, craft butchers look for the best quality meat and have excellent cutting skills. You will be able to start your own business after reading through the tips inside our practical guide.
Decide what to sell in your butchers shop
In retail butcher shops, most of the following items are available:
Carcass meat, including beef, veal, lamb and pork
Poultry meat, including chicken, turkey and duck
Offal
Processed meat products such as bacon, ham, sausages, black pudding and haggis
Other products such as pies and quiches
Sandwiches
Other grocery and delicatessen items
Increasingly, customers are looking for products that are convenient and of high quality. Several surveys commissioned by IGD, the food and grocery research and training charity, have shown that nearly six out of ten British shoppers will pay more for high-quality fresh meat labelled with a quality guarantee logo, such as the Scottish Beef PGI.
A very important factor has also become convenience. There is a demand for food that can be prepared quickly and requires little effort on the part of the customer. Even 40 minutes is considered excessive for most people to spend preparing a meal.
Use seam butchery to provide your customers with the meat they want or cut more muscle into your steaks since traditional roasting joints are becoming less popular. Mini joints are selling well in many butcher shops.
Besides cutting flat iron steaks, you can also cut tender tops, ranch steaks, and bistro steaks, which are all popular with customers. Instead of 250g steaks, many customers prefer 150g steaks, which are more affordable. In addition to being healthier and more affordable, these dishes are also faster to prepare. New cuts like flank steaks and different-sized packs will also help to make meat more affordable.
The products you sell must be different in some way from those your competitors sell in order to attract a sufficient number of customers. It might be a good idea to sell:
Smoked meat prepared in a variety of ways. A selection of chutneys and pickles that complement these meats would also be a good idea
Llanwendog sheep, Gloucestershire Old Spot pigs, and Traditional Hereford cows are among the rare breeds used in our meat
Assurance schemes ensure that meat is sourced from herds and flocks that meet their standards. Some of your own customers may be reluctant to buy meat from a producer who doesn't adhere to the same standards as the major supermarket chains (such as the Red Tractor).
Locally sourced meat. A tasting event could be organised to discuss how livestock is raised on different farms at different times
Only organic meat, if you believe that there will be enough of a market in your local area
More unusual meat such as venison, wild boar, wild rabbit or hare
Game birds, such as pheasant, grouse and partridge that may be difficult to obtain elsewhere
'Flexitarian' products (products with less meat and around 35% fruit, vegetable or pulses) which are seen as a healthy option
Seasonality
It is common for different types of meat to be in high demand during certain times of the year. At Christmas, turkeys, chickens, goose, and game are always in high demand. The Christmas of 2016, chicken was more popular than turkey, but whole birds were less popular than more convenient options. Recent years have also seen a rise in the popularity of multi-bird roasts.
At this time of year, you are likely to experience an increase in sales of other joints and pies as well. Around Easter time, lamb sales typically increase. In the summer months, barbecue foods such as chops, sausages, and burgers may be in high demand.
What competition will your butchers shop face?
Estimating demand
Estimating how many people and how much they will spend in your shop is very important. Retail meat sales are dominated by large supermarkets and the number of independent butchers – and their market share – have declined significantly over the last 20 years due to this trend. Symbol shops and supermarkets account for about 80 percent of the market, while independent butchers account for just under 9 percent.
There are many outlets that sell meat and other items normally sold by butchers, including:
Supermarkets
Convenience stores such as Tesco Express, owned by large supermarket chains
Freezer centres
Farmer's markets, delicatessens, and farm shops
Online butchers
You should check whether your proposed butchers shop has room in your local neighbourhood. Look at the competition in your area first. Determine what types of meat and meat products are already available in your area and how many outlets sell them. Make a note of whether some of them are independent or part of a regional chain if they are specialist butchers.
Make a count of the number of customers and the types of people who shop at a nearby butcher to get a sense of potential customer numbers. If there are any days when you are busier than others, note them.
Why will customers choose your butchers shop?
Do everything that you can to attract enough customers to your business instead of your competitors, some of whom are likely to be supermarkets offering your products at prices that are difficult to match.
You'll know better what products sell well in your local market after reviewing the range of products your immediate competitors sell. Additionally, it should help you come up with some ideas for products and services that your shop may not currently offer, and that will help differentiate it from its competitors.
Catchment area
Passing trade is very important to a premises-based retail butcher (as opposed to a catering butcher or online specialist). Make a list of the different types of customers (such as young families, pensioners, etc.) who live and work in the area where you plan to open your business. Choosing your product range will be easier if you do this.
It might be a good idea to offer ready-to-eat lunchtime items like sandwiches and pies near your shop if there are a lot of offices and other workplaces nearby. In order to offer customers sandwiches made from baguettes, wraps, ciabatta, and so on, many butchers have developed bakery lines.
The number of butchers selling their products online is increasing, which gives them the opportunity to reach a much broader audience.
Find out what people want
If you have business plans for your area, it may be a good idea to talk to people about them. Try to get as many opinions as you can:
What type of products they would like to see from you?
When would be the best time to open?
Pre-prepared items like pies, sandwiches, etc., might have a market. It would be great if they tried a few samples and gave you some feedback
Is there a trend in the area that has caught on, like pulled pork?
Trade sales
If you plan to sell meat to local businesses such as grocers, restaurants, cafés, sandwich shops, takeaways, hotels, schools, etc., you might sell to small independent grocers.
It would be helpful if you planned to target trade customers by:
Find out how many potential trade customers you have in your area
Decide which product ranges you will offer them
Decide how much discount you will offer them off your retail price
Set a frequency for supplying them. The delivery vehicle needs to be driven daily by someone if most businesses want daily deliveries
Make contact with them and ask if they'd be interested in switching – if they're already receiving supplies, they'll need a good reason to do so. You might be able to attract more customers by offering a wider product range, lower prices, or better customer service
Who will shop in your butchers?
Your market
Depending on your business, you might have several different types of customers. Here are some examples:
Members of the public
A local business, such as a restaurant or hotel
Other retail outlets that sell meat and meat products to your trade customers
Educators and nurseries in the local area
Local farm shops for which you cut, and possibly package, meat ready for sale
Retail sales
According to the location of your shop and the population it serves, the members of the public you sell to will vary. A lunchtime market, for example, may benefit from convenience items like pasties and sandwiches, and commuters might benefit from hot bacon rolls on their way to work in the morning.
There is growing competition between local independent butchers and supermarkets, as well as the number of butchers with an online presence. You might be able to compete better with your products if you sell them online. As a result, you would be able to reach customers across the whole of the UK, expanding your potential market.
It is important to remember that about half of all households have a single income. Convenience and affordability are important to these customers.
Special offers and discounts
For example, pensioners and students can receive discounts, or sales made during slower periods during the week can receive discounts. Also, offer discounts on close-to-sell-by stock to prevent excessive wastage at the end of the day.
Your employees should know which customers are eligible for discounts and how much they are eligible for. Employees should avoid giving unauthorised discounts to friends and family. Think about what employees will be able to eat for free on your premises (if you sell pre-cooked food) and prepare a discount policy for them.
Finance to support the business
A sound financial strategy is critical to the success of any business. Faced with fierce competition, businesses need to be smart about how they allocate their resources in order to stay ahead of the game. One way to ensure that your business has the financial support it needs is to develop a strong relationship with a bank or other financial institution.
This relationship can provide you with access to lines of credit and butchers shop business loans, which can give you the capital you need to invest in your business and grow your operations.
In addition, a good relationship with your banker can give you peace of mind in knowing that you have a partner who is invested in your success. With the right financial strategy in place, your business can thrive.
Buy an existing butchers shop
For anyone looking to enter the world of butchery, buying an existing shop can be a great way to get started. Not only will you have all the necessary equipment and supplies in place, but you'll also benefit from the existing customer base and supplier relationships.
Of course, it's important to do your due diligence before making any purchase, but if you find a reputable shop that's up for sale, it could be a great opportunity to get involved in this rewarding industry. With a little bit of hard work and dedication, you could soon be running your own successful butchers shop.
You can determine whether or not the owner of the business is selling because they cannot generate enough income from the business by performing market research in the sector as a whole and in the locality specifically. You may not be discouraged by this – many businesspeople are confident that they can turn around a failing company. To get the best price for the business, it is important to establish the current position first.
Discuss with your accountant the selling price in light of the past three years' business accounts. Include other professional fees in your budget, such as legal fees, valuation fees and survey fees.