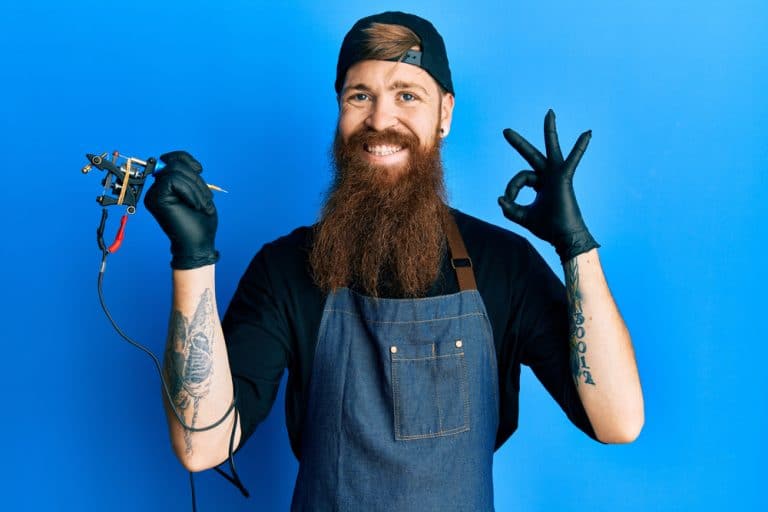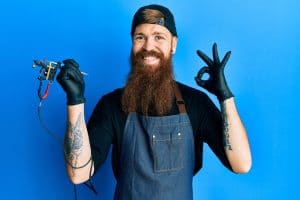 Being a tattoo artist may be the right business opportunity for you if you have creativity and a strong stomach. Learn more in our start-up guide. The tattoo industry has been growing since the birth of the first humans – but it has only recently begun to gain traction.
The emergence of shows such as Tattoo Fixers and Covid-19 have helped to make tattooing more mainstream and popular than ever before, while Covid-19 has helped customers embrace more impulsive, experience-driven products and services.
Tattoo parlours are indeed looking forward to exciting times after battling lockdowns and closures. The market is expected to grow 9.6% between 2022 and 2027, according to EMR's global report.
So, with that being said, what are the best ways to enter this exciting market?
From location to payment systems, tattoo start-ups need to consider plenty of factors to set themselves up for success.
Nonetheless, tattooing is a highly regulated industry, so there are many factors to consider when it comes to safety. After the EU banned some pigments last year, the UK government is now investigating the health risks associated with tattoo inks.
Fortunately, we have experts on hand to assist you. With over twenty years of experience working with small businesses, we know all the pitfalls, tricks, and hidden fees involved with starting a tattoo business.
We have researched the industry, talked to insiders, and have put together the following easy-to-follow guide. Let's make your idea a reality by taking a seat, choosing a transfer, and proceeding.
What it takes to become a tattoo artist
Becoming a tattoo artist requires more than just a steady hand and an eye for artistry. It also requires training in sterile techniques, an understanding of the body and how it heals, and a strong commitment to safety.
Tattoo artists must first complete an apprenticeship under the guidance of a experienced tattoo artist. During this time, they learn how to set up their equipment, mix inks, and stencil designs onto skin.
They also shadow their mentor during tattoo sessions, observing how they interact with clients and execute each design.
Once their apprenticeship is complete, tattoo artists must obtain a license from their state or local government before they can start practicing on their own. In order to keep their license, tattoo artists must adhere to strict sterilization protocols and always put the safety of their clients first.
With the right training and commitment, anyone can become a tattoo artist.
Tattooing is a skilled job that requires proper training
Duties of a tattoo artist usually include:
Make sure that the client has the proper identification and that there are no allergies or medical conditions
Consulting with clients to determine the type of design they are looking for
Creating artwork based on a client's requirements
Tracing the finalised design onto the client's skin (this can be done freehand or by using a transfer)
Applying the tattoo
Providing detailed aftercare instructions
Sterilising all equipment and maintaining a clean environment
Ordering new inks, machine heads, needles, and gloves
To become a tattoo artist, you must have artistic talent and creativity. Moreover, tattooing is the act of applying art to the body.
Key skills and qualities required to become a tattoo artist:
You pay close attention to detail
The ability to handle long tattoo sessions with patience and concentration
A steady hand and good hand-eye coordination
High standards of cleanliness and an awareness of hygiene practices
Ability to communicate well and provide good customer service
Possessing good networking skills
What are the best ways to organise my business plan?
Several of us will never be able to complete the monumental task of starting a business. Therefore, managing your time properly is crucial in order to stay on top of ideas and leads.
Throughout the entire process, project management software can help you stay on top of deadlines and save time and money.
How much can you earn as a tattoo artist in the UK?
£37,939 per year is average salary for a Tattoo Artist in United Kingdom.
Tattoo artists in the UK can earn a variety of incomes depending upon a number of factors, making predicting potential earnings difficult.
There are several factors that will affect your earnings, including your level of experience, your skill set, and whether you are employed by a studio or have your own studio.
Apprentices usually start off earning very little money.
Most tattoo studios pay their tattoo artists a base salary plus commissions from the tattoos they create. There are also studios which require that artists rent chairs and are essentially self-employed.
You and the studio owner might share the hourly rate if you work for a studio, ranging from a 50/50 split to a 40/60 split in favour of the studio owner.
Tattoo artists typically earn an average salary of £29.19 per hour, which equates to £21,821 per year. The median annual income for tattoo artists is between £30,000 and £60,000.
For their artwork and tattooing services, famous artists and celebrities can charge up to £325 an hour.
You'll also be able to set your own rates if you have your own tattoo studio.
There is a slight difference in wages between tattoo studio owners and their employees, sitting somewhere between £21,533 and £36,725.
In addition to being able to keep 100% of your hourly fees, you can also retain up to 70% of your employees' earnings. It is necessary to absorb the running costs of the studio, however.
In order to accommodate when customers are available, most tattoo artists work five or six days a week, including Saturdays. The level of concentration and attention to detail involved in tattooing causes tattooists to schedule their work into short sessions throughout the day.
Tattoo artist education requirements
In order to become a tattoo artist, there are no set entry requirements, but there are routes that will allow you to become a successful tattoo artist more easily. Many tattoo artists begin their careers as apprentices.
You should approach tattoo artists in your area to see if they are willing to take you on as a trainee if you are interested in taking on this path. In addition to your interest in tattoos, tattoo studios will want to see that you're artistically and technically adept.
Over the past few years, tattooing has become incredibly popular, leading to more apprenticeship opportunities. This has also resulted in increased competition as well.
Apprenticeships prepare you for becoming a tattoo artist by providing you with all the required training. Usually, this begins with cleaning and sterilising the equipment during the first few months. As well as design and human biology, you'll learn how tattooing works physically and how to prevent infections. You should note that the needles won't be accessible for some time.
An apprenticeship typically lasts between three and four years, depending on your skill level and, of course, how quickly you learn. In the event that you have accumulated the necessary skills and experience, you may be able to start your own business.
Check out Find an Apprenticeship, the government's website for apprenticeship opportunities if you're looking for an apprenticeship as a tattoo artist.
Design a portfolio
Creating a strong portfolio to display your work to potential clients is another step in your tattoo artist education. A digital portfolio is a good idea, as it will make it easier for employers, or clients, to view your work.
Your website can be a great way to showcase your work in its best light and showcase your attention to design.
The best website builders for small and medium businesses often offer artists and designers-specific templates and features. They are generally more attractive, with cleverly designed templates – perfect for showcasing work.
The majority of tattoo artists today use social media as part of their portfolio, such as an Instagram account, such as Barber DTS'. Additionally, since these platforms already have huge audiences, potential customers will have an easier time finding you.
Licences and regulations for tattoo artists
We will now talk you through the different licences and regulations surrounding tattooing.
Get a license
If you plan to operate your own tattoo, piercing, and electrolysis studio, you must obtain a tattoo and piercing licence from your local council.
This license covers:
Tattooing
Semi-permanent skin colouring
Cosmetic piercing
Electrolysis
Acupuncture
The council will need to grant you a Special Treatments Licence instead, if you plan to conduct business in Greater London. These activities include:
Massages
Manicures
Chiropody
Saunas
As soon as you gain licensure, you can only operate in the premises where you have been granted licensure. Your certificate (or license) must also be displayed on your premises in a prominent location. Failing to do so could result in a fine.
Please note that unless you are registered with your local council, it is illegal to work as a tattooist.
Health and safety regulations for tattooists 
As a tattooist you are required to follow any local laws relating to the hygiene of your staff and the safety, cleanliness, and maintenance of your premises and equipment as part of your license application. Prior to receiving a license, your premises will be inspected to ensure that they are in compliance with the regulations.
Your business premises and equipment will be subject to regular inspections by the local environmental health department, so make sure to keep everything up to date. The are also required to comply with Tattooing Of Minors Act 1969.
As a tattooist, you should also consider your own safety and that of your customers.
In addition to getting vaccinated against hepatitis and other vaccinations, tattooists must also receive booster shots every 10 years or so. If you need further information, see your doctor.
Get insurance
When it comes to body art, there are a lot of things that can go wrong. The famous story of Kimberley Vlaminck, a teenage girl who fell asleep while getting a tattoo, made international headlines. After allegedly asking for three stars, Kimberley woke up with 56 stars permanently tattooed onto her face. Her tattoo artist has now been sued for the work.
The truth about Kimberley's claims in this scenario is impossible to determine. Therefore, many tattoo shops and artists choose to be covered with liability insurance, despite the fact that most local councils do not require business insurance coverage.
If a mistake is made or an issue arises, professional liability insurance can protect the artist from a lawsuit in which the customer sues the business for malpractice.
How much does it cost to become a tattoo artist in the UK?
It's likely that you'll be an apprentice when you first become a tattoo artist. The apprentices of some tattooists are paid a small amount, while the mentors of others are required to pay them.
Before starting your apprenticeship to become a tattoo artist, you should check into this and make sure you fully understand what you will be required to pay.
Body art is in high demand because more people are looking to get tattoos, and the industry is growing rapidly. Once you establish yourself as a tattoo artist, you should be able to recoup your investment fairly quickly.
The following costs need to be considered when you become a tattoo artist:
Supplies – If you are interested in getting tattooed, you'll need supplies such as a power supply, a tattoo machine, various needles, and inks. In addition to razor blades, stencils, rubber gloves, and a portfolio, you will need additional supplies.
Furniture – Tattoo artists require specialized furniture so it's best to buy it from companies that specialize in tattoo parlor furniture.
Othercosts – Expect to pay for your tattooing license, as well as essentials such as insurance. You'll also need to allocate a budget for promoting and marketing yourself as a tattoo artist, as well as office essentials such as a cash register, safe, phone, computer, internet, etc.
Rent (if you're planning on opening a tattoo studio) –This is a variable cost that depends on where your tattoo studio will be located and the size of the space. As a general rule, rent in city centres is higher than it is in rural areas and suburbs. Leases are typically signed in advance by landlords for commercial properties – you'll pay rent monthly, plus signing fees.
Creating a tattoo artist business plan
You can get customers to come to you if you have the right equipment and facilities to become a tattoo artist from home. Getting started will be significantly less expensive if you run your tattoo business from home.
Nevertheless, many experienced tattoo artists open their own tattoo studios in order to attract more customers and gain more exposure.
You'll need a comprehensive business plan if you're considering opening your own tattoo studio. Using this tool, you can determine the exact amount of capital you need when you open your studio, as well as forecast future profit projections.
How do I design a business plan?
It can be intimidating to create a business plan, especially if you've never done it before. There is plenty of help out there on the internet, so don't worry.
As you learn the ropes of the industry during your apprenticeship, some of the research above can be carried out while you are learning it. Find out how to become a tattoo artist at the Tattoo Club of Great Britain and the National Careers Service