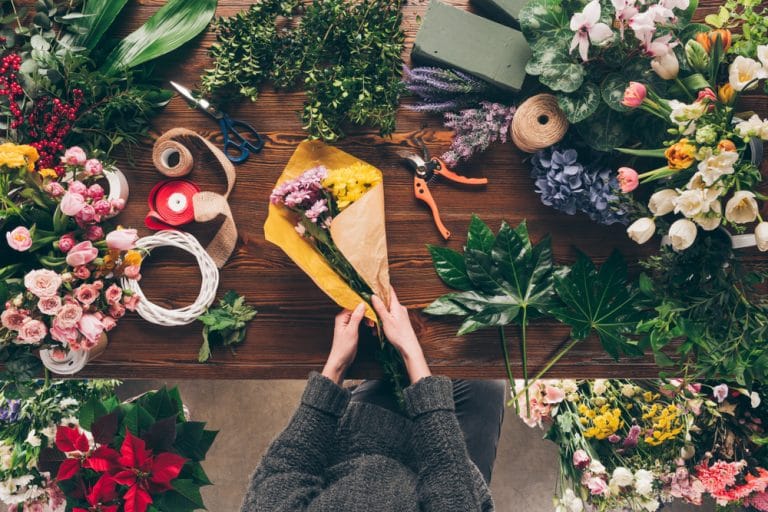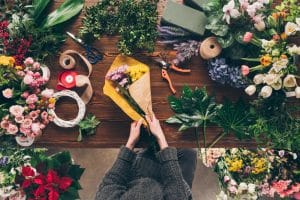 Starting a florist business can be a rewarding and profitable venture. However, it is important to do your research and plan carefully before getting started. Here are a few tips to help you get started.
While it is not easy to start a floral business, you don't need much capital to get started.  The first step is to decide what type of florist business you want to start. Are you interested in starting a brick-and-mortar store, an online store, or a mobile flower cart? Each option has its own set of benefits and drawbacks, so it's important to choose the one that best suits your needs.
Once you've decided on the type of business you want to start, the next step is to develop a business plan. This will help you map out the start-up costs, overhead expenses, marketing strategy, and financial projections for your business.
Once you have all of this information in hand, you can start to put your plan into action. Of course, no business is without risk, but with careful planning and execution, starting a florist business can be a rewarding experience.
You can start a home-based small business and grow it step by step.
Here's how to start a floral business
To start a florist shop successfully, you should consider the following sections that will be covered within this guide:
Business model
Skills and qualifications
Ideas and specialisms
Market research
Potential earnings
Useful contacts
The gift of flowers from family, friends, and loved ones has always been appreciated no matter what the occasion. But flowers aren't limited to special occasions anymore. More than half of all flower purchases are made by people for their own homes. There is an enormous and thriving floral industry behind the bouquets and bunches more than ever before.
IBIS world research indicates that the floral industry is worth £993m and employs over 21,000 people according to Lantra Training, a training organisation for people working in the land-based sector (agriculture and veterinary medicine for example). The above figures demonstrate how bright and beautiful the UK population finds everything.
Do you have such a passion for flowers or gardening that you can see yourself running your own business, but have yet to venture into it? Perhaps you are thinking about starting a florist shop, but are not sure how to get started? You can use the florist business plan to help you start your flower business and turn any hesitancy into a budding business.
How does the flower shop market work?
Around 80 percent of the 6,700 businesses belong to a relay organisation, such as InterFlora, Teleflower, or Flowergram. Being a member of such an organisation gives businesses the opportunity to compete with multi-national firms, and respond to changing markets, by providing support in marketing, sales, and product development. A relay organisation enables a person in an area of the country to send flowers to a person in another area by using a network of florists (for example, approximately 80% of Dutch-imported flowers are now available through supermarkets in the UK.) The process is relatively simple.
When a customer orders flowers from an authorised florist, the order is forwarded to the scheme's head office, which then sends it to a florist in the area that the customer wishes the flowers to go to. As well as placing orders, members can pick them up by phone, fax, or email, or visit the shop in person.
Both the sending florist and the executing florist hold accounts with the relay organization so that both parties are paid. Sending florists usually retain 20% of orders and send the balance to relay organisations, while executing florists receive the remainder of the amount for orders, which is typically 80%. Usually, both parties settle their accounts monthly.
Membership of the scheme may also involve:
A contract stipulating that the florist cannot be a member of another organization
An annual membership fee or a joining fee
Interest rates on late payments, as well as other membership terms and conditions
Besides small shops, contract florists are also among the remaining florist businesses. They are independent of relay organisations. Outlets and companies that provide these services either sell directly to passing trade or contract to cater events, functions, and parties for businesses and other events. You may also hire contractors as a relay organization.
Competition is a constant in any industry, and the florist industry is no exception.
Over the past five years, the number of florists has remained about the same, but around the same number of florists go out of business as run their own business. Being a florist will never make you rich, but then that's not why people enter the field.
The key to success may lie in specialising and adding a personal touch. The business would not be profitable if there wasn't competition. Today, there is no shortage of places to buy flowers and plants inside, but very few offers bespoke arrangements, for which successful florists are known.
However, we believe that adding the personal touch and specialising will give you the edge.
Who is being a florist suited to?
Several things go into being a florist. To distribute and sell floral displays to the public and to corporations, you will need to design and assemble floral arrangements. A bouquet can be created for a birthday party, a wedding anniversary, or for a large event such as a sporting event, a conference, or even a state occasion. In a small company, however, each person plays a vital role.
To achieve success in the floristry business, you will also need to develop skills like sales, marketing, accounting, stock ordering, and hygiene, as well as floristry skills. If you want to succeed in floristry, you need to be a multi-skilled individual who is prepared to knuckle down.
It's physically demanding. The job requires stamina, dexterity, and strength – a full florist's bucket weighs about 15-20 kilos. Being dirty is not a problem. Taking care of bereaved people ordering wreaths, or brides-to-be choosing their wedding flowers, also requires excellent people skills.
Hardy perennials aren't the only option. A flourishing business requires some business nous. Entrepreneurs also need some business knowledge. The successful floristry businesses have the business skills – or hire someone with them – as well. Oftentimes, entrepreneurs start a floristry business with great floristry skills but little business sense.
Do I need any qualifications?
As a florist, you are not only learning how to buy and sell, but you are also developing an art and a skill that takes many years to master. It's possible that you've already acquired skills such as flower arranging through working for someone else, as a hobby, or through belonging to an organisation, but where can you get professional advice and training?
There are many professional flower arranging courses offered at night by local education authorities. These courses usually last between three months and a year. There are also specialist horticultural, agriculture, or women's institute schools that offer courses and opportunities for flower arranging, as well as floral arrangement courses through the National Association of Flower Arrangement Societies.
Where do I start when launching a flower shop?
You will need to consider the following issues after you have decided to open a florist and how you plan to finance it.
Decide what kind of florist you want to be, what you want to sell, and who you want to sell to. Can you sell solely to the public, will you join a relay scheme, will you contract with local businesses and organisations, or will you combine all of these options?
Establish trade sales links by counting the number of suitable businesses in your area, deciding whether there should be a discount system in place and then approaching them to see if they are interested.
Give them a reason to switch over to you if a competitor has already made it there first. For example, lower prices and a wider selection.
Which products will you offer? Are you planning to sell fresh or dried flowers? Would you be interested in selling greeting cards, confectionery, balloons and banners? Would you be able to cater to weddings, birthdays, and funerals, or would you prefer to specialise in one specific area?
It is beneficial to specialise in any field. In addition to highlighting their design skills, florists should also highlight the additional design input they put into their work. In the same way artists and clothes designers are recognized by their work, this often has a personal touch.
Understand the Pros and Cons of Being a Florist
Being a florist has its pros and cons. On the plus side, it's a job that is all about making people happy. There's nothing like being able to brighten someone's day with a beautiful bouquet of flowers.
In addition, working with flowers can be incredibly therapeutic. The smell of fresh flowers can help to boost your mood and lower stress levels. And being surrounded by colour can also be very uplifting.
However, there are some downsides to being a florist as well. For example, it can be very difficult to keep up with the demand during peak periods, such as Valentine's Day or Mother's Day.
This often means working long hours and weekends. In addition, the work can be quite physically demanding, as you will be constantly lifting heavy boxes and containers of flowers.
But if you love working with flowers and don't mind a little hard work, then being a florist could be the perfect job for you.
Market research
Location and the size of premises you intend to lease or purchase directly relate to the niche or style of florist you plan to launch. Is passing trade more convenient in an urban environment or is it more convenient to be found in a more rural location? Being close to a hospital, train station, or just off the high street can work wonders for your business.
You should also think about the size of your shop. Provide enough space for a retail area that interfaces with the public, a cool storage room, and a preparation area for building arrangements. This will ensure that your flowers are displayed outside and will look attractive in the window.
To determine the type of people that live and work in the area and the existing competition, you will need to carry out thorough market research. Establish a level of demand for certain products by first estimating how many people will be interested in purchasing flowers.
You will soon find yourself out of business as a florist if you start out with a lot of waste. If you've found a niche, however, and there are not many competitors, then you've found your market.
Check out the competition by looking at the number of flower shops, what they are selling, and who is selling them. In recent years, the flower industry has changed significantly and there are a lot more outlets that sell plants and flowers.
In addition, look for other specialist florists, nurseries and garden centres, DIY stores, petrol stations, greengrocers, convenience stores, supermarkets, and mail order and home delivery services in your area. Record sheets are always useful for keeping track of every competitor. Make a list in tabular format, ticking off items as you go and adding comments:
Name of outlet
Specialist florist
Other outlet, newsagent, supermarket, etc
Product range, opening hours, shop appearance, services offered and whether it belongs to a relay scheme
To acquire fresh cut flowers and plants, you will need to develop a relationship with a wholesaler who can deliver them to you from Holland. You can find wholesalers all over the UK. The Flower & Plants Association can provide you with more information on this topic.
As soon as you start a retail business, you should advertise in as many places as possible. Start by creating an attractive shopfront and regularly updating your display, then create some leaflets that include product photos and your contact and website details (if you have one, if you don't, get one). Social media can also be useful to you in terms of connecting with customers and showcasing your products.
Aside from advertisements in newspapers and directories such as Yellow Pages and Yell.com, you should also build links and promotional exchanges with businesses in your catchment area and create a series of business cards that you place in related businesses, such as bridal salons. Make sure that the sign of the organisation you belong to is prominently displayed if you are a member of a relay scheme.
Rules and regulations when running a flower shop business
While there are no specific regulations when opening a florist's, you will need to comply with employment regulations like the national minimum wage act, working time regulations, and the Employment Rights Act if you employ staff.
There will also be a requirement to comply with the Health and Safety at Work Act, which covers all aspects of health and safety at all business sites.
How much can I earn?
With an average starter wage of £15,000 and profit margins as high as 60% in some cases, running a florist's can be a very profitable business.
Even though many people still use cash to purchase flowers, it may be worth considering accepting card payments as well.
Useful contacts for a florist
Flowers and Plant Association
Tel: 020 7738 8044
www.flowers.org.uk
National Association of Flower Arrangement Societies
Tel: 020 7247 5567
www.nafas.org.uk
The Health and Safety Executive
Tel: 08701 545500
www.hse.gov.uk