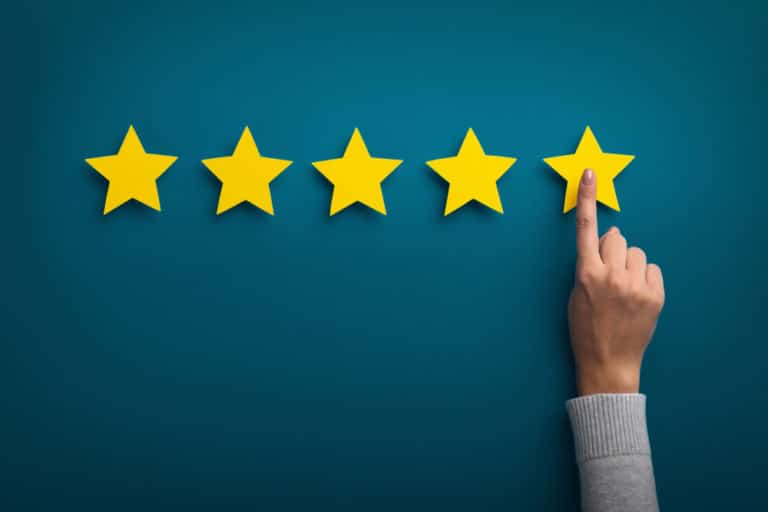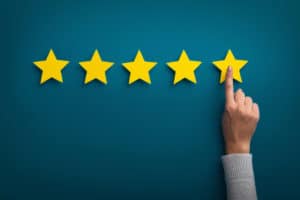 Online reviews can be the difference between a company with a strong reputation and a company that's avoided by consumers. In a Google search, if your company has had much interaction, potential customers will likely notice your overall review score. This rating gives them an immediate indication of your business' quality. This is why it's now more important than ever to collect as many positive online reviews as possible.
You were likely already aware that reviews can help to develop your business, but knowing how to collect them is more complicated. This article aims to help you learn just why you need them and exactly how you go about getting them.
How do we get more online reviews for my business? 
Reputation should be a number one priority for any business owner. Not only will having a strong public perception for your company make you feel proud, it will also gain the trust of new customers. This will show the average consumer that you have a reputable product and fill them with a sense of reliability when purchasing from your company.
The number of reviews you manage to amass is equally as important as the quality of those reviews. If you have a five-star review rating but only a handful of reviews, a rival company with a four-star rating from a few hundred reviews will appear to be higher quality. In the review world it isn't necessarily quality over quantity, and people will choose to trust the voices of many rather than the few.
If your business creates a positive online reputation, you'll receive a boost in multiple areas:
Traffic will increase on your website as review ratings are the biggest driver of clicks, according to Bright Local's Click Study.
Website's with a high review rating will rank higher in Google searches, according to Moz.
The more reviews your products/webpages receive, the more likely you can convert it all into sales. Spiegel Research Centrestates, "The purchase likelihood for a product with five reviews is 270% greater than a product with 0 reviews".
Free micro-marketing
Customer reviews can act as a form of marketing. While reviews can be hard to acquire at first, when the ball starts rolling and you begin to get a larger portion of them, they can turn into valuable assets for your company.
Reviews maintain their effect long after initially being posted. The knock-on effect of a positive online review is that you'll reap the rewards for an extended amount of time. Other potential clients will notice it for years to come after first going live, meaning the hard-earned positivity is going nowhere once you've gained it.
This form of micro-marketing is actually the greatest kind as customers believe it comes from the best possible source: other customers. Hosting Tribunal claims marketing teams are missing the mark with their current ignorant view of online customer-published reviews. They say, "Online reviews are obviously persuasive – yet marketers haven't necessarily come to appreciate that. With the increase use of mobile devices in 2020, the power of local search will continue to grow and so will the impact of user reviews".
The people that actually write the reviews
UK Domain have gathered a series of statistics on the importance of customer reviews. They state that, "95% of people aged 18-34 read reviews before buying from a business". This is an extremely high number for a younger age group that clearly believe in the importance of reputation. It's also younger people that are likely to buy a product/service online, making them many businesses target audience.
It was also found by UK Domain that, "80% of 18-34 year olds have written online reviews, compared to just 41% of consumers over 55". This means younger generations need to be doubly impressed by your product online, as they not only take note of the feedback it has received, but most likely add to it as well.
This information allows you to narrow down exactly who you should be chasing positive customer reviews from. If you can build upon the customer trust you've already established, you'll ultimately start appearing higher up in search engines, allowing people to locate your business with more ease.
Don't be afraid to ask different audience age groups for feedback though. If your business is directly aimed towards an older market, then keep that target in mind. Don't change your product plan just because you think it'll reach a larger audience. That tactic could easily backfire.
How to start gathering reviews for your business
The simplest way to gather reviews is to ask for them. This method sounds basic, which it is, but it's also effective. You don't have to go around shouting Google my business, but asking for customer feedback can often prompt people to give it.
If you're a small business that only deals with a limited clientele, send out an email asking them to leave some feedback online. Try to send out slightly different messages in order to give it some personality, or the client may dismiss it as automated spam.
According to Campaign Monitor, emails are opened up to 27% more often if the subject line is personalised. This means even making the commitment to differentiate emails can earn that much-needed customer feedback.
Offering customers an incentive can be another positive way of developing online feedback. Not many people will turn down a freebie, making incentives an often successful method of business-to-customer negotiation. The incentive you decide to offer will be unique to your business, but an online voucher often carries a high level of persuasion.
You must however, be careful not to purchase online reviews in any way. Instead choose to try and build them naturally rather than throwing important funds away for the sake of a quickened development.
Asking for reviews from every customer you ever interact with may seem a bit like overkill, but that isn't necessarily the case. A commenter on The Financial Times' website writes, "I agree there are a lot of requests to review now after receiving even minor services. It may be slightly annoying at times, but the opposite approach is zero data collection on the quality of service. I'd prefer to ignore the request rather than never be asked".
Make it easy for people to leave a review
If something is easy and effortless to interact with, consumers will be more likely to spare a moment for it. Don't make your customers jump through loophole after loophole in order to leave a review of one of your products/websites.
Send customers straight to the right place with one click of a button. Leave a link at the bottom of your page that takes them straight to the review portal. This could be a link to Google's review page, Yelp reviews, etc.
Social media sites are another good area to acquire reviews hastily. You can set up direct links from your Twitter and Instagram pages to review sites. Facebook even has its own review feature which ties in with Google's, meaning for many businesses it's a positive place to start.
I've got some positive reviews, now what?
You've been working towards this and the time has finally come to give yourself a pat on the back. But, what now? Well, to keep the momentum going, stick to your guns and continue to use your newly found skills and techniques.
If you've found a review strategy that works for you, stick to it and continue to gain more responses from customers. Don't rest on your laurels, keep going and try to grow your businesses online presence.
Remember to share your positive reviews. Display them across your social media channels and be proud of the encouraging customer feedback. This will exhibit your newly found positive reputation and show it off to new customers visiting your site for the first time, giving off a valuable, positive first impression.
Small local businesses especially, can use social media to build a positive average review score by asking known consumers to leave their feedback, essentially helping the business out because they successes in their hometown. This could be viewed as a response to good customer service from a business attempting to take the next step in their development.
Spread your reviews across multiple sites
If you have a review presence on Google, you may start to believe you're all set. While this is a positive first step, to start will developing consumer trust further, you should attempt to gain reviews from different platforms. Build on Google with the likes of Yelp, Facebook, Yellow Pages, and Amazon. Again, this will differ slightly based on the sort of business you're running and the product you're offering.
The negative aspect
Everyone can receive negative feedback in life, and it can be tough to take. In this instance it may be in the form of a bad review. Instead of letting negative comments get you down, actively respond to them and and decide weather or not you believe the criticism to be valid. This will not only develop your communication skills with unsatisfied clients, but may also help you to fix a part of your business that wasn't working quite as you right.
With this said, believe in your business and try to make it a positive experience for consumers. Many customers consult reviews before even visiting your business online. According to Igniyte "94% of people say an online review has convinced them to avoid a business".
Another plus side (if we can say that) to negative reviews is that at least it shows people are engaging with your content. If members of the public care enough about your product to leave a negative response about it, it probably means that you've found a target audience. You now just need to learn how to deliver what they expect from you, which their critiques may help with.
What it all means
The main points to takeaway from this article are as follows:
Gain reviews in order to prove to your audience that you have an amazing product and you're running a reliable company
Share your positive reviews and write responses to negative reviews
Aim to get reviews from different platforms to create a more substantial presence
Allow customers to easily leave feedback
For small businesses, develop a strategy of asking your clients for feedback, such as an email campaign
Have you thought about growing your business with the help of a cash advance? Here at PDQ Funding, we offer friendly, specialist advice to clients.
Contact us today to receive further information on how we could help your business.