Coffee Shop funding in the UK has always been neglected by the traditional high street banks. This is provably due to most accepting cash, times are changing and card payments are on the rise. As more Coffee Shops and Cafes take card payments, customers are becoming cashless.
Funding providers have come up with a solution for these types of business. Business Cash Advances is an alternative type of funding for Coffee Shops.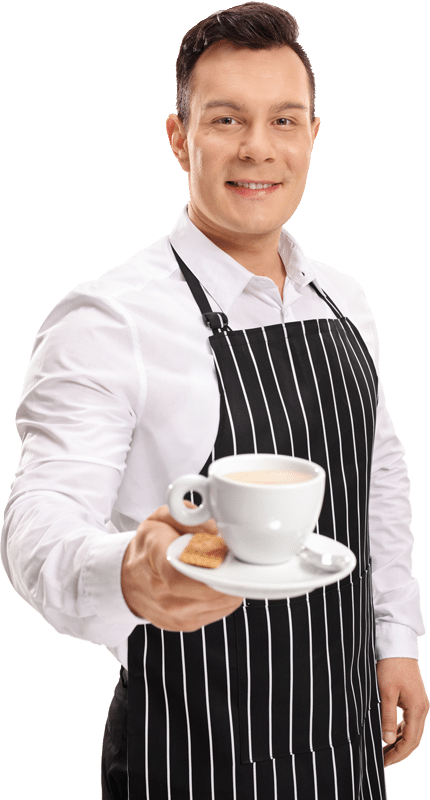 Get a No-Obligation Quote Now
Business Loans for Coffee Shops
There are many reasons why a coffee shop business would take out loans, but one of the most common reasons are to improve customer satisfaction and to take advantage of an unexpected opportunity. For example, as technology develops there are new systems which can be implemented into the business such as loyalty card systems, point of sale systems and online ordering options.
When these investments are combined with marketing strategies the costs do start to rise, but hopefully by investing it will have an increase in trade as this usually cover the initial investment. Not every coffee shop business has the capital available to invest in these latest business opportunities, which is why short-term business loans are so popular.
A Coffee Shop business that processes £10,000 per month in credit and debit card sales, is eligible to receive £10,000 in an unsecured business cash advance.  The fixed repayments are based on your monthly card sales and there is no APR or fixed-terms. As a Coffee shop owner you can borrow from £5000 up to a maximum of £200,000 for any purpose. Our alternative business loan can take up-to 48 hours to be in place, but approval is within hours.  The repayments are made with future card sales so the business cash sales are not affected by this at all so you keep 100% of cash income.
Eligibility for a Business Cash advance : We require a trading history of 6 months or more.  A minimum of £5,000 of card transactions a month.
Here are the other benefits:
90% approval rate
Applications takes minutes to gain funding of £5,000 – £200,000
You pay back only when you make a sale
All cost agreed upfront (no APR)
No hidden charges, costs or extra fees
No monthly late penalties
Over 90% of businesses are approved for business cash advances
Get a decision in as little as 24 hours
Merchant Cash Advance for Coffee Shops
Flexibility is key for the funding of Coffee Shops. Historical credit & debit card sales are viewed and used to work out with you a comfortable repayment percentage on your daily sales, this is usually around 7%. If you have a quiet month you pay back less but if you have a better month you pay back more. It's all linked to your daily card transactions and repaid automatically. Every business is unique so we tailor it closely with what you can afford.
The Approval Rate is High. PDQ Cash Advance do not involve strict credit requirements, complicated contracts and extensive documentation. Since merchant cash advances for coffee shops are not based on personal credit, time in business or financials, the approval rate is high. There are no credit checks with a business cash advance.
Easy Application Process. A commercial loan can take weeks or even months to finally be processed. A merchant cash advance, on the other hand, can be available within the same week that the application is processed
After securing funding, a wide range of spending opportunities open up to you and your business, these could include expansion of premises, the ability to open in another location, purchasing new Coffee machines & grinders or even importing a new blend of foreign coffee.
Simply a business loan for your coffee shop or cafe should and hopefully give you peace of mind should any problems crop up. This financial security will ensure that you do not spend sleepless nights worrying about
Turning a profit immediately for any small business is difficult, and often start-up coffee business founders are unrealistic about the finances. This is true in all sectors of business, a cafe or coffee shop is no different. When considering start-up costs for a café or coffee shop business, these costs can come in at anything between £20,000 to £100,000 depending on the size, style and location.
Costs also to consider are such as the cost of rent, utility bills, general repairs and the procurement of coffee & barista accessories. Also once in a while a costly problem will arise from running a high-intensity, high-stamina business like a coffee shop. To help business owners to cope with these seemingly unprecedented costs, we have a finance option for you to consider.
Merchant cash advance are perfect working solution for coffee shops or tea rooms, the benefits they bring to the business are under estimated. As your customers will settle their bills with credit and debit cards your business will use a card terminal. This is the amazing thing about the cash advance it advances future card takings in way of an unsecured loan. Your business can access between £5,000 and £200,000 in as little as 48 hours.
This option is slightly different to a business loan.  It allows your monthly card payment receipts total to be advanced to you. Repayments are made each time you make a sale, all your cash sales are retained by yourself and not included in the repayment. There is simply an all inclusive fee for the duration of the merchant cash advance. There is no administration charges, no interest or late payment fees.
Will my Coffee Shop qualify for Finance?
A Coffee Shop business needs to be a UK registered company. Partnership or Sole Trader are also welcome with 6 months or more trading history. The businesses monthly credit & debit card turnover of at least £5000 a month.
If your Coffee Shop have been rejected by your bank for funding don't worry. Over 90% of applications get business funding with a Merchant Cash Advance for Coffee Shops. Simply complete the online enquiry and a funding specialist will make contact with you.
Get coffee shop funding in days, not weeks.
Business owners that went a flexible business loan in days not weeks will love the concept of a merchant cash advance. We are proud to have supported business owners expand their ventures whether it's growth, new premises, purchasing equipment such as coffee machines, refurbishment, or closing an opportunity to purchase a new business. Our loans are not set in stone so you can use the money for any purpose at all.
The application for funding is extremely quick compared to a business loan, a decision is available within the hour. Our quickest time from application to funds being transferred to you is 2 days. The process is free of hassle and the application form is completed online. We fund on average 90% of each full application made.
We understand totally that running a cafe or coffee shop business is a hands on job, so we have kept the whole process as clear and easy to understand as possible. Simply get the process started by applying with our online form. Once we have received it one of our team will contact you so you can make an informed decision.