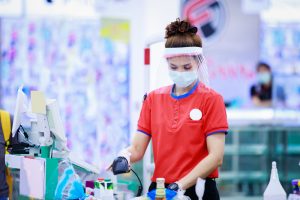 Over the past year, not only have we all become tired of talking to people via Zoom calls.
We have turned our spare bedrooms into office spaces so we can work from home and staying two metres apart from others whenever we're out of the house, we have also missed out on major retail events and time periods.
This is particularly apparent for retail business owners that heavily rely on such occasions, though they should begin to take comfort in the fact that those times are definitely on the way back.
The events that businesses rely on to give them a sales boost often come around at certain times of the year, such as the Christmas period, summertime and the start of a new year. Be aware that it isn't only seasonal business models that look forward to these times, but everyone that feels that they could use a push in the right direction every now and then.
Future of retail after COVID
One thing that has been prominent throughout the period of the global pandemic, is businesses trying to take advantage of their online counterparts. This will now likely be sticking around due to the effort that has been put into it by so many business owners in the UK.
Internet usage is constantly increasing year after year; there's more people using the internet than ever before and they're spending record-breaking amounts of time on it. This is why the vast majority of business owners now decide to target online audiences when looking for ways to maximise profitability within their ventures.
Shopping and retail events such as Black Friday already have a strong online presence, to ensure that they have been able to keep up with modern consumer demands, and this is sure to only grow much in the future, despite lockdown coming to an end.
There are so many ways to ensure your firm is growing as quickly and as vastly as possible through the use of the internet, so be sure to look out for all the tips and tricks that will aid you along the way. This will be really challenging if you haven't spent most of lockdown getting to grips with the online world, but don't get left in the past. Be in the here and now and make your online business venture something to feel proud about.
New digital shopping behaviours
Speaking of taking advantage of the online world, you'll need to connect with your early customer base in a way that's relatable for them. This means using online communication, such as email marketing, to your advantage.
Every new business should certainly look into promotional email usage and we're here to tell you exactly why that is. You see, the use of promotional emailing isn't solely for the big businesses in your industry, the smallest of business can use it to widen their reach and stay in the minds of their respective customers as well.
Prepare for the worst possible outcome
At this current moment in time, businesses around the United Kingdom are still totting up the lasting effects of the Coronavirus pandemic, which will obviously hold some level of influence on their future business plans. While it seems as though this troublesome period of time is about to pass, something that like this could ultimately happen once again at some point, so as a business owner you should be ready to deal with it.
Develop a plan of action for any future business interruptions, so that you can be better prepared to face this sort of situation the second time around. We are all clearly hopeful and confident that this will not happen again, but nobody can ever truly understand what the future has in store for us all.
How has the pandemic changed the retail landscape?
By participating in retail events and large yearly shopping moments, you can easily give your company an often-needed boost. You'll be getting more people through your doors due to the fact that you'll have slashed prices for a limited amount of time, and with it there will be more cash in the till.
However, this is not the only advantage you can take from it all. You may even be able to build your reputation as a business and find yourself with more loyal customers, as a result of your participation. You see, shoppers will enjoy seeing a company care about them, so in order to show your respect for all consumers, you should try to fully embrace all sales events throughout the year.
By joining into yearly events, it doesn't mean you'll start to function like a seasonal business. You may not always need a financial boost around a certain time of year, though you should never really turn one down. What it will mean is that customers can begin to rely on you to fulfil certain promises that you'll be making to them; they will expect you to take part in national sales events at certain times and you will be able to deliver.
This all means that having a sale at the right time can make you appear as a more trustworthy and caring business. You will be showing that your care for the average customer and consumers of your venture are all the better for it. Creating your own positivity is a great way of getting others to believe and trust in your overall process, so try to keep it up for as long as possible.
If people begin to connect your business with sales events and how heavily it partakes in them, it will add a new dimension to your overall brand image. One key part of having a great brand image is being consistent, so once you begin to grasp these situations with both hands, continue to do so for the foreseeable future, as long as it is both possible and beneficial to your small business.
How does PDQ Funding's retail finance work?
So, how does PDQ Funding's Business Cash Advance work exactly? Alternative retail finance is a straightforward and effective option for business owners to utilise. This is funding that we give based on future credit and debit card sales and it's paid back through a pre-agreed percentage of your business' card transactions. Due to the repayment being linked directly to card takings, you're only making payments to PDQ Funding when your business earns – unlike bank loans, which require fixed monthly payments.
Additionally, you could receive funds in as little as 24 hours, which means you can get started on transforming your retail business right away. And once you're eligible, you'll be able to get repeat funding – 75% of customers do! If you require more funding, we have made renewal simple and so easy to get funding again online.