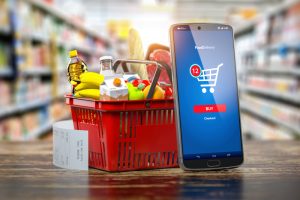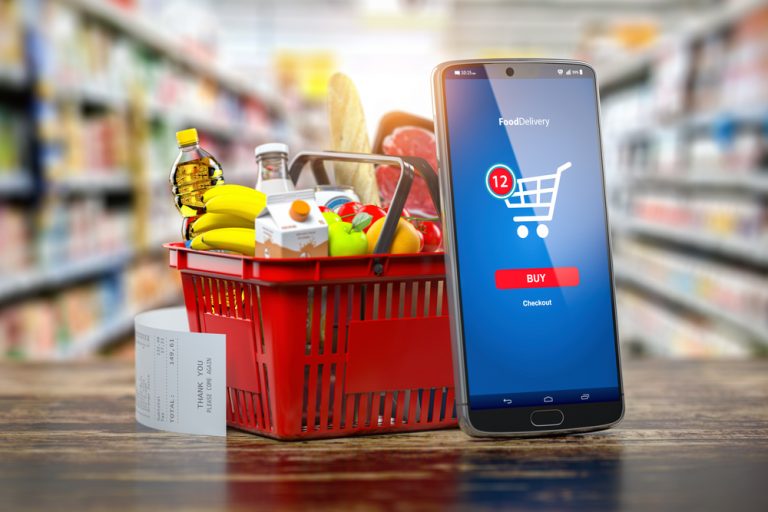 Online shopping seems to be the current trend when it comes to doing our weekly food shop in the UK. This opinion has stemmed from the fact that huge supermarket chain Tesco has received a gigantic surge to their online shopping customer base.
Tesco have reportedly managed to acquire a 28.1% increase across all online sales, when compared with 2019. These results have come through during new chief executive Ken Murphy's fist week in charge, so it's a welcomed start for him. Murphy has replaced Dave Lewis, who was the business' longest serving executive as he ran things from back in 2014.
Online food shop trends
Many supermarkets, including Morrisons, had to change the in-store and online business strategies they deploy, in order to find success during the Coronavirus pandemic, though it seems that Tesco has come out on top when it comes to out of the box thinking.
The below graphic is taken from the BBC and shows how Tesco are conquering the online market and winning the battle of the supermarkets at the moment by a comfortable margin.

Restructuring doesn't always work out
Of course, companies can go about things the wrong way, too, which is what Morrisons seemingly did earlier in the year; Morrisons believed that extensive redundancies would have helped the business to move forward.
We all know by now that our high streets are changing. The retail sector faces more job losses and more closures day after day. Many people see this as the doing of online shopping, which is often a cheaper, more convenient way for people to shop.
The Guardian previously reported on the tactics deployed by supermarket chain Morrisons. They stated, "The restructuring at Morrisons comes at a difficult time for the retail industry, the UK's biggest private sector employer. It is shedding thousands of jobs amid a wave of disruption caused by the rise of internet shopping, new discount chains and the increasing cost of operating large stores. About 57,000 high street jobs went in the last three months of 2019, according to figures published this week by the British Retail Consortium".
The statistics certainly stack-up on the effect the online world has had on the retail sector, but it isn't the only factor in the downfall of management roles. Aldi and Lidl, two German companies that have taken many customers away from the big four brands of the UK, are perhaps the biggest influence behind the cuts at large supermarkets.
Online shopping isn't going anywhere
There are no signs of the public changing their ways when it comes to our heavy use of online shopping. The threat of the Covid-19 disease is one thing keeping us ordering our weekly goods from an online website, but the convenience of having them delivered is something that's turning people on to the idea more and more.
This has marked a turning point for the way many of use utilise supermarkets, and thus a large number of people are preferring to buy their items online, from the comfort of their own homes. This means that even once the pandemic finally comes to an end and it is officially safe for us to return completely back to normal once again, those that have become accustomed to food shopping online by that time will likely just continue to do so.
The number of online food shoppers is on the rise and we do not see it showing any signs of slowing down at all. Once the public gets used to doing something a certain way, they find it difficult to revert back to the older style, hence the difficulty some have had with getting accustomed to the national lockdown rules and social distancing.
We've been forced to change our ways
People have been lead to online shopping in a rather forceful way, due to the ongoing effects of the Coronavirus pandemic. The UK lockdown kept us locked indoors for a matter of months and with no other option, shoppers moved online and during the months of April, May and June of this year, retailers reported a significant surge in e-commerce sales.
In fact, retailer giant Amazon stated that their sales soared by a huge 40%. This is further proof that when a level of uncertainty hits the public, they'd rather act safely and spend their hard-earned cash online.
With that being said, the shift to online shopping was happening far before the impacts of 2020 begin to shake up all of our lives.
What else has lead to our online activities?
The power of online shopping hasn't only taken its toll since the Coronavirus kicked into effect, we've been heading this way for years for a matter of reasons.
The evolution of the internet has made it easier and more convenient for shoppers to browse and purchase goods than ever before. Whether that's from a laptop, tablet or mobile phone – people can purchase almost anything from anywhere with just the click of a few buttons.
Whether you think it's a good or bad thing, we're seeing more brands close their physical stores, instead focusing their efforts into the online portion of their respective businesses and making that the main outlet of their sales. If it's easier to generate profit online and connect with the customer, you're going to see more and more businesses head down this modern road.
Could your next Christmas dinner be an online delivery? 
It may seem a strange concept getting your Christmas dinner delivered online, but as tighter restrictions are placed in a growing number of areas around the UK, supermarkets will have to come up with solutions for those that either don't want to or cannot travel away from their homes to buy food from a shop.
One such solution is being offered by supermarket chain Morrisons; they have decided to put 'Christmas Dinner boxes' up for sale, which feed up to four people. Ordering the product now will cost you £50 and you can choose to have it arrive on either the 22nd or 23rd of December. 
Here's everything you'll find in the Christmas Dinner boxes:
British Turkey Parcel (serves 4-7)
The Best Goose Fat Potatoes
The Best Pigs in Blankets
The Best Deep Filled Mince Pies
The Best Sage & Onion Stuffing Balls
The Best Mature Blue Stilton
The Best Cranberry Sauce
The Best Brie De Meaux
The Best Turkey Gravy
The Best Caledonian Vintage Cheddar 300g
The Best Sprouts with lightly smoked gammon
The Best Festive Fruit Chutney
The Best Heritage Carrots with butter
The Best Rye Sourdough Crackers 130G
The Best Honey & Mustard Baby Parsnips
The Best Yule Log
Christmas is sneaking up on us rather quickly this year, as for many of us even though lockdown has brought major struggles our way, time has moved strangely quickly throughout it. The question this product listing brings up is that is the future of Christmas dinners a delivery service? It could be argued that this takes away from the magic of the festive time of year, though we must all expect and accept things to be truly different come December 25th 2020.
On the day of writing this update, Matt Hancock has announced a series of tighter lockdown restrictions applying to individual local areas. This could potentially lead to different types of Christmas celebrations in different areas of the same country. Some of us may remain more than comfortable when travelling to a local supermarket to purchase a traditional turkey dinner, while others may veer away from the idea if they're in a high danger level area.
This will likely lead to a record number of people doing their food shop online around Christmas time, though as we've experienced with other lockdown driven phenomenon's, it could be something that sticks around within our society for years to come.
The Manchester Christmas Markets were just recently cancelled for this year, due to lockdown restrictions in that area of the country, and they largely focused around festive food and drink. This is a trend that will absolutely continue on into others parts of the UK, as having large crowds gather round one single area is a huge no-no during the times of the pandemic. We have to make an effort to stop the spread, not push it around one another to an even larger extent.
One thing is for sure, this Christmas will be like no other that's come before it for so many families all around the world, though it could be the start of a new generation of online Christmas dinner shoppers. The next few months will either confirm or put a solid stop to the online era of the Christmas food shop.
It is your choice to make
Do you shop online for your food, or are you considering trying it out in the near future? If so, you'll be joining an ever-increasing list of people within the UK who now prefer this method of acquiring their meals for the following week. Many businesses, even the likes of Amazon, have made it easier to get your food delivered, at a time slot that's convenient for you, than it ever has been before. Why not give it a try and judge the results for yourself, you may find your opinion changing in a way that you never knew it would.