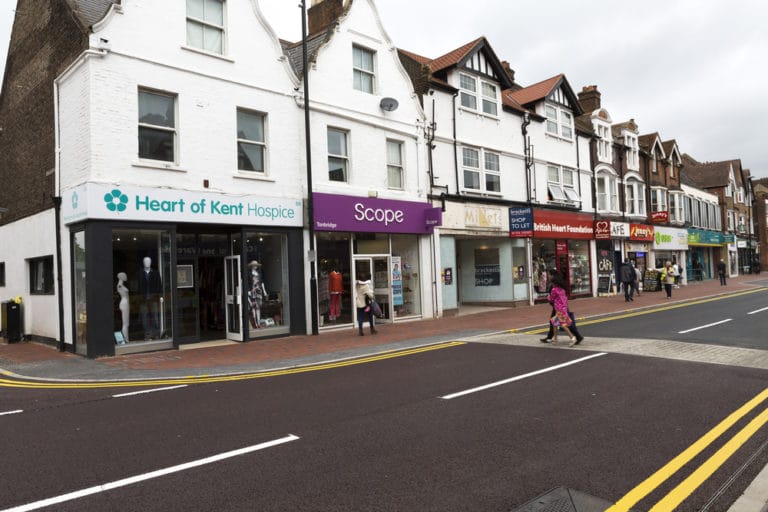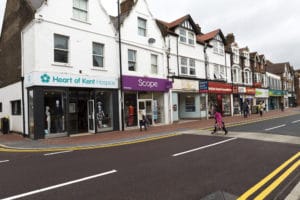 Nearly 12% of shopping locations were empty in the first half of 2019, up 0.6% compared to the same period last year, according to research from Local Data Company's (LDC) review of 3,000 retail centres. More than 25,700 outlets closed their doors, the highest level since LDC began tracking the market in 2010. That was offset by 22,115 openings, the highest level since 2015.
We quote from the opening of an article from the Guardian today about the high street:
Britain's high streets, shopping centres and retail parks have been left with the highest number of empty outlets in five years as chains have taken a battering from rising costs and low consumer confidence.

Nearly 12% of shopping locations were empty in the first half of 2019, up 0.6% compared to the same period last year, according to research from Local Data Company's (LDC) review of 3,000 retail centres.
You can read the full news story here.
With that doom and gloom opening in mind, is the high street terminally ill?
No.
We don't simply say this out of some partisan promotion of business, but from facts and figures outlined in the same piece.
Long established companies may be struggling or have gone bust. The likes of Toys R Us, Maplin and Poundworld, with chain restaurants collapsing for example too. Carluccio's, Jamie's Italian, Loch Fyne and Ed's Easy Diner.
In the month of October 2019, the high street suffered on of its worst months for business failures with Supercuts, Regis UK, Links of London and Bonmarche all failing.
The independent stores are proving more resilient, though with smaller overheads and a more loyal customer base.
Who are the high street success stories?
It's easy to focus on failures on the high street – after all, we can see shops that are permanently closed. Retail parks are no different. They have business casualties too, but there are clear successes. pop up restaurants are starting to "pop-up" across the UK, it is a way for new businesses to get established and ensure landlords have a business in their premises.
The selfie culture
It's clear to many people that social media and the selfie culture has led to many high street successes – witness, for example, the proliferation of nail bars, tattoo parlours and hairdressers. Because you can't beautify yourself for an Instagram selfie online easily (apart from digital filters) there is huge growing demand in this industry.
Craft beers and gins
Craft beers are another success – we've written extensively before about how Brewdog's expansion is a model to all in great social media marketing.
Teetotalism is rising too across society. This is not apocryphal. Figures show this. Demand for zero and low alcohol products are rising and we will exemplify this in a future blog post.
Trend spotting online and on the high street
Trends are by their very definition ephemeral and passing. A trend is just that. But some trends have a longer shelf life than others and your business needs to be canny in spotting these and being resilient enough to change strategy when the trend passes. Vegan food is not a trend, a fad, but a growing movement. It's one area your business could focus upon. The trend for selfies, and reduced alcohol consumption, are others, as is vaping.
What is business resilience?
You know people at work, friends, family who you'd class as "resilient". Without getting too political, recent leaders have shown resilience, whether you think that resilience was misplaced or not. Business resilience is being able to take knocks, to endure the odd punch, to use boxing, but bounce back from the floor and win.
People can develop resilience, as can businesses.
Your business.
Making your business strong
You can do five things in your planning to ensure survival in these straitened economic times:
Manage crises. Natural disasters, technology failure, supply chain failure can all lead to business crisis. Instead of waiting for emergencies, your business needs to plan a strategy for dealing with them.
Manage market trends. Resilience is all about spotting niches and capitalising on them. This may be in what you sell, the food and drink you provide or the services you offer, for instance.
Monitoring of risks. If you are monitoring and evaluating risks to your business, you have a higher chance of minimising their impact. Cashflow is often a business hurdle to new companies and established ones (Thomas Cook had £4.1 billion of debt).
Manage location. We can see all around us that business shifts on high streets and city centres. It always has done. Your location may be affecting your chances of success and relocation could be a winning plan, for instance.
Make your business stand out and be outstanding. To foster resilience, for example, you may decide on heavy investment in digital marketing or employing people with a track record of success in similar businesses. Your customers have got to trust, like and love you.
Don't just survive, thrive on the high street and elsewhere.
Firstly, any business will inevitably have peaks and troughs. Your job as business owner is to reduce low periods and maintain some sort of equilibrium, where profits grow.
Secondly, you need to grow your business sensibly. This doesn't mean, however, that you need Costa or Starbucks levels of ubiquity. It means sensible growth, in our opinion. For example, you may decide to franchise your brand to enable further success.
Thirdly, business is like life. There's birth, growth, maturity and decline. Your job is to change decline into renewal so that the four stages become circular or circadian (nice word, we know). HMV, in decline, has forged its future on the resurgence in vinyl. Aldi and Lidl are building small stores to capitalise on their success and the trend for smaller daily shops.
Above all, thriving may mean looking for additional sources of funding.
How PDQ Funding can help your business thrive
What we can do, in short, is help you grow with a business cash advance.
All you need to have to qualify is 6 months of trading experience.
No security or business plans are required.
We offer approval within 24 hours, with a 90% approval rate.
You can apply for a merchant cash advance in minutes.
Repayments are flexible because they are based on your card sales.
Contact us today
Finally, if you need a business cash advance from a leading reputable lender, contact us today.