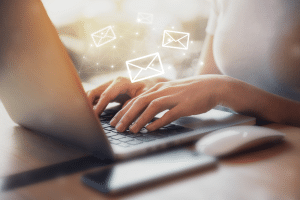 All small business owners can use promotional email marketing to their advantage in a multitude of different ways. One of the most important advantages to this form of business-to-customer communication however, is the stronger relationships it allows you to form between both brand and consumer.
Every small business should certainly look into promotional email usage and we're here to tell you exactly why that is. You see, the use of promotional emailing isn't solely for the big businesses in your industry, the smallest of business can use it to widen their reach and stay in the minds of their respective customers as well.
Don't shy away from marketing strategies that you believe will help your business to further its development. You should be aware that useful customer relation methods which are commonly used amongst huge, global brands, often work out well for smaller independent businesses, too.
Return on Investment (ROI)
Email marketing is often mentioned as the most profitable form of online marketing and boasts an ROI of 4400%. And the good news is that this massive ROI isn't just reserved for the monster-sized businesses of the world. The smaller corporations on lower budgets can profit substantially from email marketing as well, making it a worthy and often wise investment for any business from any sector to make.
What makes the perfect promotional email?
In 2020 and beyond, customer inboxes will be flooded and packed out with emails from different businesses around the globe, so in order to grab the attention of your potential future consumers you'll need to start standing out. Below you will find a series of useful tips and tricks that could see you through to setting up the perfect promotional email marketing campaign, that will ideally see your sales figures shooting up over the Christmas period and into the new year.
Choose quality over quantity when it comes to emails
 Rather than opting to send out hundreds of repetitive emails over the course of the next few months to any customers you have managed to sign up to your promotional email marketing scheme which keeps them updated with offers and sales events your business may be having, choose to instead make some quality content that will connect with your consumers.
It won't do you any good at all if you're sending more or less the same email out to your loyal customer following time and time again. This sort of behaviour has been tried and failed many times before and only works to annoy customers and consumers of brands, often encouraging them to unsubscribe from further email updates. This is something that you definitely do not want to happen.
So, instead you should focus your efforts on making content that is both fulfilling to read/watch/engage with, as well as being concise and straight to the point. Your promotional emails should include important updates on pricing adjustments, including discounted goods, sales events your company is currently holding and any extra information on things that can reward customers for shopping with you.
If you have any interactive video footage to share, here is likely the place to do that as well, as good quality content being produced an sent directly to your consumers will make them feel like they're part of a professional and well-designed corporation.
Brand imagery – make sure your logo is visible throughout all of your emails
Branding and imaging surrounding a business is of great importance in 2020, as it has been for such a long time now. The appearance of your company is likely to be the first thing your customer sees of it, from the front of your shop entrance area, to the design of your logo. How these things look will create an instant impact on your customer, as they'll make a mental judgement almost straight away on whether or not they want to shop with your business.
One thing both a physical and online business presence will have in common is the logo of your company. This will be at the head of your branding and marketing and work as the recognisable image of your business. If your company's logo fails to look professional, or fails to represent the products you sell to a high, easily understandable level, there's no point in having it. Your business needs a logo that gets the right image across to your customers right off the bat.
It is important to be aware that the one main running theme throughout the entirety of your branding will be your company logo. This is the sole reason why it's so important you get it right. A redesign can't happen any time soon because it'll throw your customers off and create a confusing image of your brand.
Your logo is the face of your company, so naturally it'll be everywhere, including in your promotional emails. If your companies name pops up, so will the image of your logo. It'll be locked onto your social media accounts, website headers and store fronts. You need to be happy with the design of your logo before you start printing it on t shirts.
Make it personal
Do not start your emails with a general, "Dear customer". This is a big no go area and should be avoided at all costs. For small business owners it won't take long to type out the name of each individual email recipient and it'll add a more personal touch to the content within your email, which will likely result in higher levels of customer engagement and interactivity.
Consumers of brands like to feel as if they're part of the overall experience in some way and if they have signed up to receive your company's promotional emails, it is likely that they are highly interested in the products you have on sale. Take advantage of this by making your emails inclusive and interactive, so that they can truly be part of the overall experience of your small business venture. Just think that if you were receiving a physical letter from someone, it'd most likely be personally addressed to you, so why should your emails by any different? If you want to maximise sales and grow your business through the use of email marketing, then go that extra mile and make it a more wholesome experience for your average customer.
The advantages to the usage of promotional emails
Here's a quick run through of some of the key advantages any small business in the UK could benefit from:
Massive ROI
Improve customer retention through consistent engagement
Reach new customers through your online content
Build a brand through thought leadership
Drive sales with a customer loyalty program
Promote new products or services
Learn more about what your customers like and dislike
Stay top of mind for future customer needs
Build upon your customer relationships
Make your consumers feel personally connected to your business and brand as a whole
To summarise 
Small business owners need to take all of the advantages that are available to them heading into 2021, especially after the year we've had and the awful effects Coronavirus has caused around the globe. By using promotional emails you can take your business marketing strategies to new heights and far more personal levels, so you'll likely see a much higher customer interaction rate in the near future, should you choose to opt for this sort of strategy.
Businesses of all shapes and sizes should be looking at promotional emails as a way of connecting to their customers, so don't be put off of the idea if you're the owners of a smaller business, it'll still likely be highly effective for your venture.