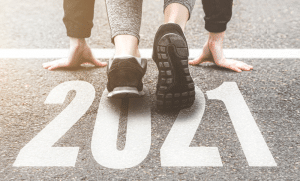 2020 has certainly been one of the most difficult years for businesses of all shapes and sizes on recent record, it has been particularly troubling for small and local businesses however. This is because smaller business venture owners often rely on high street footfall and actual customers entering their physical premises in order to successfully sell products and services to the general public.
Even online sales have taken a hit for many small businesses, as shipping problems, etc have become more of an issue due to the global Coronavirus pandemic.
With all of that being said, with it being December, a brand new year is on the horizon and it'll soon be 2021; the new year promises so much, with a COVID-19 ending vaccine on the way and a return to normal for business establishments around the globe, as well as many of us finally being able to return to work, there's an awful lot to look forward to.
Following on from that, there are also going to be some business trends to look out for that you may want to take advantage of. Hopefully you've had some time to reflect on your business by now and you're ready and raring to go as soon as life returns to normal.
When will life return to normal?
 We're all eagerly awaiting the return to normal life, which is something most of us will no longer take for granted after the year we've had thus far, but it's been difficult to pinpoint exactly when things will finally go back to the way they once were. The truth is that the vaccination process in the UK is actually upon us and the rollout will begin from the 14th December.
Sky News has recently reported, "Each designated site that is to be staffed by GPs must be ready to deliver 975 doses of the vaccine in the week beginning 14 December. That number of doses is how many are in each of the supplied packs of the BioNTech/Pfizer vaccine".
You can expect life to be more or less back to normal before next summer, if all ends up going perfectly to plan. At the very least, we know the world is making progress and that normal life will likely be upon us sooner rather than later.
The new year's resolutions you need to be making
Now we'll run you through the very best and most important new year's resolutions you need to be making to ensure your small business venture can stay on track throughout the year and find a high level of success during the upcoming 12-month period. Below is a list of our recommendations, which are in no particular order. Pleases note that different points apply to different types of business and that you may well have many of your own in mind, which we'd fully support you in trusting and following, after all being unique is often a good thing when it comes to business and finding an audience.
Prepare yourself for the holidays
It may seem strange to think about Christmas 2021 when this year's is only just around the corner, but obviously the Coronavirus pandemic has made things awkward for many business owners this year. So you should be prepared to fully take advantage of the holidays next year. Give yourself plenty of time to think about how you'll approach it and make sure you're maximising sales.
Year after year customers are spending more and more over the Christmas period all over the world, including right here in the UK. However, this spending increase is largely down to the continuous rise of online shopping popularity. Since 2011 we've clearly been seeing this trend and even back in 2015 14.1% of Christmas-based retail sales were made online. This means that eCommerce is the way to go if you're the owner of a small or independent business at Christmas.
Improve your email marketing strategy
This year you should choose quality over quantity with your email marketing strategy and make the effort to stand out from your competitors. Rather than opting to send out hundreds of repetitive emails over the course of the next few months to any customers you have managed to sign up to your promotional email marketing scheme which keeps them updated with offers and sales events your business may be having, choose to instead make some quality content that will connect with your consumers.
It'll not do you any good at all if you're sending more or less the same email out to your loyal customer following time and time again. This sort of behaviour has been tried and failed many times before and only works to annoy customers and consumers of brands, often encouraging them to unsubscribe from further email updates. This is something that you definitely do not want to happen.
Next year you should focus your efforts on making content that is both fulfilling to read/watch/engage with, as well as being concise and straight to the point. Your promotional emails should include important updates on pricing adjustments, including discounted goods, sales events your company is currently holding and any extra information on things that can reward customers for shopping with you.
Use social media to achieve higher growth rates
For many people within the world of business, the building of their personal online brand and image is as important to them as the stature of their company. This is because over the past decade or so, being an online influencer or building up an established now over the internet has become an extremely profitable avenue to travel down.
Gaining the level of popularity and credibility needed to become a recognisable face online takes a lot of social media grafting, which is why running a social media account can more or less become a full-time job for many in this day and age. 
Though, you should be aware that utilising social media in a smart, consistent way can be a great way to connect to your audience and widen it further, especially if you're the owner of a small business.
The extensive presence of social media is something that can be commonly found throughout the vast majority of online businesses. This is because it essentially acts as a free added strand of both branding and marketing.
Utilise pop-ups, there time is coming
The latest trend in the food world is opening a pop up restaurant which remains active for a limited time only. If it wasn't for the global pandemic, 2020 would have hosted the development of pop-ups take off in cities all around the UK. The short term nature of a pop up restaurant means the risk of failure is lowered.
Throughout 2021 we expect pop-ups to be one of the biggest trends of the year as life returns back to normal and people go back to filling up empty streets.
Entrepreneurs opening a pop up will have no intention of eventually turning it into a permanent fixture. They discover a target location and offer food they think will steal the interests of the public at a certain time.
Turn business planning into a weekly event
The business plan you created at the beginning of your business venture isn't the only one you'll ever make, as there's no way it could have covered the entirety of its journey from start to finish. This is something many business owners get wrong; your plan needs to evolve over time and constantly be in a state of updating itself. Anything can have or cause an effect on the stability of a business, no matter how big or small it initially appears to be, so always be prepared to update your business plan.
Set yourself some time aside each and every working week to plan ahead for the future and the overall betterment of your business venture. This will allow you take advantage of any upcoming events which your marketing team can work towards and help you to avoid any potential pitfalls that are beginning to present themselves along your path. Avoid those costly mistakes by planning ahead of time and identifying them earlier than you previously ever would have.
Learn new things and develop your skills
By continuing to learn new things, even after you reach a position where you're highly skilled and fully understanding of your business role, you can push yourself to reach greater heights. Don't ever think that your venture has reached a ceiling or that it has no room left to grow, because in reality you can always create new goals and aim for new targets. However, in order to do those things, you'll always need to be learning new things and developing your own skillset yourself.
By planning things every week you can actually gain yourself more time to do things like learning new skills, so consider that when you're at your weekly planning meetings. Learning something new will add to your skills and add a new dimension of interest to your life—another important part of achieving a healthy work-life balance and increasing your business success. Business consultants, trainers, and business coaches can help set you on a path to adopting new skills.
Be thankful to those that have helped you along the way
No business is run by solely one person from the very top to the bottom, no matter how big or small it may be. With that being said, it is often a good idea to get the ball rolling and start thanking people for the contributions they've made to your business. You may wish to thank members of staff, clients, customers or people outside of the business that have helped it to perform at a high level consistently. Whatever the case is, let them know that you're grateful for all they've done for you and they'll likely stay loyal to your company.
This can be done in the form of a New Year's greeting message or card. By wishing your employees, clients and customers a Happy New Year and good luck for the 12 months ahead, you'll likely help to develop your professional relationship with them further which could work favourably in the future if you ever need a helping hand. It may also prove to build on customer loyalty and other things like that, so taking the time to do this as the year ends is essential for every small business owner.
Building on professional relationships is one of the best ways to continue the development of your company and extend its lifespan in a positive and healthy way. Don't shy away from expressing your gratitude to those that deserve it, they'll be grateful you've personally acknowledged them in some way and the bond between the two of your will further develop, which will likely help your business as you go into the next working year.
To summarise
There are many things you could promise yourself that you'll do over the next year to help your small business to grow, but the fact is that most of us don't stick to the resolutions we make. As long as you're entering the next year with the best intentions for your business venture and you have both growth and development in your mind, you'll likely do the best thing by your company and 2021 will be a much better year than this one has been for obvious reasons.