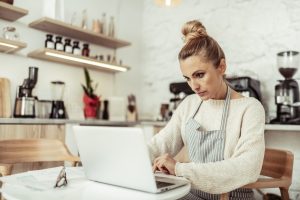 The new year is finally upon us and with it comes a lot of hope among the people in living in the UK. The Coronavirus vaccines will hopefully kick in to full effect and we can finally see an end to the pandemic for good, but also many new business opportunities tend to present themselves when a new year comes around.
Even though for now we all need to continue social distancing and unfortunately avoiding coming into contact with many of the people we'd like to see, there are still unique business ideas to pursue in 2021.
Hopeful business owners and people simply looking to build a business from the ground up, face no better time to start than the turn of a new year. Sure, with how the world continues to change from minute to minute, and the uncertainty surrounding the news of another potential full nation-wide lockdown begins to build, you may need to throw out your old business plan and replace it with a newly updated one, but you can still land on an idea that suits you, as well as our current environment.
Below you'll find a list of new small business ideas specifically designed for this year, so expect to see a whole host of work from home opportunities and profitable business ideas that allow you to distance yourself from others. Read on to discover if any of these business models are what you've been searching for.
Starting a small business – 2021 ideas
Medical courier service –
If you own a vehicle, such as a car or van, which most business owners will do, and it is reliable on the road, you may just find that you've got almost everything you need to set up a successful medical courier service. There has been no better time than right now to set up this sort of venture, as people, particularly the older member of the public, are staying at home in order to stay safe. You will be responsible for getting prescription drugs to the people that need them, so you'll be able to take pride in the fact that the work you're doing is righteous and important. 
App development –
If you're somewhat of a technology expert and have a history in web development or online content creation, you may wish to build your business around app development. Business apps and mobile phone applications are now more popular than they ever have been, thanks to almost everyone in the world owning a smartphone these days. Developing apps can be done from the comfort of your own home and one solid idea could secure you a fortune if you're lucky enough to land on one.
Online bookkeeping –
Many new businesses will revolve around working online this year, due to the social distancing guidelines that are currently in place in the UK; most people will have to work remotely in some fashion or directly from their own homes. Therefore, online bookkeeping is a fantastic option for those that are looking to come up with a successful business idea. If you're an accountant or bookkeeper and want to begin your own small business venture, you can use your experience to start your own online business. Other companies could become your most important clients in the near future.
Consultant –
If you have expert knowledge of a specific business area, or rather a lot of past experience in a particular field of work, you'll likely be a perfect candidate to set up a consultancy business. Setting up a small consultancy firm can often be a profitable proposition for those that choose to explore that path. As you start your consultant business you'll be on your own, but as you grow you can feel free to hire more staff members over time to help share the workload and duties with.
Online reseller –
If you're passionate about certain types of products, or have a working background in sales, you may want to consider setting up your very own online reseller service. You'll need to be dedicated and willing to put a lot of time into your work for this to be successful, but that's the case for most types of new business. This sort of business idea would likely begin as more of a side project, then if you find a high level of success, you could turn it into a full-time job and put your complete efforts into making it as good as it can possibly be. Collecting online reviews and pleasing your audience will be essential to finding success here.
Cleaning services –
Never before has there been a bigger focus on keeping things clean, since the beginning of the COVID-19 pandemic it has become essential to wipe down surfaces and cleanse workspaces. However, must people would feel much more comfortably knowing the job had been down by professionals before they turn up to their office each morning. Cleaning services can charge a favourable rate to workplaces after gaining a proven track record, so the sooner you begin to build up your portfolio of work, the sooner you'll be able to start charging more for your skills.
Digital marketer –
In the modern world digital marketing is an important part of any well-established brand, and it is the perfect fit for 2021 as it can be done completely from the comfort of your own home. As long as you have a PC or laptop and a strong internet connection, you're well on your way to setting up your own digital marketing venture. Of course, you'll need skills in SEO, content marketing, social media management and web development, but you'd likely not be considering this business route if you hadn't got them. There are many different types of digital marketing and companies often require different skillsets from their marketing clientele, so be sure to build up a wide range of skills; the wider your skillset is, the more work you'll likely receive.
Pop-up restaurant (post COVID-19) –
This business idea could still work during the pandemic as you'd be outside and would be able to take the proper safety precautions, such as wearing a mask or face covering and keeping your distance from customers at all time, but the reality is you'll likely have far more success after the pandemic has ended. Fingers crossed for the virus to be gone during 2021, as it would mean so much for the world, but also the true beginning for many pop-up businesses across this country's highstreets.
Business trends for 2021
When going into a new year as a small business owner, or a hopeful entrepreneur, it is important to get a strong grasp on what the biggest trends will be within the world of business over the upcoming twelve months.
Working from home:
Yes, the vast majority of us will continue to work from home for the most part, throughout 2021. This is down to the COVID-19 pandemic still being at large and social distancing rules remaining in place. It is always important to put the safety of others first, so look after each other while running your business this year. We will all once again be needing to get our spare rooms sorted out into a more traditional office space, at least for the first half of 2021.
Going from global to local:
Some of the biggest businesses in the world will have to take things to a much more local scale this year, that is because of everything going on with Coronavirus and the limitations it places on business ventures. This will mean that 2021 will be the year that companies which typically have a wider, even global reach, will have to focus more heavily on the local areas they are based in. This could lead to new and interesting ideas as well as limiting the audience sizes companies could market to and target. Could this lead to a more even playing field between bigger and smaller businesses? Possibly so, yes.
Online social engagement:
Just as in our free time we now enjoy communicating together in an online environment, such as Zoom calls, email, text messages and Facetime, we are all now doing our business communications online with interactive posts for social media, too. This will continue throughout the year and possibly even into 2022, but only time will let us know how that goes. We are all now more hopeful with the continued development of the Coronavirus vaccines.
Business models to avoid in 2021 
Each and every single year there are certain business models to steer clear of and avoid completely. This year, as Coronavirus is still at large and effecting the world in a catastrophic way, things are a little different for obvious reasons. We'll now quickly walk you through a handful of the biggest blunders you can easily avoid during the upcoming twelve-month period.
Anything that requires face-to-face interaction 
It may seem like an obvious point to make, but if you're looking to start a new business venture this year, you really do need to keep in mind exactly how you'll conduct your business. If you know you'll only be able to turn over a profit by meeting clients in the flesh, or running a physical store that can welcome in customers, it may be time to hold fire for a little while. The Coronavirus will hopefully come to an end this year, but as of now, we have no certainties to go on.
Lack of leadership 
Don't begin a business that's structured in a way with no real standout leader. If you are one of a group of individuals that are all going to share the business equally, it may not actually be a great year to give that sort of structure the green light. This may surprise you as we're all trying to do our bit to help one another in the current climate and look out for each other, but with the constantly-changing world we live in now, you'll need a leader of the pack. Be sure to lead your business to glory in 2021, by staying focused and working with people you trust.
To summarise  
We hope this article has helped you to narrow down your business ambitions for the year, or at least given you some other possible options to consider. The road you travel down will be completely of your own choosing, but you should make the effort to remember that the pandemic is still at large and looking to get worse before it gets any better, so set your sights on a business model that can cope with the current crop of restrictions. 2021 could be a great year for new small business owners if it turns out that people can begin to live their lives in a more normal fashion once again.
If your dream is to start a business in 2021 we wish you the best of luck, take a quick view at our business start up loans and grants page, it might give you some clarity on how to fund your venture.