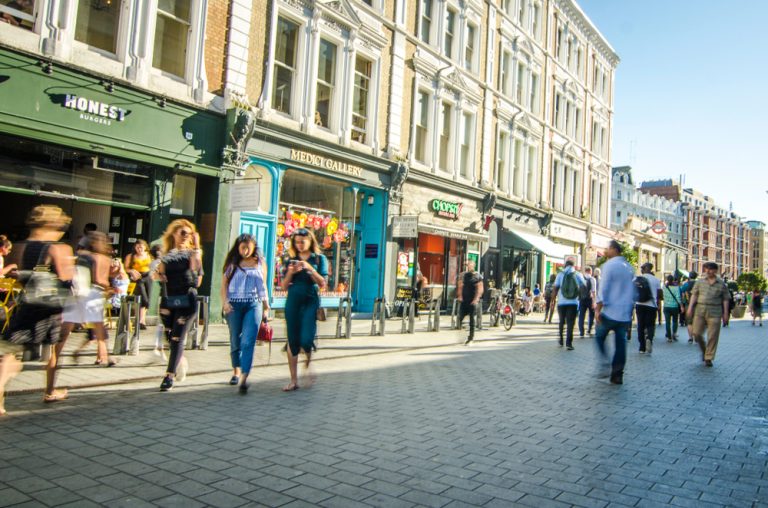 The UKs retail market took some heavy hits from Coronavirus and our responding lockdown stopped shops from trading, putting them out of business for three-four months. Though, things are finally turning around and for those retailers that have luckily made it through the lockdown unscathed, sales figures are once again on the rise and the future suddenly has a glimmer of hope and light attached to it.
The Office for National Statistics has pointed out that sales have recently rose by 3.6% between June and July. It claims that sales are now around 3% higher than back in February before the World Health Organization declared that a lockdown would come into effect in the UK.
The online to physical swing
 Though the growth in physical sales doesn't quite match what happened back in May, when the UK saw a 12% rise, the continuous, steadier growing rate signifies a real shift in the retail sector. We couldn't have expected sales figures to continue massively growing post-lockdown, it eventually had to straighten out and maintaining it could become the next challenge.
Though, one thing that will really bring a smile to the faces of independent and small business owners with ventures on a high street, is the news that online sales are going down while physical sales shoot up. This signifies a real change in the market and seems to be confirming that time spent away from shops could be a really good thing for them.
It is possible that the public have witnessed a world without retail stores and decided that they don't want to live in it or make it the new normal. So, with this in mind, shoppers may well be pledging their allegiance to the high street, rather than solely continuing to purchase items online.
The BBC has reported that, "Clothing sales grew last month and people spent more money on petrol. July's rise was not as pronounced as the previous two months. In May, retail sales had increased by 12% and in June they had risen by 13.9%. Sales in clothing shops grew by 11.9% last month while online shopping fell by 7%".
The high street still has changes to make
It's undoubtedly great news for so many business owners that high street sales are back on the rise, but in order to keep this current trend going, major changes will need to begin to be made.
The one silver lining to certain businesses having to permanent close down, is that the high street may begin to seem less cluttered. With less competition, many small and independent businesses will feel as if they have more of a chance of standing out to their potential audience.
A de-cluttering of high street shops might just be what the UK needs to revive our brick and mortar stores. Perhaps we need to do away with our classic big-chain mammoths and head down a more independent route.
Raconter recently said, "Concentrate only on the household names and it would be easy to conclude that the high street's days are numbered. But successful independent businesses may have a brighter future than their larger brethren and the high street could ultimately look more like it did a generation ago, with independent shops stepping up to fill the gaps left by the large chain stores".
Perhaps there is hope for the high street yet. Maybe we can count on smaller, more independent businesses to rescue the retail sector from the current rut it's stuck in. Time will tell on how the UK's shops handle the rest of the year but keep an eye out for smaller, smart-thinking businesses to make better use of their physical presence, than the huge brands we've all come to know previously.
Back at the start of 2020
At the beginning of the year it was once again looking gloomy for the UK high street, with sales largely taking place online and shops continuing to shut down. This leads onto another factor that previously aided the downfall of the high street. Everyone has easy access to online shopping from the comfort of their own home. The high street has failed to give shoppers a reason to step out of their doors to purchase goods.
Paul Martin, Head of UK retail at KPMG said, "If shops fail to do either value, convenience, or experience, they will struggle". This is exactly what the high street has failed to deliver on for an elongated amount of time, leading up to it's breaking point.
We aren't using the phrase 'elongated amount of time' likely however. The demise of the high street should have been clear to us from a long way off. The physical number of shops have been decreasing for over a century in the UK. Understandably it was never as notable as the decreases we see laid out before us today, but it has still been a relevant, long-term factor.
As our chart shows, the massive 19.5 percent drop, which coincided with the first full month of lockdown, was the largest monthly fall since such records began in 1997.
Can retail sales remain strong?
The key to sustaining the success of the high street will be learning to change with the times. Different kinds of businesses within the same town or city, giving the customer options and taking a unique business approach will be the only way to compete with retails online counterparts. Can it be done? Absolutely, but it'll take a large amount of forward thinking and modernisation in order to do so.
The rise in sales right now could just be down to people visiting their local shopping areas after an extensive amount of time away, but even if that is the case, store owners need to take advantage of it right now. Building for the future is never easy, but it's do or die now for all high street business owners.
PDQ Funding offer unsecured business loans to retailers, this will allow a lump sum of money for development of your bricks & mortar shop or online store. Some lenders that offer loans to retailers often require a personal guarantee. This legal status of a personal guarantee is there so if your business was to default on loan repayments, you as the business owner becoming personally liable for paying back the money.