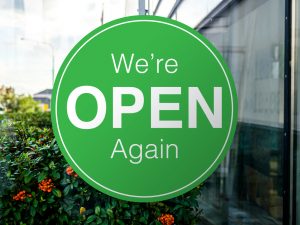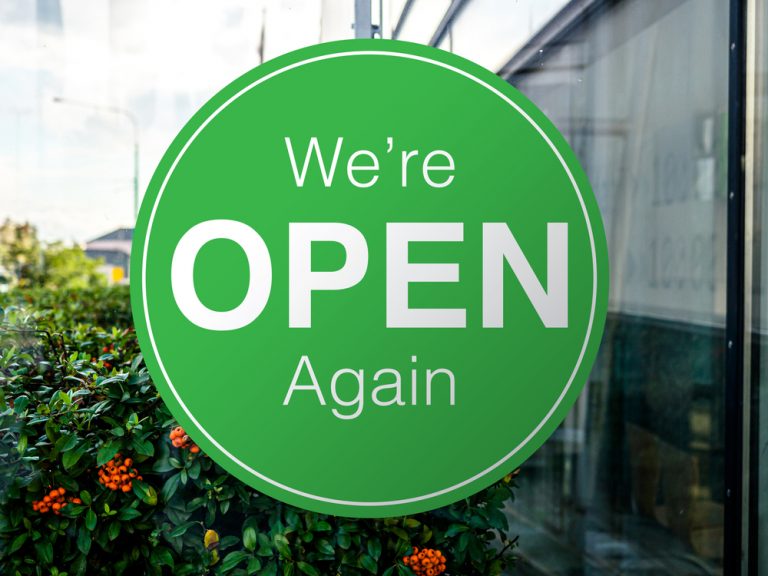 The government have given non-essential businesses, such as fashion retailers, permission to reopen their doors to the public from 15th June. This means that safety measures will have to be put into place in town and city centres so that people can safely travel from one business to another and remain protected from the spread of the virus while in individual shops.
In a recent survey held by the British Chamber of Commerce, it was found that the vast majority of business owners would need less than a weeks' notice  to reopen their respective businesses. For those companies that have been given the green light to restart and open their doors to members of the public, by Prime Minister Boris Johnson, there isn't necessarily a great deal of work to be done in most cases. Though, some businesses will need a little more time to prepare themselves and get things back up and running.
Opening my business back up
Many businesses have been in a state of interruption due to the terrible Coronavirus disease and the awful effects it has had on all parts of the world. If you are the owner of a returning business, there's a list of things you'll need to do to ensure you're ready for your reopening. Small businesses will have to make slightly different preparations to larger companies, though I'm aware that is likely obvious to anyone reading this article; the important thing is to focus on the individual needs of your company and your company alone at a time like this.
If you have a business within the retail sector, you're likely very happy at the news you'll be able to reopen within a few weeks' time. Companies such as John Lewis have announced that they'll be starting to reopen stores across the UK in a way that will keep people safe while they're visiting the business, whether you're an employee there or simply a customer popping in for a quick browsing session.
This goes for all businesses that are reopening in June; the government will only allow you to do so if you can effectively place new safety measures and guidelines in place that can be easily followed by everyone that will be setting foot in your business' enclosed environment.
What you'll need to do
If you're in the vast majority of business owners that believe their company can reopen with no more than a weeks' notice, surely you know exactly what you'll need to do so that this can happen. Well, if not, here's a quick reminder to jog your memory. As previously mentioned, many things will be unique to your business alone, though here's a few points that should apply to most ventures.
Don't you forget about stock –  Making sure you're stocked up will be essential if you're running a retail business of any kind. Though, being away from the workplace for so long may have had you worry about the big problems and forgetting some of the smaller, simpler aspects of your business. Companies will need more notice to deliver than they normally would, due to everything that's happened over the past few months, so be sure to order your new lines of stock as quickly as possible. 
Staff that have been working from home – Do you really need them back in the office just yet? The government are still advising people that are able to work from home to continue to do so, and even though they seem to be operating on a do as we say, not as we do (Dominic Cummings) basis, this advice should still be followed.
Small business owners may be eager to get their staff members back to work as soon as humanly possible, but it isn't quite time for that yet if you don't really need them. If your business venture can remain fully functional with a number of remote workers, then continue to follow that formula, it'll keep everyone safe, including yourself. This may even start to become the norm in the future.
Make sure staff are prepared – If you are running a business where it is essential that you have your team of staff members back, make sure they know exactly what you're putting into place for them to stay safe. This will comfort them and sway them away from the worries that going back to work blindly wouldn't have done. If they know how you're going to make your business safe, they'll trust you that it is okay for them to return to work.
This will also aid them in understanding how they'll need to begin to act differently while at their place of work. Not only will this help to look out for their health and wellbeing, but also that of the customers' who you're relying on to get your business up and running again.
Put safety measures into place – If you're hoping to attract people into your business and start making profit once again, nobody would blame you for being eager to get restarted. You do however, need to be sure that you're making the correct changes to your business in order to ensure the safety of all employees and customers.
The public will not start to visit your business venture if they feel unsafe, nor will your staff want to travel to and from work everyday if they're fearing for their health. As a returning business, make sure you're coming back in the right way and follow the government guidelines on how to reopen your non-essential venture.
Different levels of pressure
Starting your own business can be an extremely frustrating time if things aren't going right for any reason and the interruption your business has had to face this year, may well have returned you back to that mind-set. If you think about it, it is a similar situation to be in. This year the spread of Coronavirus has left you in a state of anticipation and worry. Many business owners had to at least temporarily close their ventures, in the hopes that they'll be able to make it through to the other side without making any sales or having any customers, etc.
For smaller businesses, such as sole traders and limited or independent companies, the wait for a chance of returning has been excruciating. Unlike the larger firms, these kinds of businesses don't have the mass of backup funds to fall back on, neither do they have the luxuries required to be able to take a step back from everyday life and wait out the interrupted period of sales and profit. This is why those that are eager to return are understandably desperate to do so, and rightfully so. They just need to be completely aware that they are doing things the right way and creating a safer environment than usual for members of the public, as well as staff members, to coexist in day after day.