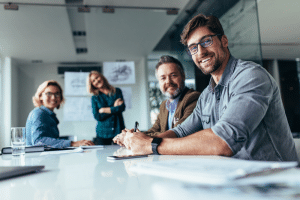 Merchant Money is a type of alternative business funding solution for small and medium sized business that take credit and debit card payments. This type of business funding allows any business in the UK to raise finance using the future payments from card payment. This funding uses processing terminals as security for the cash advance facility.  
The business needs to have been taking debit and credit cards for more than 6 months. This will allow the business be eligible for an immediate unsecured merchant cash advance of up to £200,000. This alternative funding solution is available to Limited Companies, Partnerships and Sole Traders.
What is Merchant Money?
This type of cash advance facility is generally related to the average monthly card turnover processed through your card machine. Some cash advance funders will also take into account your non card related income when agreeing their advance. The product is also known as a merchant cash advance in the UK.
The normal minimum amount advanced is £5,000 up to a maximum of £200,000. This is not a traditional loan and is commonly known as a cash advance. The fee for the merchant cash advance is added to the total repayment amount. Repayments are made daily from your card payments you take via the businesses PDQ machine. Businesses that use this type of merchant funding are : public houses, bars, hotels, hairdressers, mot service stations to name but a few.
Merchant Cash advance is different from a short term business loan. The money advance is dependent of future debit and credit card payments though its card terminal transactions. Repayments for a merchant money loan are transparent and clear. The offer no extra hidden charges or financial penalties. This merchant finance product has many benefits of flexible repayments, this eases the financial burden on cash flow if the business is effected by seasonal trends.
Merchant Money Loans are Unsecured – Flexible – Fast
Repayments for the merchant money card machine loan are only made once a transaction has taken place via a card payment, so cash sales are not taken in to account. This ensures that you will only make repayments once the businesses is able to, not leaving you short of working capital. Every time a payment is made through your business PDQ card terminal, a small percentage will be taken to pay back the advance. Once ruffly about 50 – 60% of your cash advance is paid back, you will have the option to top up your unsecured business loan with another amount.
The cash advance isn't secured on any property or goods and no personal guarantees are requested. The working capital will be within your business bank account within days and they can be used to grow your business in any way you want. You could use the cash advance to refurbish officers, buy stock or lunch a new service or product. The funding options that you can use the loan for are endless with a working capital cash advance.
Some of the features and benefits of Merchant Money cash advance.
Flexible funding solution
Funding from £5,000 to £500,000
Repayments based on a small percentage of your card transactions
Variable repayments based on your income
Flexible repayment lengths
Automated repayments
Work with all card terminal acquirers
Transparent fees
Top-ups available
Highly rated on Trustpilot
Merchant Money offers a range of business loan products which includes a merchant cash advance service.  They provide loans of between £5,000 and £500,000 on a pre-agreed fixed percentage rate on all card transactions. This makes the loan flexible in the repayment amounts to match your takings and they are automated.
Merchant Money offers these loans to businesses that have been trading for at least six years and have a minimum monthly turnover of £5,000 through their card terminals. Businesses must not have any other cash advance services in place unless the loan is being used to refinance it.
Advantages of a Merchant Cash Advance
Quick, convenient funding access – The merchant cash advance finance approval process is effective and quick. Cash Advance Funders are quick and can make a decision usually within 2 days.
Flexible funding and repayments – Repayments are based on future credit & debit card sales so if you are expecting a quiet period, you will pay back less. This feature puts you under less pressure to make repayments as it mirrors business sales.
Fixed agreement with no APR – Instead of an annual percentage rate which is common with loan repayments, a merchant money finance agreement uses a factor rate as a percentage of your future card sales.
Funding without risk – If you are unable or do not wish to put forward your home as security it is okay as it is not required. A strong record for over 6 months trading showing monthly card transactions values of £5,000 or more.
Merchant Money Company are Perfect for Growing a Business.
Merchant Money Cash Advances are ideal for small businesses and typically retailers we have found that this funding product works very well for. The business needs to process over £5,000 of card payments through their card payment merchant terminals monthly for the last six months. Repayments are flexible which mean that your cash-flow is not impacted in the short-term. Business owners have no need to worry about having a quiet month as if they do the repayment is reduced in line with takings. PDQ Funding and their Cash Advances are the perfect partner for this type of business finance.
Repayments are made as a percentage of future transactions until the total amount repayable is reached. Obtaining a quote is as easy as providing your last 6 months merchant statements, get in touch today using the form below to find out more about merchant money cash advances.