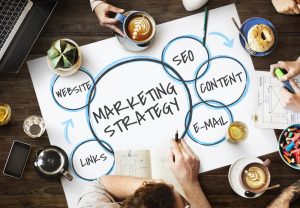 Running a small independent business can be tricky at times, as you seem to constantly be searching for ways to stick out from the rest of the crowd and show off your business' unique selling point.
This is by no means an easy task, but if your market your company correctly, you may just have a much easier time of things along the road to reaching your final successful destination.
As the owner of an independent business, you likely have some sort of end goal in mind for your firm. Perhaps you have an overall profit margin in mind you'd like to reach one day, or maybe you want to build up the value of your business to sell it on and enjoy retirement.
Marketing ideas for small retail business
Whatever your end goal may be for your business venture, you always have to be prepared to put the work in along the way to get there. Marketing your company in the right way is always a sure-fire way to gain more customers and enhance your ventures' overall reach.
Below you'll find a list of marketing ideas which have been specifically developed with an independent retail business model in mind. Feel free to utilise these in your own way, or simply allow them to ignite some inspiration for ideas of your own.
Ensure your social media strategy is up to scratch
 The first piece of advice we want to share with you may sound quite obvious at first, but you'd be amazed at how many small businesses are failing to properly utilise social media output in order to connect with a wider audience. If you fall into this category, you need to start using social media to companies advantage. If you're not maximising the number of views on your posts or followers on your account, you're missing out. Here are just a few of the best ways to take advantage of social media for your hospitality business:
Post a wide variety of content with great interactive posts on social media. This could be anything from videos to pictures, discounts, infographics on relevant topics… Anything, or at least anything that can grab a reader's attention.
Use keywords in your posts which are relevant to your own unique business idea. They're going to help your Google search ranking, which will mean more people find you and come to you directly, instead of visiting a competitor.
Run raffles and prize draws through social media if you can afford to. This will help to create a buzz around your retail business, and get more people to follow or join your online group.
Promote your unique products
 Maybe you run a fashion retail business and you've caught onto a new trend that hasn't widely hit the highstreets in the UK as of yet. If so, make sure you're going all out to promote the fact that your business is offering a product, or series of products that shoppers can't purchase anywhere else. The uniqueness of your independent business venture will be one of its biggest selling points, but if you aren't posting it to social media, on your company website, trying to start word of mouth spreading and shouting it from the rooftops, people simply won't know about it.
Think about your 'Shop Front'
Again, this is something that's so important, but people often don't take it into their considerations. Your signage is the public face of your business and a great, free marketing tool. It's the first thing that people see before they come in, and the last thing they see when they choose to leave. It's also the only impression people get of your physical retail store if they walk by it. So, you better ensure that the impression they get is a positive one.
If your business premises is leaning slightly towards the older side of life, you may want to consider giving it a fresh lick of paint. This isn't just to make it look more modern, as you may be going for a more aged aesthetic, or a retro style may be a strong theme within the look of your business. However, nobody wants to see a run-down old building stood there, looking like it shouldn't have an 'open' sign attached to its doors. With that in mind, just try to make the front of your business' building look appealing enough to potential customers, so that they might pop in, even without being overly aware of what it is you sell.
Many shops suffer from the same problem. If you're marketing your store to a younger audience, it has to look good on the outside, well-lit and exciting. If you're marketing to an older audience, they're probably in the mood for a more easy-going time. Your 'shop front' can help you capture whichever market you prefer and whatever segment of the target audience you're trying to attract.
Consistency is key, so remain consistent
This is more of an overarching principle than it is a marketing strategy, but you'll want to stay consistent. What you don't want to do is post some half-hearted posts to drive consumer engagement levels, get discouraged by no likes or comments, and go "what's the point?" and let your content go stale.
Staying consistent can easily be achieved by creating a content calendar that outlines what you're posting each week and what the content should look like. At the same time, you'll want to be consistent with content and frequency, you'll want to be consistent with branding. Make sure every piece of content has some sort of visual uniformity for brand recognition and it follows that same tone.
If your independent business has a vastly different theme to its website, social media channels, LinkedIn profile and marketing emails, it may come across as quite confusing to its audience. This doesn't just go for the way things look either, it is also about the language being used within your promotional content and across the board as a whole.
Catch the attention of your target market
Here are a few different marketing ideas that involve competitions, which you can deploy across your social media platforms that will not only connect your closer to your target audience, but also hopefully grow your online presence and momentum:
Photo contests
Photograph competitions are great for a few different for reasons. They're relatively easy for people that follow your brand online to enter (anyone with an Instagram account and a few spare seconds can submit), and they also provide your business venture with a great form of user-generated content that can be reused and implemented elsewhere in your overall marketing strategy.
Video competitions
This is a similar idea, but arguably demands more creativity from your audience, as well as a little more time. The advantage here, however, is that once your audience start to get on board with things like this, you'll know they are developing a more committed relationship and feeling toward your brand.
Once again, if you receive some high calibre submissions, you'll be able to take the footage and use it for the betterment of your own firm, which makes it a win-win situation for both your and the customers that are getting involved.
'Best caption' challenges
This one is nice and simple, just post a photo and ask users to submit their best caption. This sort of competition can often receive some quite comedic submissions, so if you're looking for something to cheer your customers up and brighten their day, while also boosting your social media accounts, look no further than a classic option contest.
Bring more people to you online
The thing about running a business venture which also has an active online presence is you need to be trying to constantly grow. If you can continue to connect with more people at a steady rate, you'll have cracked the code on connecting with your audience through the use of social media. If you can keep them entertained, you're likely to keep them around for the long run, so think of ways to entertain your audience if that is one of your content marketing goals.
Facing difficulties marketing through the pandemic? Cut it out
Small businesses in particular can quickly run into financial troubles if they aren't careful, making it difficult for them to survive in many instances. One useful way of saving money and trying to get through the trying period of the Coronavirus pandemic is to cut out the costs you don't necessarily need. Marketing isn't essential while your business can't function properly, so switch out your current plan for word of mouth messaging and focus on the health of your company.
The future will only be important to your independent business if you manage to make it there, so don't go spending your last penny on something that isn't essential to your business at this current time. Remember that when the pandemic finally comes to an end, you'll be able to revert back to your previous marketing strategy and start making some real cash once again.
Start a company blog
A blog ought to be a crucial part of your overall content marketing campaigns, as it is often one of the cheapest ways for a small business to market itself.
At the point when done right, a decent blog will help support your SEO, convert readers into customers and drive more guests to your site. Blogs help to establish your place within the industry. This is because they showcase your level of expertise and turn you into a more trusted brand; anything that can ultimately boost sales and engagement levels is a great thing for an independent retailer.
When running a blog, ensure it is regularly updated with high-quality content that cannot be found elsewhere.
Create a customer loyalty system
Indeed, it is vital to acquire new clients, however your present customer base is similarly, if not even more, significant.
This is the reason a customer loyalty system can be so valuable, as it shows your consumers how much their business is valued. This can be something similar to what is found in many cafes in the UK, where for each drink you purchase you obtain a stamp on a card which will eventually be traded in for a free drink.
You can get truly imaginative with this idea and concoct distinctive approaches to captivate your audience to return time after time. Perhaps a redeemable present on their birthday, 10% off their next purchase, a free item for every five orders they place. There are heaps of incredible options, though it will be down to you to develop your own unique idea here.
Consider unsecured funding if you're in need of financial help 
If you believe your independent retail store business could benefit from a short term boost of funds, then retail funding solutions are likely the best option for your venture's situation. The option of an injection of short term capital could be chosen for many reasons by business owners. It may be because you need to stabilise your company after a rough period, such as a dry sales month, or just that you can see ways to advance your company that are just a little out of budget.
The short-term unsecured business loan is far easier to make repayments on than other shorter-term options, this is because there will obviously be less payments to actually make, and the loan itself will normally be for a much smaller amount. Choosing an unsecured loan from PDQ Funding is a great opportunity for retail and online shops to upgrade their business model, or make quick fixes they need to make in order to ensure the future is bright and to maximise cash flow. It's important to remember that making regular updates and upgrades to your venture can keep current customers enthralled and excited to shop with you, but also attract newcomers to your company, presenting you with new avenues of income and funding.