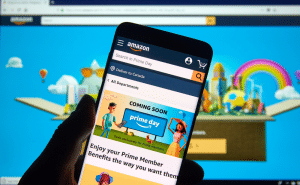 You've probably seen the often repeated garage photo? The one where Jeff Bezos set up Amazon? Or a similar one featuring Google and a garage? They form a lovely rags to riches narrative of two start ups that are now globally dominant.
Can your business compete with Amazon and Google, without the necessary garages?
Getting Started on Amazon Seller Central
To succeed in selling your products, you've got to see Google as an ally and Amazon Seller Central platform. Your business selling cakes, vapes, vinyl has to find a niche and build a loyal customer base by focusing on your Unique Selling Points.
A successful business needs time and money to compete in any marketplace. Amazon is 25 years old, set up in 1994, with a global audience of over 95 million users. Whilst Google is younger, a mere 21 years of age, dating back to 1998.
Each company has a fairly long recent history, whereas your company may only be six months old. Both platforms offer pay-per-click ad placements.
How to grow a business
Apart from time in existence which is crucial to business success, you need to look at other aspects of how a business can grow its profits. We will start with branding.
Branding your business
It's perhaps no surprise that branding is paramount. You need to create a brand that will stand the test of time, be simple and become recognisable. Look at premium car manufacturers – the branding of Volkswagen, Audi, BMW, Jaguar and others – rarely changes.
The 4 rings of Audi, for instance, have been used for decades as a symbol of their cars. Your business may be in its infancy, but do not underestimate the power of branding.
Investing in a company website, for example, with logo, branded social media, may be your first step as an embryonic company.
Brand values like Amazon
Less recognisable than the branding but still necessary are brand values. Think of John Lewis "Never Knowingly Undersold" or Amazon with its logo of A to Z, encompassing its brand width. That is to say, what values underpin your company ethos and how will you transmit these and practise them daily?
Teamwork makes the dream work? Neat saying. Some truth in it. Your business needs the right people in the right roles to allow expansion. It's about identifying skill sets and deploying these to optimum advantage within your team. Therefore, you need to identify the people you need in your team early on and try to attract and retain good personnel fits.
Find your target market
If your business, for example restaurant, is to become successful, you've got to gauge whether there's sufficient demand for what you offer and whether the profit margins would make it worthwhile. Ideally, you should operate a company in a niche that is a passion. But your job is to make others passionate about what you do and buy into it.
Find funding
Many people dream of giving up the day job. Kissing goodbye to work constraints, the commute and awkward colleagues. That job though pays your mortgage and bills. Until you know business will be successful in that your plan has identified staging points, obstacles and measures of success, you need to tread carefully.
Your company will need capital to start up, you may need to rely on savings to make the step from paid employment to self employment. You will certainly need funding as business grows.
If you are already established as a business in the UK, you maybe able to apply for amazon lending to small businesses, these loans offer an advance against any future sales you my have in the pipeline.
Expansion plans
We all hope that your business becomes a roaring success. There is enough evidence in the UK alone, once called a nation of shopkeepers, that freelance numbers are growing. If you find that your first year surpasses predictions, you may consider expansion.
Above all, expansion of personnel or premises.
That business you set up from a garage or spare bedroom may develop to such an extent that you need to employ staff. You may need a serviced office, store front or virtual address.
Your own workload may become so onerous that the business begins to run your life and not the other way round.
Expansion could well be a solution, for instance.
Test your products or services 
With passion, vision, funding, great ideas and a fully researched target market, you've set the foundations for success. Before leaping in the deep end though, metaphorically, you may want to test what you offer to see if it "has legs".
By this we mean, for example, setting up a pop up store to establish demand. Or creating an ecommerce  website, with social media integrated, to test visitor numbers and sales.
What you don't want to do is plough thousands into a business idea that carries risks. Better to do a dry run first.
How can PDQ Funding help
We don't supply empty garages from our Merchant Cash Advance HQ in Chesterfield, we have no business relationship with Jeff Bezos, Mark Zuckerberg or Lord Sugar.
What we can do, in short, is help you grow with a business cash advance. All you need to have to qualify is 6 months of trading experience.
No security or business plans are required. We offer approval within 24 hours, with a 90% approval rate.
You can apply for a merchant cash advance in minutes. Repayments are flexible because they are based on your card sales.
Contact us today
Finally, if you need a business cash advance from a leading reputable lender, contact us today.