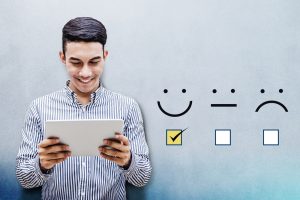 In the United Kingdom, since March of 2020, businesses and business owners all around the country have had to develop new ways of connecting to their audiences from a distance or remote location.
This has led to an ever-growing trend of businesses spending more time and resources to develop their online counterparts. Having to steer clear of face-to-face interactions and follow social distancing rules has meant that over the past year, more and more business ventures have had to change the way they do things.
Something that is easily lost on us all while we're working from home however, is the customer experience. If you let this drop significantly over time you'll likely begin to experience a decrease in the amount of online engagements your venture receives, as well as potentially seeing your sales figures fall below par. This isn't something you can afford to go through when making your way through a global pandemic, so be sure to avoid customer-related complications at all costs.
The long and short of it is that business owners now need to develop strategies to keep customers happy from the workspace of their own homes. If you didn't think we were truly living in the digital age before, there is no way you can question it now, following on from the events of 2020 and beyond.
Allow for a personalised experience
When you're trying to either stay connected with your audience while they're stuck at home, or gain new customers from a remote location, it is essential that you cater to their individual needs. Not all customers or consumers behave in the same way and therefore, not all customers or consumers want the same things. It is pretty obvious when you stop to think about it, that some audience members may well want different things from your business than others want.
Wanting different things doesn't necessarily mean your audience all want different products or services from your brand, as that would be impossible to offer and finance. However, some people prefer a closer connection to the brands they shop with; if they're investing both time and money into a business venture, they expect to get something back from the other side of the coin.
When you're communicating with customers online, don't send a generic email which starts off with, "Dear customer". That simple won't get you anywhere or help you to build a loyal audience at all. Take the time to type out your customers name, it'll make them feel stronger about the brand and they'll be grateful for the more personalised experience they're receiving. Another idea is to send a thank you card with every order you ship out to customers; these are the finer touches that go a long way to making a customer's day.
Social media events
Social media is a giant part of everyday life now, and since the start of the Coronavirus outbreak, more time has been spent by us all using social media websites and platforms. This isn't actually a bad thing for businesses though, as it gives them an extra opportunity to connect with their customers and offer a positive customer experience, even when they aren't open for business on a full capacity. Feel free to host your own brand of online social media events, such as competitions, livestreams and anything else you can come up with that will be interactive for your consumers in an online space.
When you're working over the internet there's no need to worry about social distancing, so get as creative and wide-scaled as you like, just ensure that you're able to deliver a solid experience to your audience that will both entertain and interest them.
Seasonal business model – mix things up online
If you own a small business venture that heavily relies on different times of the year to bring in money and start earning serious profits, you're probably aware that you have to cater to your customers' needs around those special times of year. However, you cannot afford to go forgetting about your customer base the second those time periods come to an end.
Utilise your promotional email marketing services to stay in contact with your customers throughout the year; this will help them to feel connected to you as a brand and keep you in their mind for the upcoming yearly events that you'll need to make profitable.
Certain seasons attract more tourists, some encourage people to generally spend more and sometimes seasons can put people off of spending cash at your business, it is simply the way our world works. By finding out the best possible way to deal with this will be one of the main keys to success for any small business owner.
You should note that many business owners make the mistake of allowing their more successful seasons to lure them into a false sense of security, and therefore do not properly prepare for the lower and more challenging times of the year. Don't fall into this trap and have a plan in place that you can refer to whenever you're in doubt due to a seasonal change in cash flow management.
Have a strong internet connection
This may seem like an obvious point to make, and something that you hardly have to think about in the modern world, as the standard is generally pretty good now in the UK, but if you fail to have a decent internet connection, the customer experience you offer will suffer due to it. Working from home yourself can provide you with a series of challenges, none of which will be more annoying than battling with failing technology.
Perhaps your computer or laptop may be growing a little out-of-date, or you have a monthly cap on your internet data usage at home; our own personal tech items will run into problems from time to time, there are simply no two ways about it. However, by ensuring that you have a strong and stable internet connection, you'll at the very least be aware that you can continue to get on with the job at hand.
You have a wide list of options available to you now when it comes to internet and broadband service providers, so conduct your research and choose wisely. You want to be looking out for a suitable deal, which is both cost effective and sufficient when it comes to upload and download speeds.
Are you selling online for the first time?
If you're new to the world of selling products in an online environment, then it's about time you embraced a way of working that could play a crucial part in the building up of your business' growth success levels. Here are a few things for you to consider:
Customer convenience
Selling products online is always going to be a more convenient method for the customer themselves, than it is when visiting a physical store. They don't have to actually leave their homes, as your shop will be on their laptop screen, or in the hands via a mobile phone; an eCommerce store can be visited from any device with an internet connection, at any time or place.
The customer will be able to browse through a wide range of products in an extremely quick fashion, with a great amount of ease. If they're buying a gift for someone else, things are even easier still, as they can use a search engine such as Google, in order to find suggestions for what to buy someone, or access someone's 'wish list' directly, which is a feature that online retailing giant, Amazon, offers to its users. Your website can easily offer these features too, which will undoubtedly make things easier and more convenient for your average customer.
Fast feedback from your customers
In an online space, you can get customer feedback easily and quickly, as they can give your service or product a rating via a single click of a button, or offer you a single sentence review which could potentially carve out the future of your company. Consumers of your business are far more likely to do this online than they ever were in-store, because it only takes a moment or two while they're at their desktops, rather than having to go through a drawn out process in person of speaking to a manager, etc.
To summarise
Keep your head up and don't become easily disheartened when trying to offer a valuable customer experience online. The Coronavirus pandemic hasn't been easy for anyone to overcome, but the new and increased online behaviours adopted by the general public in the UK aren't likely to change the second we all have access to a vaccine. So, building for now is also building for the future when it comes to the online customer experience, therefore you better create as strong an offering as you possibly can.