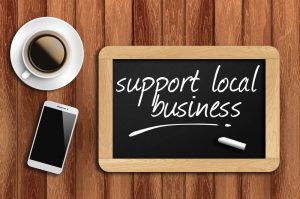 Small businesses have had a very difficult time indeed since March 2020, as the Coronavirus pandemic has forced them to close, stopped them from making sales and left them in the dark without any thoughts about what the future may hold.
With 2021 promising to eventually be the year where they can return to normality, rather than simply reopening under strict restrictions, we want to tell you how you can support your local independent business ventures. It really is a case of use it or lose it when it comes to local business in the UK right now.
We want to walk you through the many reasons why supporting your local business ventures is helpful to not only you, but also others around you. This really is a time to start pulling together and getting a grip on what really matters to you in life. Thus, if you believe your local economy is an important aspect of your life, get out there and show some support now that we are all free to do so once again.
Why support local? 
Local businesses are absolutely essential for the state of our economy, hence why many people choose to shop with them over worldwide global-sized corporations. They help our communities to grow and can often bring people together in a unique way. Furthermore, they provide employment for members of our local communities and help to improve people's lifestyles.
Local businesses regularly have a more personal touch and share a special connection with customers that cannot be found elsewhere. For instance, workers in smaller shops will know many customers by name; they may even be neighbours of people that make purchases.
Create more local opportunities
Shopping with and putting resources into nearby organisations implies you can have a solid and beneficial outcome on the number of jobs being created in your area. Smaller scaled local organisations are shockingly the largest provider of jobs in our nation. Local employers are also far more likely to pay slightly higher wages than large global retail organisations and corporations.
By shopping locally, you keep the cash flow strong in your area and you ultimately create more jobs for others that are in need of them. This should be a huge motivator for anyone who is considering whether to go local or not when it comes to purchasing items from a store.
Sometimes it's good to go offline
Even though in the modern world the vast majority of people believe you have to venture out onto the internet in order to find the best deals and the widest range of products, going locally has many advantages to consider as well. You may well even be surprised to learn how competitively priced the products sold by local stores can be.
Independent retailers get a bad rap when it comes to pricing, though there are often well-justified reasons for their price points. You need to think about how they cannot afford to bulk buy items to sell in the same way as the likes of Amazon and other huge corporations similar to it can. This is why you shouldn't feel too hard done by when you end up spending a few extra quid in support of a local retailer, just think of the good you will be doing for your local environment and economy.
Customer service goes a long way for the consumer
Albeit many chain organisations do have decent customer service, you can't beat the individual touch of a local shop owner who knows everybody around there by name. They can offer you an item that is personally right for you, your home and even your area as a whole. Building connections between the local business and the nearby client base goes that extra mile and really means a lot to customers.
It is additionally worth recalling that local shops stock an inventory dependent on their own client's decisions instead of the latest trends. This is so you can discover what you need instead of discovering what they want to sell you.
It is somewhat of a British tradition
Supporting your nearby business over their bigger, worldwide competitors is to some degree a British tradition. In contrast to different nations, who have permitted the corporate retailers and businesses to totally assume control over their high streets, Britain has consistently attempted to maintain the emphasis on local firms.
We can act like a stubborn country who like to keep their customs going for as long as might be feasible, and for this situation we are most definitely right in doing so. If you want to help your own country to stay on the right track when it comes to retail, get out there and support your local business ventures which are in desperate need of cashflow after the Coronavirus pandemic and everything that has happened as a direct result of it. 
Engage with small business social media accounts
Starting us off is perhaps the easiest way you can support a local business in the modern world. By following your chosen local business venture across multiple social media platforms, you'll be filling them with some additional confidence, increasing their online growth and allowing them to communicate with a wider audience.
You can go one further by actually engaging with the content these companies post to their social media accounts. Feel free to comment on posts with some positive words of encouragement or even share their content on your own profiles, so that your friends and family members can get involved as well.
If you have somewhat of a large following yourself, you could even perform some kind of influencer marketingfor them by endorsing their products and giving them the seal of approval to your own followers.
Use the power of word of mouth
Word of mouth messaging is still powerful today, even though you may believe that social media has completely replaced it, that isn't always the case. In fact, when it comes to smaller sized business ventures, talking to your peers and family members about where you shop is an excellent way of getting more people to visit its premises and support it generally.
Tell as many people as you can that you enjoy purchasing from the small business in your local area and let them understand how good the services are you can experience there.
Get involved where you can
If a local small business venture hosts an event, either online or in person, you should do your best to get involved with it and let your supportive voice be heard. If the firm is hosting a sales event and you have some spare cash around that time, then why not make a purchase or two of your own; put some money behind the till when you can, and you'll see your local community grow because of it in some way.
You may see callouts and pleas across social media pages, or even at store fronts via posters in the window. If your local business has been good to you over the years and you see that it is in need of a helping hand, go and get yourself down there; you'll be thanked for your hard work and determination and the bond you have with your favourite local venture will blossom into something even greater.
Leave positive reviews and spread your thoughts
It doesn't cost anything to leave your thoughts on TripAdvisor, Google or social media channels and only requires a couple of moments of your time, however the advantage to the business could be enormous. On the off chance that you've had a decent experience in a café, bar or simply really enjoyed an item you have bought, leave a pleasant review to assist it with drawing in business.
You could even go above and beyond by offering insights regarding the business to your loved ones. As we have previously mentioned, word of mouth is quite possibly the most significant showcasing device for smaller sized companies, so make a point to share the word with who you know.
Social media likewise opens up an incredible road to help local small ventures. You can utilise location tags on Facebook and Instagram to share scenes you visit with your followers and let them know exactly where the business is located. Even if you just make the effort to retweet the occasion post, it will mean an awful lot to that business who has no doubt been struggling over the past 12-14 months.
Local businesses are always searching for ways of gaining more online reviews, so by doing this you could be helping them out in more ways than you know. You'll help them to jump up search engine rankings and even guide new customers towards them.
If you're going through a tough spell, remember why you started the business
Businesses of all shapes and sizes go through good times, as well as darker spells where the road feels a little bumpier than before. You should remember that running a small business is not solely about the end goal, it's in equal parts about the journey as well. Don't be disheartened when the going gets tough, analyse the problematic areas within your company and search for ways to rectify them. That is in fact another challenge within itself, and you wouldn't have started a business venture if you wanted a career without facing challenges that had to be overcome.
During this period of time, think back to the beginnings of your company, the reasons that made your start this journey, as well the goals you set out to accomplish. Have you achieved what you set out to achieve yet? If so, tick those things off the list and search for new goals to chase after, that'll restore your motivation if nothing else.
Helping out a local business – the checklist
Here's everything you can do to help a business out that has been struggling over the past year or so, due to the ongoing effects of the Coronavirus pandemic:
Spend money at the business and show that you value it enough to use your hard-earned cash to make purchases from it
Engage with its social media accounts across multiple channels and let friends and family members know that you enjoy its offerings
Use word of mouth and don't solely rely on online media platforms to spread the word to your closest peers
Become an actively involved member of your local community and show your support whenever the business holds a special event, such as a sales period
Leave positive online reviews so that people new to the business can be met with an instantly encouraging reflection of the place from a loyal customer