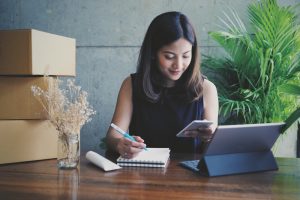 If you're a business owner that's fallen on hard times, want to take a different career path, or are simply ready for retirement, the chances are that you've got a business for sale.
Selling a business, regardless of its size, can be a tedious an tricky situation to work out successfully if you are not fully aware of what you're doing. Therefore, if you're looking to move your business venture on to someone else, while making a tidy profit from it, you're in the right place. The more information you can gather together, the better prepared you'll be to sell your business the right way, without losing out on cash or time.
If the cash flow of your venture has dried up in recent months you should expect to make less money from the sale than if your business is booming. The more profitable your firm is, the larger the amount of money it'll typically go for is. Keep this in mind before getting your hopes up about making an unrealistic amount of cash when selling your venture. However, be sure not to short change yourself either; this is what makes selling a business for the right price so difficult at times.
How much is my business worth?
When you want to sell a small business, it is important that you first calculate how much it is worth in the current market. Without this key information you'll likely make mistakes that could cost you a fortune, which is something above all else you should be aiming to avoid during this whole process.
In order to work out the total value of your own business venture you'll need to gather up multiple pieces of information. You'll need to tally up the value of the assets that are attached to your business, including all equipment and inventory. Basically, the first thing you'll be doing is calculating the total value of everything your business owns.
Secondly, you'll be taking the time to study your venture's revenue. How much does the business make annually? Work alongside a stockbroker or business broker so they can help you to understand what this means for the true value of your company. Do you have high or low sales? Do you make more profit than what's average for a business of your size? These are some of the questions you'll need them to help you answer.
Next, you'll be performing a cash-flow analysis. For this you can use a 'net present value' calculator, which can be easily found online. Once you have this information in your grasp you'll be well on your way to figuring out just how much your business is actually worth.
One last thing to think about is that all of this number crunching and calculating will only help to take you so far. You'll need to go above and beyond analysing how much cash your business brings in through sales. You should also take your location into consideration because if you're based in London city centre, you're going to need to be demanding more money than if you're in a small town high street. Think outside the box when it comes to your valuation and try not to put yourself down because your business is on the smaller side.
Who should I sell my business to?
You may not have first thought about this, but picking the right person to sell your business to may well be an important part of the overall process to you personally. If you've been passionate about your business over the years and are sad to see it go, perhaps you want to move it onto someone that shares similar passions to yourself. Don't be afraid to ask where a potential buyer plans on taking the venture to, going into the future. Is it a place you'd like to see your original idea go to? Or would you rather wait for a similar offer from someone who is more in line with your original vision? This may not matter to you, but to some people it'll even be one of their top priorities.
How long will it take to sell my business?
The unfortunate truth is there is no solid answer to give to that question and it all depends on a myriad of circumstances. The size of your business, the history of it, geographic location, projected future sales figures, customer base and buyer availability, all play a part in how long it'll take to sell any business venture, regardless of where you are in the world. There is no nailed on answer to how long it'll take to sell your business, it could take months or only a matter of weeks; a lot of it depends on lucky timing and finding an appropriate bidder.
Common reasons you may choose to sell your business
There are many different reasons that may lead to someone either wanting or having to sell their very own business venture. Regardless of the size of your business or what it means to you on a sentimental, personal level, occasionally something may pop up which leaves you with no other choice. Below are a list of the some of the more common reasons for selling a business:
Retirement is on the cards for the owner of the venture
Wanting to do something else with your career
Industry changes that have business owners worried
Owners have taken the business as far as they can go
The business has become valuable and therefore the owners wish to cash in while they still can
There appears to be an incoming decline in profitability for some reason, making now a good time to move away from the business
The owner needs money to fund a different project that is of a higher priority to them
Exit strategy
It is highly unlikely you've just decided to sell your business on a whim. You should pre-plan your exit strategy away from your business before you decide to complete the transaction. Not only should you have a plan in regards to who you're going to sell your business to, or how you'll attract prospective buyers, you'll also most probably want to plan your own future. What is the next goal for you in your career and how is selling your business venture going to help you get there? These are the sorts of questions you need to be asking yourself before you simply let your business go without thinking about some of the finer details that follow on from the sale of it.
Avoid making these common mistakes when selling a small business 
Selling your business to the wrong person – This isn't something you want to be doing, as it can have serious knock-on effects even after you have left the business behind. You may have an extended contract which keeps you attached to the business venture in some way or another, so be sure to check the small print in any deal you agree upon. By selling your business to the first person that puts in a decent offer, without looking into it with great levels of detail, is almost always a mistake. Do your research and get your business venture into the hands of someone with experience and know how.
Asking for too much or too little – You need to know the value of your business before you put it up for sale, or you'll simply not get the money you deserve for it. If you have no idea what to charge for your business and pick a number from the sky, you'll either be way off in your valuation and therefore not be taken seriously by potential investors/buyers, or you'll be losing out on funds that could possibly set you up for life.
Thinking you don't have to promote or market the business – You need to market the business you want to sell or you'll continue to fail to attract potential buyers. Your company, be it big or small, isn't going to simply sell itself. If people remain unaware that your business is up for sale, or cannot find key information on the business, they won't be coming forward with an offer any time soon. You need to market your business venture to the people that are searching for something to invest in, or a new project to oversee. You need to find them as much as they need to be on the lookout for your company. Let it be known that you have something for sale that's worth buying.
Not planning for the future or waiting too long to sell – Business owners often have a window of opportunity when choosing to sell their ventures. This can be easily passed by or completely missed if you wait around too long to sell. If you're caught feeling undecisive you won't make the sale, or at least the sale will not go as well as it potentially could have. If you are positive you are looking to move your business on to someone else, get the ball rolling as soon as possible. Also, be sure to plan for your own future in the process; by planning ahead you'll know exactly what your personal mission goals are after you have moved your firm along.
Would you rather save your business than let it go?
Many people don't want to sell their business venture but are in a financial position where they are forced to. If you're struggling with cashflow issues and believe that an unsecured business loan could be a saving grace for your small business, then don't hesitate to look for a solution today. A Merchant Cash Advance is often a modern solution for companies that are facing financial difficulties and wish to turn things around.
In summary
Be careful when it comes to selling your business to another owner, it has likely been one of your greatest possessions for years, and even if things didn't work out the way you'd hoped, we're sure your poured a lot of time and effort into giving it your very best shot. With that thought in mind, don't undercut yourself when charging a fee for your business venture, but don't go into the selling process with unrealistic expectations either. Do your research, gather up all the information you need and receive advice from an expert.