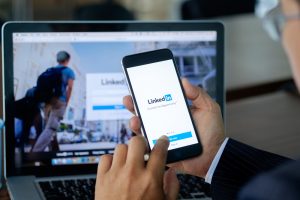 LinkedIn has been around for a lot longer than you likely imagine, as it was created in 2002, although it is often eclipsed by other social media giants, such as Facebook and Twitter.
You should be aware that LinkedIn, when used correctly, can be the biggest aid to a small business venture, in terms of connecting with clients and widening networks. The thing that holds certain users back from experiencing all of the platform's potential is them not knowing how to use it effectively.
More than meets the eye
There is far more to LinkedIn than first meets the eye; it isn't solely a service for job hunters, nor is it only able to provide companies with potential candidates to fill open positions. Of course, it is all of those things, but it is also the perfect platform to market your business to a wider audience than you have previously been able to.
You can do so many things on LinkedIn, so showing off your small business venture to the people that can aid you in taking it above and beyond where it has gone thus far couldn't be simpler. If you can become a master of this unique social media service, then your company will begin to reap the oh so sweet rewards.
Utilise LinkedIn Polls
Gather the thoughts of your target audience and cliental by using LinkedIn Polls. This feature allows you to create polls and distribute them to your networks and/or specific people you want to get the opinions of. You can view and analyse any results in real time to get a deeper understanding at what people are saying about your small business venture.
Ask for recommendations
You may find yourself becoming a little bit surprised at how willingly some people will lend you a helping hand over on LinkedIn. Maximise your use of the Recommendations function by regularly asking clients to provide reviews. These reviews will be shown beneath your company information on your profile indefinitely unless you or the client requests their removal, so recommendations can be a fantastic way of showing off how reliable and trustworthy your business is. The proof will be there for all to see!
You can use LinkedIn to advertise to specific audience members
You are able to begin a targeted advertising campaign by using DirectAds on LinkedIn. You can target your ads based on location, job function and seniority, industry and company size, and gender or age. This means that if you really want to speak to a specific segment of your target market at any one point in time, this social media platform will allow you to do just that.
Sometimes this can be very useful to a small business, especially one that is only just starting out on its journey, as it allows you to connect with the people you want to right away. You don't always need to connect with your entire audience, occasionally you will only want to communicate with a certain portion of it.
All small business owners must identify their company's target audience in order to reach sales goals, hold a firm position in the correct target market and ultimately succeed as a firm.
Think of your personal profile too
If you want to get noticed on LinkedIn, you'll need to keep your profile page regularly updated. Here, we are speaking about your personal profile, because it isn't just brands that will interest consumers, they will want to get to know the face behind it all too, if they can.
Always aim for 100% completeness and regularly optimise your profile with continuous updates.
Whenever you learn a new skill, add it to your personal page. List all of your latest professional achievements to for others to see.
Introduce your personality. You'll be viewed as more authentic by others if your profile is a real representation of yourself.
LinkedIn can help to take care of your marketing needs 
You're able to run advertising campaigns via LinkedIn by using sponsored content, promotional messages, dynamic adverts, which are all powered by 'Campaign Manager', which is available to businesses that use the platform.
This feature allows users to set budgets, choose certain types of goals and ultimately meet advertising objectives. The more you use the service the more you will get to grips with it all, so don't allow yourself to simply lose focus straight away; stick with it and see how it can help your business to thrive.
Use visuals to stand out 
Each piece of visual content that you transfer to LinkedIn ought to be of the highest quality – from the business logo to your own profile picture. LinkedIn is a rather bland looking place at times, so it's significant that the little opportunity you have with pictures is executed effectively. For example, when you post updates, you can edit the pictures that are contained within them in order to make them more visually pleasing to your audience. Look at the National Geographic Society page for a slice of motivation if you're left scratching your head for ideas.
Write specifically for your LinkedIn audience
Think about the substance you post on LinkedIn similarly as you would treat your business website or its respective blog. The text you add to your business summary section, to news refreshes or to your very own profile should be focused on and optimised for your LinkedIn audience. Two significant focuses here are utilising keywords that accentuate your speciality and unique areas of business and composing shrewd and brief content that shows you're a specialist in your field. That's what people using LinkedIn normally want to find, specialists, so try to appear as one.
Remember it is a social network
Despite being highly professional for the most part, LinkedIn is indeed a social media channel. To prevail here you should be a social player that draws in individuals. The beneficial thing about this platform is that it assists you with collaborating with the perfect partners, by showing you circles of connectivity and different groups working together. Peruse profiles of your connections and see who they're engaged with. You may find a significant lead that could aid in the development of your company in the future.
Tell people you are hiring
LinkedIn is a great service to use when you have a couple job positions that need filling up with suitable employees. You can freely advertise your available position(s) on the website itself. Then all you have to do is sit back and let the talent come to you.
You need to be at the right point in your business' timeline for it to take on extra staff members. Perhaps you've been a small unit for a year or two now, or even working completely on your own, and things have been going pretty well. Naturally, you may feel as if now is the right time to bring in some help from elsewhere, to both further establish your firm and continue to grow.
You can post content on there
You can post your very own content on LinkedIn, or even post links to your company blog, YouTube account, social media channels, etc. directly to your followers.
By using educational, thought-provoking and informative content, you'll be able to obtain new customers or raise engagement levels throughout your business. Content marketing can make your business look like a well-informed platform and will therefore show your venture off to potential future clients, customers and consumers, all at the very same time.
You can easily share your page 
It is easy to let people know your LinkedIn Page is up and running, as you can share posts on the platform and post links to the page itself anywhere you like. If you have employees at this stage, send a company-wide email with the news. Let them know how they can follow the page and inform them that they can add it as a place of work on the platform themselves.
Take pride in sharing your company's LinkedIn page for the people that make your venture what it is. Connect customers to your company's thought leaders and forward-thinkers. You can go on to give potential customers and employees a glimpse into the culture of your business and what makes it unique within its chosen sector.
LinkedIn will continue to grow post-COVID
Internet usage is constantly increasing year after year; there's more people using the internet than ever before and they're spending record-breaking amounts of time on it. This is why the vast majority of business owners now decide to target online audiences when looking for ways to maximise profitability within their ventures. There are so many ways to ensure your firm is growing as quickly and as vastly as possible through the use of the internet, so be sure to take advantage of social media platforms such as LinkedIn, you don't want to miss out on an ever-growing audience.
Marketing is achievable with LinkedIn
Marketing is actually made relatively simple on LinkedIn when compared directly to other similar platforms. Long gone are the days of placing an advertisement in the local newspaper to get your venture off the ground, you now have the world at your feet with just the click of a mouse (or the tap of a smartphone screen). Why should you use LinkedIn to market your small business? Well, just take a look at the following statistics:
LinkedIn has helped 45% of marketers with customer acquisition.
Compared to Facebook, it generates leads 277% more effectively.
LinkedIn accounts for 80% of B2B leads.
It also accounts for more than 50% of the total social traffic coming to B2B sites.
LinkedIn is the top choice for professionally relevant content, with 91% of executives choosing the platform.
Leave no stone unturned
If you have a LinkedIn business account and you are failing to see the benefits of it, give the page a quick look over to make sure your profile is fully filled out. Are you missing content from key sections which will lead potential clients and customers question your authority and legitimacy? Avoid the error that so many users (both personal and business pages) make and fill out each and every section of your profile.
Take pride in having a top tier LinkedIn account and show it off by sharing links to the page through your other social accounts. If you have a decent following on one social platform, why not try to bring it to another. The crossover is usually quite smooth, especially if you have an audience that is well connected to your company and trusts it.
Keeping up with the times
For all modern-day businesses, one of the shared key objectives, should be to get people to "Google my business". In other terms, you want people to use search engines to discover your business and find out exactly what it is. This will prove to you that people are able to find your product or service all by themselves, by simply typing in the name of your organisation online. One way to increase the likelihood of this happening to your venture, is by creating a LinkedIn profile for it.
Besides developing your online presence and having another platform where you can be found by the average consumer, you'll also be improving your brand awareness by creating a LinkedIn profile for your small business venture. You see, search engine optimisation (SEO) is everything these days, so you need to ensure that you are utilising it to its fullest potential.
A LinkedIn business profile will also contain key information about your venture that is easily accessible to potential audience members. These details will include things such as the location of your premises, contact information, what area you mostly operate within, what you have to offer and all the latest details you want to share with the public. For example, this means that people can spot if you are a in the same area as them, which may lead them to supporting you as they enjoy aiding local businesses.
LinkedIn is also a great spot to post any press releases you may have waiting in the wings. So, if you're about to put on a local event, or have a new product line which is releasing imminently, this platform is a great place to share it on.
Running a business online isn't easy, despite there being more tools at our disposal than ever before. Though, even if your venture is largely focussed on its physical store, rather than its online eCommerce website, you should still consider signing up for LinkedIn. The platform can leave a direct mark on your business and alter anything from your marketing strategy, to how you promote your business publicly.
If you want your business to appear as professional as possible to your consumers, give your products a seal of high quality approval, or connect with a wider audience than you've ever been able to before, then ensure your business is well established on LinkedIn.
Grow your recommendations
Individuals need to work with organisations they trust, which means they will search for individuals that they trust to work with. This is significant, and recommendations are the best social verification you can achieve on this platform, particularly as an entrepreneur or small business owner. Connect with peers, past customers, current customers, or even employees that used to work for you and get them all to leave recommendations on LinkedIn if at all possible.
This will help people find you and want to work with you and your business moving forward and goes a lot further than a simple follower count or basic skill endorsement. When both yourself and your employees look good, so does your small business venture; always try to keep this information in mind.
Create your own engagements 
In the world we live in today, individuals like to see brands (and the individuals who work for them) that look and feel authentic, real and genuine. The accentuation is all on relationship building and clarity, so connecting with on your own posts as well as others in an intentional manner will be perhaps the most ideal approach to advertise your business.
You look great, the business looks great, and potential leads will like both and be more disposed to follow up. Recollect that individuals can find you when you participate in the posts of different brands or people within your own network, so this is a valuable opportunity to help to improve reach in an organic way.
Make content that is intended to inspire conversation. Ask individuals their opinion, or in the event that they have questions, try to answer them efficiently. You can even ask them what sort of content they would prefer to see from you in the future.
A lot of individuals are glad to speak up when asked about their opinions, and this is a decent method of getting a lot of healthy engagement which will aid you in building on relationship levels and becoming visible to a wider audience
In conclusion 
LinkedIn offers the average small business owner so much more than you likely first thought, but now that you are more familiar with the platform, hopefully you can go on to use it to your advantage. It takes time to fully flesh out a LinkedIn profile, but if you can study up (as you have started by reading this article) and put the required hours in, you'll start to witness the benefits in no time at all
If you are currently attempting to develop or advance your business in any capacity, you ought to be on LinkedIn. It's an unquestionable requirement for all B2B ventures and can be equally useful for B2C organisations of all different shapes and sizes. When one of the key focuses is on connecting with a larger section of your potential network, then LinkedIn is absolutely essential.
With regards to LinkedIn promotion, the key thing for you to do is represent your business' profile in the way you'd want it to be perceived. Focus on relationship building with your audience and potential client base to ensure you have a brighter future. Keep the in-your-face offering to LinkedIn Ads and you should begin acquiring further amounts of traction instantly.