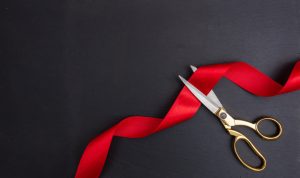 Running a business comes packed with many moments that will be essential to the level of success your venture is able to achieve. Every now and then you will approach a moment or series of instances that feel rather defining to your company, though arguably none more so than the grand opening day.
When it's finally time to open your doors and welcome in your very first customers, you need to ensure that you're getting things right and ticking all the boxes.
You'll need to have a strategy set and ready to go for the opening day of your small business venture; you should develop this in plenty of time, prior to the event taking place. All new and young entrepreneurs can make errors and miscalculations, but you'll need your opening day to avoid these things at all costs.
It can have lasting effects 
The opening day of your new business will undoubtedly have lasting effects on the future of the company. However, these can differ and range from very good to very bas, depending on how the day goes for you. If you have a really strong opening day, with everything going just as planned, you'll have done a lot of the work that is required to help in setting a precedent for your firm.
Your customers will have only positive thoughts of you, and they will hopefully go on to share those feelings with peers (potential future cliental). let's have a look at open day ideas for business.
Use your own network 
Your opening day will not really be viewed as a success unless you are managing to get a strong number of individuals through the door. You can aid this with a little networking of your own, think about how you'll be able to fill out your store (or whatever type of business you're running) with some of your own peers, previous co-workers, family members, etc.
By using your own network, you won't just be acquiring a few more sales than you would have without the input of those people, you'll actually be changing the way your organic customers view your business venture. They will see your premises packed out and busy, which will make them believe that the business is popular. As they now view it as popular, they will trust it more, as well as the products and services it has to offer, and be more likely to return in the future.
Get your concept over straight away
The thing that makes you different from all of your competitors should be instantly apparent to your customer base, right from the opening day. So, be sure to have your messaging in plain sight around the building you are located within. 
The unique selling point of your business venture ought to be something that relates to the organisation and offers audience members something that they can't go anyplace else. Maybe you sell specific sorts of items that can't be found elsewhere, or you offer a service that is far more affordable than any of your direct competing businesses.
You should make an effort to push your unique selling point in each spot you can, in light of the fact that by the day's end, the more individuals that think about it, the more individuals that will need to associate with your business as a result of it. This can clearly be low costing since you just need to leave your voice alone heard; it doesn't cost anything to put the message out there by means of your site and web-based media channels.
Give people a reason to return 
One fantastic way of getting people to visit your business again at some point in the not-too-distant future, is by giving them a coupon of some kind. If they know that when they come back, they'll be able to shop with you at cheaper prices and pick up items for less than usual, they will probably return. At the very least, people will have a reason to visit your business venture once again, so you'll have a second chance at connecting to them and making them a loyal, long term member of your target audience.
Make sure you have enough staff working
The last thing you want is to be short staffed during the grand opening of your new independent business venture. So, make sure you have more than enough staff to cover every possible outcome that could be an obstacle should it happen on opening day. If someone rings in sick, or someone is stuck in traffic thanks to an unexpected roadwork, you'll have someone else waiting in the wings to fill in for them.
This is a huge day for your business, so get those hands on deck and give yourself the best start to life possible.
Give out business cards
By including a promotional business card with all purchases, shoppers will be reminded of your company after they get back home. Stay in the mind of the consumer by handing out a free business card (this could continue through the first few weeks of you being open to the public).
A business card represents the next step in making your small business dream a reality. For any potential customers, it's the first interaction they'll have with your brand – so, make sure it's a positive one. A thoughtfully designed business card does more than carry your contact information. It will make you look professional, build trust in customers, and set your small business apart from others.
The wheels must be in motion prior to opening
Opening a business is a critical endeavour, with the entrepreneur confronting numerous pressing factors and anxious to have an effective first day and start to their new venture's life. With a ton of cash, time, and exertion on the line, it is significant for any business to get off to a decent beginning, creating momentum and customer loyalty at an early stage. Being effective on the first day of business includes arrangement that starts before your new business opens its doors and proceeds through its opening day.
By making a start to the planning process at as early a stage as physically possible, you'll allow your future to be an easier and more advantageous one. Not only will you be aware of what needs to be done and when, but you'll also have an idea of the cost of things and sway from a financial shock further down the road. This is very important to new business owners; being well-prepared is one of the best methods of hosting a successful opening day.
Having a business plan will also prove the viability of said proposed business to yourself. Instead of relying on your passion alone to create something, you'll be able to get a clear glimpse of how exactly your idea will raise finance and generate profit. This will also tell you if you have something that can go long term and if you have access to everything businesses require.
Make your opening day one to remember
Try not to feel too overly pressured on the opening day of your business, after all, you have been planning for this day for a long time now, so take it in and try to enjoy the moment while it lasts. Everything should go to plan, just as long as you stick to your original plan and keep your wits about you throughout the day.
Keep in mind that your opening day can have a huge impact on the future of your new business venture. Not only do you need to make it a memorable occasion for your first customers, in an attempt to make them loyal from an early stage, but you'll also need to get your staff members on board. If you can create a friendly and relaxed working environment right from people's first shift, you'll be on to a winner.
Be present on your opening day
You need to be more than prepared to put in an awful lot of work as you start your new company. Business owners cannot afford to miss a single moment of their opening day, as this a time where you'll be working out a lot of the kinks of the business, making new customers feel welcome, and even motivating your staff members to do the very best they can across all departments.
Don't go missing on the first day of your new venture. As the leader of the business, it will be your sole responsibility to ensure everything is going to plan; you will also be the one that has to come up with solutions to early problems your firm faces. With this in mind, be ready to put in the working hours it takes to really lift your business off the ground.
Helping hand for small businesses 
If you believe your independent retail store business could benefit from a short-term boost of funds, then retail funding solutions are likely the best option for your venture's situation. The option of an injection of short-term capital could be chosen for many reasons by business owners. It may be because you need to stabilise your company after a rough period, such as a dry sales month, or just that you can see ways to advance your company that are just a little out of budget.
The short-term unsecured business loan is far easier to make repayments on than other shorter-term options, this is because there will obviously be less payments to actually make, and the loan itself will normally be for a much smaller amount. Choosing an unsecured loan from PDQ Funding is a great opportunity for retail and online shops to upgrade their business model or make quick fixes they need to make in order to ensure the future is bright and to maximise cash flow.
It's important to remember that making regular updates and upgrades to your venture can keep current customers enthralled and excited to shop with you, but also attract newcomers to your company, presenting you with new avenues of income and funding.