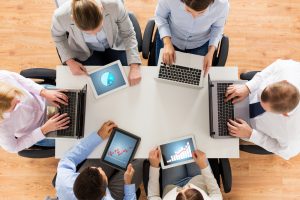 Internet usage is constantly increasing year after year; there's more people using the internet than ever before and they're spending record-breaking amounts of time on it.
This is why the vast majority of business owners now decide to target online audiences when looking for ways to maximise profitability within their ventures. There are so many ways to ensure your firm is growing as quickly and as vastly as possible through the use of the internet, so we'll just walk you through a few of the main tips and tricks now.
We take a look at ways to grow your business online without a lot of money? If you are just starting a business, then you cannot afford to waste money. This article will offer some insight to growing an online business in 2021. We will share practical tips on how to grow your business on a small budget. Our goal is to help you grow online without spending a fortune.
Make sure you're utilising social media
You should be aware that utilising social media in a smart, consistent way can be a great way to connect to your audience and widen it further, especially if you're the owner of a small business. The extensive presence of social media is something that can be commonly found throughout the vast majority of online businesses. This is because it essentially acts as a free added strand of both branding and marketing.
Social media can be a great way to grow any small business' audience, as well as making your overall brand more reputable and trustworthy. Don't be fooled into thinking you need to shell out for a social media marketing worker or team of workers if you're just a small business, but you should be open to the fact that social media can help to grow any business in this day and age, including yours.
Using the newer applications will likely be the best way to get a heads up on your competitors in regards to growing your audience, so making your start there could be a game changer for you and your business venture.
Statista has developed a predictive chart of how social media use will likely grow over the next five years in the United Kingdom:
Your website needs to be mobile-friendly 
In 2021 and beyond, a large and ever-growing chunk of the people that access your website will be doing so via a mobile device, such as a phone. Therefore, you need to ensure that your website is mobile-friendly, and that everything is displayed correctly when viewed through a mobile phone, and all the links, etc. work exactly as they would on a desktop or pc.
It won't matter how niche your target audience is, if your website isn't looking right on mobile devices, people won't likely give it a second chance to win them back around.
Stats worth looking at:
In 2020, 84% of UK adultsown a smartphone.
On average, Brits spend 2 hours and 34 minutesonline on their smartphones every day.
In 2019, 72% of mobile connectionsare 4G, up from 66% in 2018.
Over 1 in 5 minutesspent online is spent on social media.
Offer up some extra information
Allow your customers to get to know more about your business in an online space by having a regularly updated blog running on your website. This will get your customers to become more informed on the background of your company, if they should decide they'd like to be, and it'll also allow your business to attract a wider audience of organic visitors. Perhaps someone may be using the Google search engine to find some information out about a certain topic, which could then in turn lead them to an article published by you. Ideally, this would lead to them becoming a future customer or consumer of your business venture, making it a win-win scenario for you, the small business owner.
The power of digital marketing 
Utilising your business' social media accounts with the correct hashtags and image captions, or featuring a steadily-updated blog on the main page of your website, will simply not be enough to maximise your brand's online potential. There are many different methods of digital marketing for you to consider implementing into your online business strategy in order to maximise growth and reach.
For example, email marketing is often mentioned as the most profitable form of online marketing and boasts an ROI of 4400%. And the good news is that this massive ROI isn't just reserved for the monster-sized businesses of the world. The smaller corporations on lower budgets can profit substantially from email marketing as well, making it a worthy and often wise investment for any business from any sector to make.
It's worth checking out the other ways digital marketing could help your business to grow in an online environment, as the possibilities are ever-changing and fast-growing.
Offer a convenient and easy service to your audience
Customer service is extremely important to online shoppers, just as it is to those that would visit a store on a high street. However, you obviously cannot be there to talk your clients through their shopping experience online, so instead you should choose to make things as convenient as possible for them.
Selling products online is always going to be a more convenient method for the customer themselves, than it is when visiting a physical store. They don't have to actually leave their homes, as your shop will be on their laptop screen, or in the hands via a mobile phone; an eCommerce store can be visited from any device with an internet connection, at any time or place.
The customer will be able to browse through a wide range of products in an extremely quick fashion, with a great amount of ease. If they're buying a gift for someone else, things are even easier still, as they can use a search engine such as Google, in order to find suggestions for what to buy someone, or access someone's 'wish list' directly, which is a feature that online retailing giant, Amazon, offers to its users. Your website can easily offer these features too, which will undoubtedly make things easier and more convenient for your average customer.
If your customers have an enjoyable experience while shopping with you online, they're likely to do it again.
Make sure your website is easy to navigate
Speaking of convenience, if your business' website is the main location of where you'll be making sales, you'd better ensure that it is easy to navigate for your customers. In the current era we're all living through the truly digital age where everything is online. If your business isn't accessible on the internet in 2020 and beyond, you may as well forget about growth, improved sales and gaining a wider overall audience.
Your products and services won't be viewed as legitimate if they're not backed up with a well-established and accessible website that can be easily located and viewed. Beyond this, your business will not succeed if you don't meet the needs of the modern day customer, which are largely focused around online experience and satisfaction.
Continue to grow your business online 
A common mistake made by business owners is to reach a certain stage of growth and then stop trying. You should not get comfortable with where you are and instead continue to try growing further. Going past and beyond your own expectations should always be the real target, even if you think you'll find it difficult to ever get there. We are currently living in the digital age, so take full advantage of what it has to offer you and grab hold of every opportunity that presents itself your way.