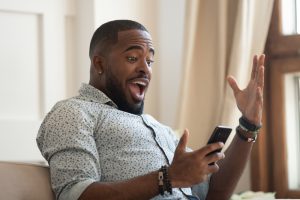 As 2020 comes to a close and we all start to hope for better things in the new year, business owners will begin to form new messages they'll want to share with clients, customers, employees and business partners.
If your business has had a good year despite everything that's happened on a global scale, surely you didn't get through it all on your own, so you may well owe some thanks to certain individuals or you might rather wish to spread your gratitude generally. A virtual business greeting message will probably be the perfect way to do so.
A difficult year reaches its end
The vast majority of UK-based businesses have had a torrid time of things this year. Many have even had to make their closure a permanent fixture due to a lack of funding and a major loss of profit.
Being unable to attract custom of any kind has been a complete deal breaker, and for businesses that were previously struggling with their financial situation, it has been the final straw for many. However, if there's someone that has helped you through these times, you probably owe them your thanks. So, with that said, a small gesture such as a greetings message is the least you could do to display your appreciation.
New Year's greetings will benefit you
It's that time of year again where you should reach out and send some thanks to those that have helped you get through yet another year of hard work and business venture development. Let's hope 2021 holds success and good fortune, but for now you should aim to show gratitude towards those that made the high points of 2020 the time it was. Below you'll find a list of example business greetings for different groups of people, which you may use at your leisure.
By wishing your employees, clients and customers a Happy New Year and good luck for the 12 months ahead, you'll likely help to develop your professional relationship with them further which could work favourably in the future if you ever need a helping hand. It may also prove to build on customer loyalty and other things like that, so taking the time to do this as the year ends is essential for every small business owner.
With all your business greeting messages this year, you should take into account what a difficult time everyone has had due to the ongoing effects of the Coronavirus pandemic, so acknowledge the difficulties if you feel the need to.
Example greetings for customer and clients
Your customers and clients are directly responsible for pumping money into your business each year and they are the very thing that keeps the ship sailing. As a result of what they add to your business, you're able to pay employees each month, purchase new stock when you need it, stay in your comfy office building and cover the costs of your electricity bills. All in all, without customers and clients, no business would ever be able to function. Let them know how much you're looking forward to dealing with them again throughout 2021.
Here are our example greetings for your business' customers and clients:
"Thank you so much for supporting our small business in 2020. We're looking forward to serving you again in 2021!"
"Thanks for supporting us throughout 2020! Wishing you all the best as we head into a new year."
"We have some exciting plans in the works for 2021. Happy new year to you and your loved ones!"
"Happy New Year! Wishing all the best to you and your family as we head into 2021."
"This past year has been packed full of difficult and trying times. We just want to say how thankful we are for your support this year despite everything that's happened around the world, and we're wishing you all the best as we enter 2021."
Make your greeting messages your own
Your greetings messages can be as long or as short as you want them to be, don't worry about getting straight to the point if you believe that's the better option for your business venture. If you have a longer, deeper message you'd like to pass on to people this year, that's absolutely fine too; the choice is yours to make.
Example greetings for employees
Business New Year greetings don't have to only be for those outside of your organization, they can also be sent to the individuals that have worked for you throughout 2020. If you should choose to send your messages to those that have helped your small business venture to run from the inside, take these example greetings into consideration and make them more personal and less general to those that are sent to your customers and clients.
Here are our example New Year's greetings for employees
"Let's continue the hard work in 2021. Thanks for your contributions this year, all the best!"
"Thanks for working so hard throughout this past year to support our small business. We wouldn't be where we are today without your contributions. Happy New Year!"
"Happy New Year! From me and the rest of our entire management team, we're wishing you and your family a fantastic new year."
"We want to share a sincere thank you for being a part of our excellent team. Wishing you all the best as we head into 2021!"
"Thank you for being such a huge part of our small business family in 2020! Cheers to bigger and better things in 2021!"
"Despite what's happened during this year, we've still found a level of success thanks to yours and others' hard work. Here's to an even better 2021!" 
Add the personal touch for employee greetings
By doing something as simple and effortless as including your employee's name in your greeting message will make it feel more personal and genuine. So, if you have a large team of people working for you, still make the effort to address them personally and shine the spotlight on them for their hard work and dedication throughout the year.
If you get to know your customers and clients on a more personal basis over time, you will be able to add even more to your greeting messages. Perhaps you've worked on numerous jobs for a treasured client over a number of years and feel as if you should pay more attention to the greetings messages you send them. If so, you can go the extra mile by including a little bit more.
If you know them on a personal level then feel free to ask about their family members, or have a certain project they have been working on is coming along. Use what you know about the individual to show them you're thinking of them at the turn of the new year. This can set you up for the coming twelve month period, as you'll be in the mind of your client for all the right reasons.
The beginning of a year is always a great time to work on relationships with clients and customers, especially if your business venture often suffers a bit of a lull after the Christmas period comes to an end. Stay connected while your sales are down in order to give them the very best possible chance of skyrocketing during the spring and summer seasons. After all, you'll want your firm to land back on its own two feet as quickly as possible after experiencing a downturn in sales or jobs.
Your troubles aren't yours alone, so be thankful
The number one thing this virus has taught small business owners is that you're never alone in your problems. When you're faced with financial troubles it is always likely that others are too, so you'll be connected that way and even your most fierce business competitors will show compassion towards your situation if they're going through a similar thing.
If you're someone that has recently been faced with unemployment and the loss of your job, you may also find some level of comfort in the fact that others are in the same boat as you, also. Don't get us wrong, we fully understand this isn't the place you want to be in, but it's the reality of the year we've been put through and many others will feel your pain. You're simply never alone with your problems. 
To summarise
No successful business venture is built and ran by a single individual without anyone else having a part to play. As a business owner if you're aware of how people have helped you throughout this testing year, show your gratitude to them in the form of an end of year greeting message. This way you'll be able to maintain your strong relationship as you head into 2021, which looks set to be a year that could bounce many businesses back as we hopefully return to normality, following on from everything that has unfortunately been caused by COVID-19.