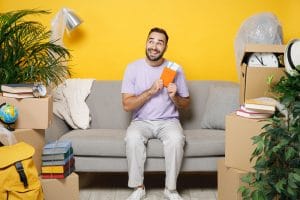 Making the decision to move abroad is a big deal. Whether you are going for the educational or professional opportunities, or maybe you just want a fresh start, either way, there are a lot of things to consider.
It can be a complicated process with a lot of moving parts. If you want the move to go as smoothly as possible, then you need to plan.
We created a checklist to assist with your move, this is primarily for people who are considering leaving the UK.
This list hopefully with give you a few tips and a clear insight to cover everything that you need to do before you move as well as offer important factors to consider in your first few months once you've moved abroad.
Read on for the considerations you need to make when planning your move abroad.
What to consider before moving abroad
People often forget that moving and living in different countries is a completely different experience compared to taking a holiday there. Living in a different country has its ups and downs.
Let's outline a few things you need to consider before moving and living in different countries based peoples experiences.
Your Destination
Before you move, you need to do some research into your destination. Make an effort to learn about the regulations, laws and customs of your country of choice. You need to gain an understanding of how the country that you are planning to move to differs from your home country. It can help you to avoid legal repercussions, social faux pas or even keep you safe.
Again, the internet is an invaluable resource; it should be relatively easy for you to find out everything you need to know, or at least a foundation that you can build upon once you get there.
You should begin your research by looking up your legal responsibilities. Do you know what documentation you need? This includes things like visas, passports, taxes, different forms of insurance and whether or not you need any vaccinations. After you have looked at these, you can begin to look at the societal differences. They might be subtle, but they can affect all of your interactions with the locals, and you wouldn't want to accidentally put your foot in it.
Your Finances
A move abroad costs money; you need to have your finances in order before you go. However, more than that, you need an idea of how you are going to support yourself once you get there. You should have developed a pretty good idea of how much it costs to live in that country during your research. If not, you need to look into it.
Think about how much it costs on average to house, feed and clothe yourself and your family, as the case may be. It comes down to one question: Can you afford this? If you have a job in place, then this can alleviate a lot of the stress and ensure that you have a steady stream of income.
If you are a student or don't have a job in place, you need to think about how long you could survive on your savings. Most people only have enough in their savings to last them a couple of months, if that. Think about whether that would be enough time for you to find employment.
It is highly recommended that you have something lined up before you move. Look at the job market and start applying before you move. In addition to a job, you will likely need a new bank account; consult with your bank and tell them of your plans to move. They should be able to advise you on the best course of action.
Your Home
There are two main options when it comes to moving abroad. You can buy, or you can rent. The option you choose will depend entirely on you, your situation, and your plans for the future. If you have the money and means, then buying a home can be an excellent investment. It will require more money upfront than renting, and it will have more legal hoops that you will have to jump through, but it does offer a higher level of stability.
Renting, on the other hand, requires less money upfront, and if you aren't sure of your future plans, i.e. whether you want to stay in the country or not, then renting doesn't tie you down in the same way as buying. Check out the rental market and use local resources. For example, if you were looking for serviced apartments in Singapore, then you should check out PropertyGuru; they have tonnes of options for both renting and buying. They also have great resources which you can use to learn more about the property market in Singapore.
If you already have a home in your country of origin, then you will need a plan for what to do with it. First, you could sell it and use the proceeds to fund the move. You could decide to rent it out; the extra income again could be used towards your life in your new country.
Finally, you will need to think about what you are going to do with all of your stuff. If you can afford to, then you might want to ship it over and use it to furnish your new property. You could also sell some things or put them in storage for you to deal with at a later date.
To Conclude
The three considerations above are not the only considerations that you need to make, but they are the most important. While it can feel overwhelming at times, the planning that you do speaks directly to how easy the move is. Keep this in mind when you are preparing for your move.