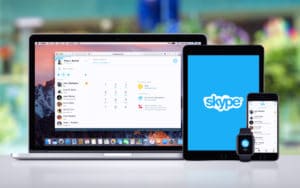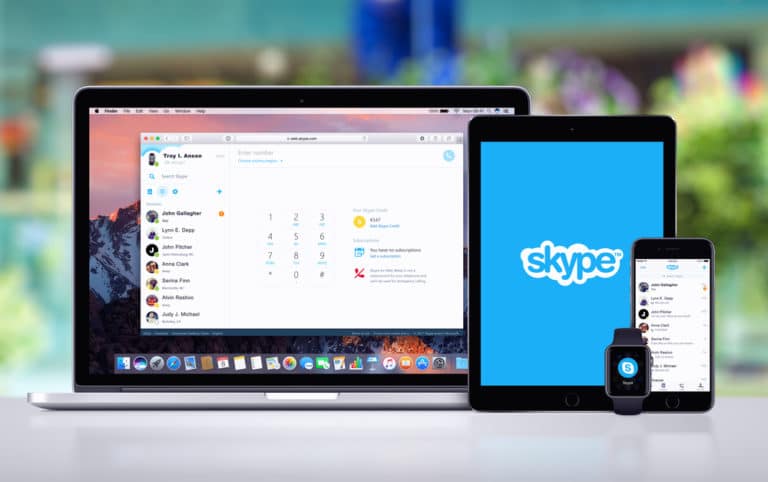 Communication is such a key aspect of modern day business, especially now that we have so many options and ways to do it effectively. Different programs and apps can be useful for different situations, so we thought we'd put together a list of exactly what you need to download in order to achieve the very best thread of communication for you and the rest of your work-based team.
Now so many of us are working from home or taking part in some sort of remote work, due to the battle to stop the spread of Covid-19, we need to know what's available to us and how to best use it.
The apps worth looking at
Here is our list of everything you need to know about, in order to effectively communicate with your team from a distance. The following are all available from either the Apple App Store or the Google Play Store, so easily downloadable and accessible to most people on a variety of platforms.
 Skype
Skype is used by people all over the world in order to keep up with friends and family members that live a distance away, allowing us to see those we might normally not be able to. This is becoming especially popular during the Coronavirus period, as are many other webcam applications. Though, Skype is also extremely useful for businesses of all shapes and sizes.
Skype is packed with useful features such as instant messaging, video calling, group chats, and group call systems, all of which can be handy for team members to utilise so that they can communicate with one another and share ideas for group work projects. It is also a good way of reporting back to your boss or manager, while being able to directly show them the progress you're achieving on your latest bit of work.
Slack
Slack has quickly become one of the most popular project management and collaboration applications in the world, especially for companies with remote workers. This cloud-based team communication app actually originated as an internal communication tool for a small game development company. It was launched in 2013 and is now one of the most popular ways for internal teams to collaborate.
Slack features chat rooms organised by topic, private groups, and direct messaging. Files, groups, and members are all completely searchable, making it easy to pull up previous conversations.
This means that you can work on projects together and really bolster your collaborative skills by file sharing all of the new ideas you're coming up with and allowing others to innovate on them themselves. This is the perfect tool for team building exercises and showing new employees how they'll be working with their co-workers right off the bat.
BlogIn
BlogIn provides an easy-to-use internal blog that enables employees and managers to quickly share news and announcements, archive and share knowledge, pitch ideas and suggestions, ask questions and gain feedback in a transparent way. Basically, it's a live blog that allows you to and each of your co-workers the ability to update it on a consistent basis in easily viewable chunks that other team members can access both quickly and effortlessly.
The Internal blog keeps all team members informed and up-to-date by collecting all relevant information in one, organised and easily searchable place, available to all employees all the time. This means that posts don't just disappear after a while, unless they're deleted manually by the person that originally created them, so you won't lose any key information from it that you may need at a later date.
In addition, the blog opens a new, transparent, two-way communication channel inside an organization, where everyone can ask a question and get the information they need to make faster and smarter decisions.
BlogIn is intuitive and easy to use, so everyone can quickly get on board, which is one of the reasons why it works so well as an internal communication tool for both small and large businesses with team members that have a wide variety in skillsets.
Campfire
Campfire is a web-based communication app, which offers password-protected group chats. An employee can invite a colleague, vendor, client or anyone else to this chat, but you'll need the already agreed upon password to access these groups and communicate with others. This means you'll never be interrupted by unwanted users when you're discussing work related issues and hosting team meetings from across the web.
There is also an option for a file, text, and code sharing. Considering that this is a web-based tool, the account setting process is really easy to utilise and it doesn't take long for you to start mastering the application and discovering the many useful ways you and your team members can use it together.
Connecteam
Connecteam's employee communication app is the perfect device for streamlining your internal communication, especially if you have home-based remote employees. Thanks to its ease of use and attractive interface, Connecteam users need no training to use the app on a regular basis. This is because it is easy to use right from the get go, thanks to its insightful interface and easy to establish tutorial system that appears once you first use the application.
Benefit from features like group or private chat, push notifications, in-app directory, immediate updates with social functions (likes and comments), suggestion box, surveys and so much more. All data is stored on Connecteam's secure cloud and without a storage limit.
Whatsapp
You may be surprised to learn that this application isn't just for chatting with your friends, it is also used by teams of business employees. This is because its instant messenger aspect allows for quick, free of charge communication, as well as free photo and video messaging, as well as other types of multimedia that can be shared through the app itself.
In a time, such as now, when verbal communication is difficult to achieve with the people whom we normally communicate with on a daily basis, apps such as this that are accessible to people of all ages because of their ease of use, compatibility, and the fact that it is free of charge, meaning there are no hidden fees that can catch you out which bonus features are potentially hiding behind.
Zoom
Conference calling is the perfect way for businesses to communicate, particularly during a global pandemic that keeps us from being in close contact with one another. It appears that Zoom truly is the breakout application during this time, as it has grown its user base by 120% from last year and now hosts over 300 million calls a day.
Sure, these aren't all for business meetings, as people seem to be using the software for their own personal use, to call friends and such, but the improved user base seems to have triggered some new features for long-term users as well.
Previously to everyone with a pulse and an internet connection knowing about Zoom, there was a hindering feature that cut off meeting calls after the 40-minute mark, unless the host paid for a premium service on the application. This idea has since been thrown out, likely because the company wants to keep its newly found users happy and is in search of a way of connecting with them after the pandemic finally reaches its conclusion.
Zoom don't want to simply be a flash in the pan, they want to keep this spike in users going and will develop as a company to do so.
This level of success has made Zoom a household name, which it definitely was not before, meaning that the pandemic has ultimately helped this application become more successful and well-known than it otherwise ever would have.
The take away
 Applications that allow you to share files with others, work collaboratively on projects, feedback to your manager, and make eye contact from a distance with people you otherwise wouldn't get to see are all very useful for the modern day business worker. So, feel free to refer to our list when you're looking for a new, inventive way of communicating with your team.