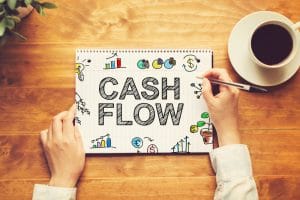 As a small business owner, you most likely invest a ton of energy thinking about turnover and ways to increase it. What amount did you make? Is it up on last year? What do you have to offer to build it?
These are the issues many entrepreneurs will consider, although you should look into whether turnover is really all that significant.
With 2022 approaching fast, this is the ideal opportunity to audit what is important to your business and consider how you can make the following year your best yet.
To kick things off, we've investigated why cash flow could be critical, and debunked some of the most common myths surrounding turnover.
Turnover= vanity, Profit = Sanity and Cash flow= reality 
We aren't trying to inform you about some kind of confusing equation here, but you may have heard a similar thing being said in the past. This does indeed ring true for many small business ventures across the UK. Turnover can look good on paper, but you must remember that you will have to subtract costs and expenses from it.
A business with a turnover of £5 million a year seems like a triumph, however for instance, if staff wages, rent, and other costs come up to £4.5 million, it is truth be told making a considerably less in contrast with turnover.
This sum is obviously the profit, which is the thing that you're making once business expenses and costs have been deducted from turnover. Profit permits you to put resources into your business, from recruiting new staff to buying new equipment to assist you with running all the more proficiently.
For most entrepreneurs, making a profit is the motivator to set up in any case. It's the reason behind starting your business and at last receiving greater financial rewards, as without profit you'll just be attempting to take care of month-to-month costs.
This can be called breaking even, and it's the reason cash flow can be viewed as the main element of all things business. Profit is an indispensable piece of anticipating the future, however the present time and place of your business must be decided by cash.
Gaining stock, paying staff wages and meeting month to month bills must be finished with sufficient assets in the bank, without which the business could flop rapidly. A steady cash flow gives you decision on where to spend, the capacity to be adaptable, and at last the resources to keep up with your business' ever-changing needs.
Profit can't be purchased, but small business cash flow can
A particular distinction between cash flow and profit is that the previous can be brought into your business, while the latter option must be made by the business' performance itself.
At the point when cash flow is an issue, your business is immediately put into danger, so you'll have to make a move desperately. Luckily, there are options to overcome this, including:
Securing late payments
Using a business credit card
Cash flow loans for small business
Each of these options come with their own methods. For example, securing late payments can often be a time-consuming endeavour, and the need to be wary of not running up an expensive credit card bill you'd struggle to pay off. Most small business loans require an eligibility check, but the positive news here is that a lack of profit won't always have an impact on your application.
Investors will focus on cash flow over profit 
There may come a phase where you choose to bring external investment into the company or select experienced businesspeople as partners. During this interaction, cash flow will always outweigh profit. The entire image of your business will be investigated, with a specific spotlight on cash flow as this is the figure that displays the truth of its performance.
Recall that organisations with strong cash flow but no profit can still become profitable in the long term, yet those without may find it difficult to continue trading, paying little mind to the profit they've made.
Focusing on cash flow over profit can forestall future issues for your business. Having a lack of money could mean late payments to suppliers, affecting your business' reputation and possibly its credit score.
Keeping a close eye on cash flow additionally lessens your chances of falling into debt, as you'll be fulfilling invoices on a timely basis. This will give you more opportunity to zero in on developing your small business venture.
Positive cash flow focus keeps businesses in the black
At the point when your business is progressing nicely, that implies there's sufficient cash in the bank to trade in accordance with your pace of sales. As more orders come through, you'll need money to guarantee the right degree of stock, and thusly excess subsidises will course through the business, creating a gain toward the finish of each week, month and year.
Small business owners hoping to improve their turnover in 2022 should focus on cash flow from the very start f the year. This is the most effective way to make bigger profit margins for a positive, long-term sway on business development and improvement.
Hopefully you now understand that cash flow is ultimately more important than turnover as it has a much greater effect on your business and represents more important aspects on the company's performance levels; cash flow tells the whole story, rather than putting a positive spin on proceedings.
Get support from a fast small business loan
If it's looking like cash flow could be an issue throughout your business as we reach the end of 2021, it may be time to search for financial solutions.
Business loans from PDQ Funding offer a wide scope of alternative finance options which could assist an independent business with cash flow issues. Once you receive your funding you can feel free to use it on whatever you want. Be it stock replenishment, staff wages, hiring new employees, or anything else, the choice is completely yours to make.