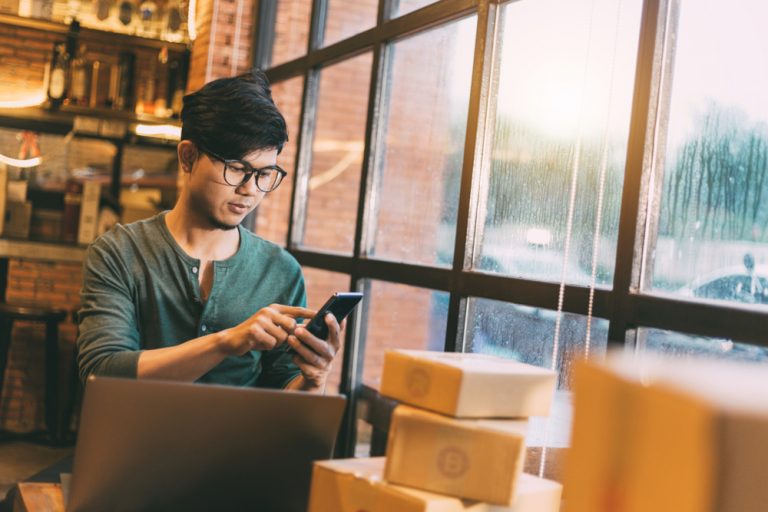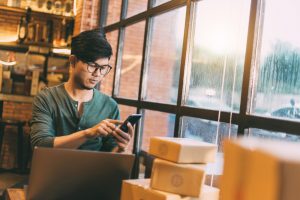 The UK had the third largest eCommerce market in the entire world back in 2015, and since then it has only gone on to grow further. Of the roughly 67 million people that live in the United Kingdom, a whopping 96% are now internet users; the level of online sales we see year after year only supplies us with further evidence that shopping online is very much the new normal.
The Ecommerce Foundation's latest report shows that eCommerce sales account for just under 8% of the UKs domestic product, which is a huge jump from 2015 when it was only 5.2%.
Grow your E Commerce Company
As a leading funder to E-commerce businesses, we understand that funding a business can be expensive. Which is why we offer business loans that are unique for online retailers. Our loans for e-commerce businesses offer, business owners between £1,000 and £500,000 in funding, the best pat is this type of finance is available in just 24 hours.
E-commerce loans from PDQ-Funding are unsecured, which means there's no need to risk your business assets as security for the loan. Lenders may ask you to provide a personal guarantee in some circumstances. This personal guarantee will only be called upon should your e-commerce business defaults on payments. The repayment will then fall upon the business owner to settle the loan as he/she will become personally liable to repay any money lost.
There has literally never been a better time to have a crack at the eCommerce market if you're a business owner or someone that's hoping to become a business owner in the near future, this is because we see the online figures growing constantly, year after year on a substantial level.
The Ecommerce foundation has also reported that in the e-government development index, the UK is the top ranking country. Online spending across the UK amounts to a staggering £1.1 billion every week in this day and age, and as business owners search for ways to meet consumer shopping preferences, e-commerce optimisation is becoming an even more important aspect of business growth rates.
How will a business loan help you to achieve your goals?
When considering the costs that come with running an eCommerce business, there are multiple factors to think about.
Website building and hosting
The main cost you're likely to have already made yourself aware of is that of your website itself. You cannot imply set up a WordPress blog or something of a similar vein; you'll be expected to have a slick, modern looking site, with a heavy focus on the latest tech. If your website isn't up to scratch and at modern standards, you can expect your sales to slump and your business to falter because of it.
Domain names
When you finally decide on a name for your eCommerce business venture, you'll have to purchase the domain names to go along with it. If you're unsure what a domain name is, it is the actual name of your website; your web address, if you will. Prices can vary depending on what name you decide on, so be careful because things could begin to get pricey.
Payments platform
If you're hoping to ell products online, you'll likely need a third-party eCommerce platform to put through the sales for you. Doing this means that you'll most likely get charged a monthly fee, so you'll always need to have some money set aside to cover that aspect of your business going into the future.
These are just a mere few examples of costs that'll need to be covered when running an eCommerce business, you should also be thinking about:
Equipment purchasing and maintenance
Staff costs
Marketing and advertising campaigns
Refunds and shipping returns
Utilities
Transaction fees
Insurance
Taxes
Website maintenance
Merchant Cash Advances for eCommerce businesses:
£5k – £200k to grow your eCommerce business
PDQ Cash Advances from your Card Payment Terminal
6 months of trade needed to gain a Merchant Advance
Repayments from 7% of future card transactions
Monthly average card turnover of £5K required
Eligible for a Merchant Cash Advance?
eCommerce businesses that uses a card payment terminal machine to process customer sales. This is one of the prerequisite requirements to be eligible for a merchant cash advance. The business must be able to demonstrate a consistent level of monthly cash inflow of about £5,000 per month or more. The last 6 months of card payment statements will also be needed.
Eligibility Requirements:
Registered and trading in the UK
Business owner over the age of 18
Business must be at least 6 months' old
Minimum monthly turnover of £5,000
eCommerce business owners apply here for Business Finance
Step 1:
Visit our application page and provide the relevant information. This will ensure that we match you with an ideal lender. We will then ask you for further information about your business. You'll need to be ready to tell us the following:
The name of your eCommerce business
How long you've been in business
Your average monthly card sales
The amount you are looking to borrow
Step 2:
Will will then require a few personal details, so please be ready to tell us:
Your title, along with you first name and surname
Position you hold within the business that is seeking a loan
Email and telephone number, so that we can stay in further contact with you
Step 3:
Read through our terms and conditions carefully, and if you're happy to continue, click 'get a quote'. From here your application will be processed and reviewed by a member of our business finance suppliers team, who will help you find the correct lender for your emergency business loan.
Step 4:
We will then be in touch with you to confirm the conditions of your business loan agreement.
Step 5:
Once the application is complete, it will be sent off and approved by a lender. You can then have a discussion with them regarding the terms of the loan. These terms will include interest rates, as well as how much the borrower will repay each month. The loan is then provided to you on an agreed and transparent basis. As providers of capital for merchant cash advances uk we support the growth of your business with our eCommerce business loan alternative.
E-Commerce Business Loan FAQ's
e-commerce business loans what are they?
E-commerce business loans are financing for online shops & stores or any in-fact any website that sells goods solely online. Businesses that trade solely online generally tend to operate at lower costs than most traditional high-street businesses, they still require business finance for growth.
How can I get business loans for my e-commerce business?
If you run and operate an e-commerce online business and are looking for finance, we PDQ Funding can help with an alternative type of business loan. The product is called a merchant cash advance, it is designed for online businesses.
Why should we choose PDQ Funding for our e-commerce business loan?
PDQ Funding understand the sector you are in, our product works perfectly with online businesses who take payments online. Our application is easy to complete and can be submitted in a matter of minutes.