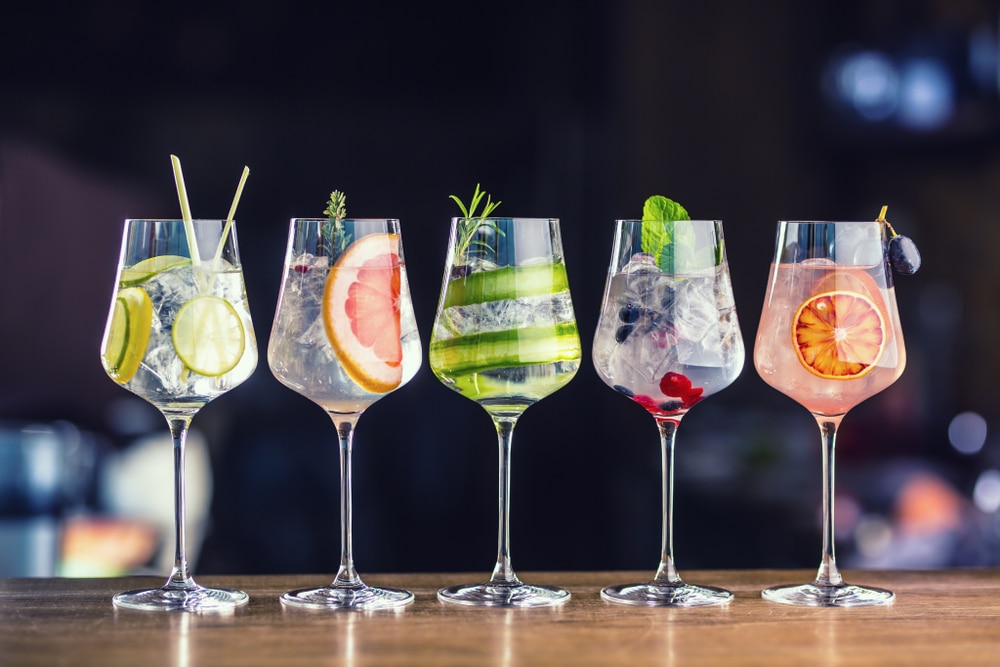 A business cash advance to add tonic to that gin.
Gin is so on trend right now that we thought we'd look at it and the concept of a business cash advance in our newest post.
A brief history of gin
Gin used to be limited to a couple of brands – Beefeater, Gordons we recall. There was even less choice with Tonic Water, invariably Schweppes. But you wander down any supermarket aisle now and the choice of gins and tonics has exploded. It's an industry that has grown incredibly since about 2015. You can get craft gin, vintage gins, flavoured gin, and they don't have the homogenous taste of old. Fevertree, an upmarket mixer, along with Fentimans and others have cottoned on to gin's rise and found huge commercial success of their own.
Gin though is expensive, when out and about in a pub, a restaurant, a gin bar and a supermarket.
It's not like you'd splash £27 on a bottle to go with dinner, unlike a £7 bottle of wine.
Starting any sort of business can be expensive, but add gin, or any food and drink, into the mix (forgive the pun) and overheads climb sharply.
We're going to be looking in an imminent post about the rise of micropubs and the fall of so many chain restaurants. We will try to unpick why some are successful and others lose money. We've got our eye on two examples from Kent and Suffolk, which will feature shortly, but back to gin.
Let's paint a hypothetical example.
You've spotted the rise from 2 bottles of gin to 30 bottles in Asda. You've heard the request in restaurants and pubs for a gin and tonic, where 10 choices have been presented.
"We'd recommend a Hendricks, Tanqueray no 10 or Opihr, sir."
You realise that there's money to be made from gin.
Wandering through Sheffield city centre, Wilmslow or Nottingham (long walk admittedly), you spot gin bars. They are popping up like Dickens has been reincarnated. Strolling by, you peek at the array of bottles lined up there and think "I'd like to create one in my town."
You scour the Internet for premises, carry out some local market research and begin reading about gin and taste testing them.
You find a small building that can be converted, you measure the footfall and assess the local demographics, make an offer on the property to buy or rent and begin dreaming about gin.
No doubt, a small enterprise like this would make commercial sense – just as the two micropubs are winning in Kent and Suffolk.
You need finance though and you put together a business plan and cost it and make some predictions about obstacles to growth.
Someone tells you about a business cash advance and you start searching.
You open a business bank account and look at a business cash advance .
Reading about business failure makes you aware of the five big pitfalls:
Not in touch with customer needs.
Unprofitable business model.
Rapid growth and over-expansion.
Poor financial management.
Lacking uniqueness.
You think you know what customers will need, but can you get them to come to your gin bar instead of Sainsbury's as you offer something that they want and need.
What are your plans to make the business profitable? You may not make much profit in the first few months, but how are you going to create revenue for the work you're doing after 6 months?
Your gin bar is instantly successful and you have the idea of a second one or even a franchise with plans for a gin bar in every pocket of the UK.
You charge too little for your products.You buy the wrong gins. Outgoings on premises and staffing exceed income and you stare into he abyss, financially.
A rival pops up with a gin bar round the corner and your USP is diluted overnight.
You may need a business cash advance to regroup and consolidate.
Business doesn't have to fail though.
We could give 50 reasons how to make a business, like a craft gin bar, work.
If the first part of your financial year is showing growth, well done. Your card terminal is warm from sales of Opihr and Fevertree. You may already know what your new customers like and what they don't like. Your business cash flow is accelerating and you know the next steps.
Therefore, let's look at some of them.
Some customers, drivers or teetotallers, may have expressed demand for non-alcoholic drinks; you may find that people ask if you can serve snacks or coffee and open earlier for a quick coffee.
That array of gin bottles is your business cornerstone but after six months you may spot other potential income streams.
A cafetiere or jar of instant coffee won't impress anyone who is used to paying handsomely for an iced Icelandic gin. 
You need a coffee machine that adds another wow factor and makes cappuccinos, flat whites, lattes that put the chain coffee shop to shame.
Finding a business cash advance
There's no doubt that adding another string to your bow – whether it's snacks or real coffee – will pay off longer term. But your gin bar, open 6 months, hasn't got the ability to spend £20,000 on adding coffee to the menu. You also need to factor in staff training costs and supplies of beans of milk etc.
Card sales though for gin are increasing and you have heard of business cash advances.
That's where we come in – to give you that coffee.
A business cash advance, however, is a type of lending based on future revenue. If you know that adding coffee will add £300 per week to your income stream, you can take out a flexible merchant cash advance. You have total peace of mind as monthly payments fluctuate based on your revenue. You can typically borrow up to 125% of your monthly card income and borrowing is much quicker than a business loan.
If you have a plan, an idea, a business that you want to develop or expand, PDQ Funding can help you achieve this.
Want to know more?