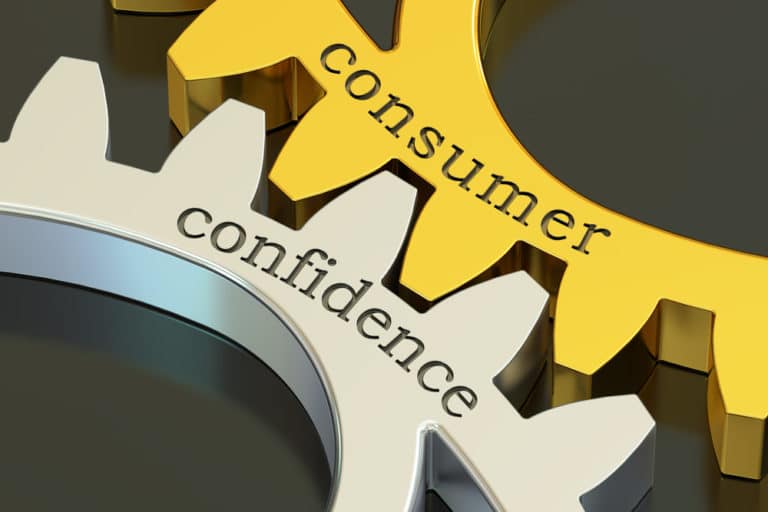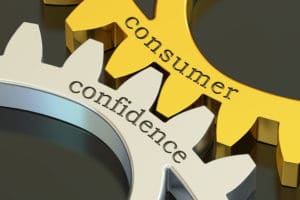 We're all consumers of some kind and we all know that we like making purchases from companies that we trust, know a lot about, and enjoy. As a consumer It gives us confidence that are purchase is going to be valid and trustworthy if we've already built up a strong relationship with the business we're making a purchase from.
How do we build consumer confidence within our own businesses? Well, there's a few easy steps you can take towards building that level of confidence and trust, that are easily achievable.
Keep your website clean and tidy
Customers need to feel safe while shopping at your business and this doesn't just apply to a physical high street environment. If your business only exists in an online space, you'll ideally have many people visiting your website on a daily basis, so make sure it's looking as polished and professional as it possibly can.
If your website is filled with advertisements and pop-ups, consumer trust will disintegrate and fade away. This is because the website will feel disingenuous and hard to navigate. Make life simple for your customers while they're online and your hard work will be repaid with trust and confidence in your product.
Crazy Egg had this to say on how the safety of a website is a huge factor for sales, "When an online shopper lands on a website, a substantial amount of trust needs to be build in order to get their sale. With the number of sites available, it's difficult for them to know which ones are safe and whether entering their personal information could result in fraud".
Interact with your customers
Interaction is key in the modern business world because it has become an expected part of the purchasing experience. Since the introduction of social media, customers and clients alike have decided that they should be told as much information as possible about what they're using their money on without having to even walk into a shop.
Choose to cater to this expectation and deliver on your communication front. Use your social media channels to interact with customers in a friendly way, create an email chain that is updated regularly without becoming spam, and answer consumer queries as quickly as you can. All of those things will build trust and confidence within your consumer-base.
If you run a small business social media may not be your top priority, but you'll be able to judge for yourself how much traction you can take from it, making investments in this area accordingly.
Gain repeat customers
Gaining repeat customers and clients is one of the most powerful ways to build your business' level on consumer trust. By acquiring returning customers you'll not only continue to push your sales forward, you'll also have a solid example to show others just why your company is worth dealing with. After all, the best way to convince a customer that they should purchase your products, is by allowing them to see somebody else having a great time doing exactly that.
A good way of gaining these types of customers is showing them some love when they make an initial purchase form your company. You have many options, but a few strong examples are to send them personalised offers via email, or just by making sure they have a smooth sales experience the first time they buy from your business.
Building up a wave of loyal customers will come in handy for times where you might have otherwise had a poor sales week, this is why it can be so key to store them in your back pocket as quickly as possible to the start of your venture.
Build up online customer reviews
Positive reviews can make a massive difference to the level of custom you get; the more you have, the more trustworthy you'll seem to consumers. The first thing many people will see upon initially Googling your business is the amount of reviews you have and the total of your feedback score. Impress your customers to gain a positive score and don't be afraid to ask them to leave feedback in order for your business to expand with more ease.
By asking your customers to leave their feedback on your company, you're allowing them to dictate the fate of your venture's image. So, be sure to go the extra mile and if you know they've had a positive experience and are pleased with your service, really make a push for them to leave you a quick review or a 5-star rating.
Customer feedback is always going to help you, so don't be put off by a negative review or two. Instead work take it on board and make the changes to your business that ensure you won't run into those same problems again. Actively chase online reviews and when you build a positive score, display review sites within your website to show it off to new visitors. It'll certainly give you an authoritative backing up.
Why are product reviews important to shoppers?
 As well as tempting customers to review your business as a whole online, it can be a forward-thinking idea to get them to review singular products too. This is an especially decisive factor when it comes to major purchases and getting customers to spend large amounts of money on an item from your business. They simply need the reassurance from others that they're making a financially wise decision and using their money for all the right reasons.
Product reviews are so key to any online store because they offer this reassurance to consumers, which ultimately increases consumer confidence. Your customer needs to trust your business, and to do that they need to trust that the products you sell won't be of low quality.
The product reviews you manage to collect will actually even make up a large part on your online branding and marketing. Not only do they help to build trust with consumers, as we've already stated, but also loyalty, which will in turn usually lead to returning customers. Product reviews can quickly drive up the sales of the products they're written about and therefore drive up the sales within your business, so it's a win-win situation for you.
Product reviews also normally come with the feature of sharing them across social media. This is a great goal to try to achieve with your customer-left reviews, as if you can get further social media exposure, you'll have more people talking about your products and viewing them in general. It works just like word of mouth exposure, which is a great thing for your company.
Product reviews can also help a stores' online presence in general. Reviews that are left under a product may coincidentally contain key words that helps those pages to rank higher in search engines such as Google. This means the money reviews you can get your customers to leave on your products, the better. Incentivise them to do so and you'll be the one reaping the rewards by the end of it all.
Arguably the most effective way of doing this is by asking them directly. Whenever someone makes a purchase from your online store, ask them to leave a review. You can either make this a pop-up on the page or a follow up email contained within the confirmation message they would receive anyway. Regardless of your approach, be sure to make the review format a breeze for your customers; they simply will not do it if it's a pain to begin with. Ensure the process contains as few steps as possible and that you make it easily accomplished for your audience.
Always be available
This point comes from Entrepreneur and they highlight the importance of maintaining contact with your clients and customers in order to present your business as reliable and trustworthy in the mind of your consumers.
They say, "Along those same lines, it's vital that your brand always be available, in some way, for the people who need it. On landing pages, including a phone number or an instant chat box can instantly increase your conversion rate. Why? Because people feel comforted knowing they can talk with someone at any time they choose. Make sure your customers have multiple lines of contact for you at all times — and if you have a dedicated account representative, give your clients that person's cell phone number in case of an emergency".
Keep on top of your financial situation
If customers see your business is struggling, they'll question as to why exactly that is. Keep on top of your finances, and even when things take a tough turn within your company, understand that there are many different routes you can take and things you can do to improve the situation.
Your customers don't need to know about your financial troubles, so keep it to yourself and put on a brave face for the shell of your business to wear in front of clients and consumers.
There are a number of options you have if your business runs into financial troubles. The merchant cash advance product lends funds to companies that only make repayments when they process card sales, meaning they won't be hit with repayments they can't afford to make.
Example of success
GymShark is a company that's barely 7 years old and has already produced a gigantic turnover. The business has built such great success by gaining consumer confidence and trust, as they have made a huge effort to appeal to a mass market, connecting with consumers through social media, promoting their own positive reviews, and supplying a quality, reliable product.
The sportswear empire is now valued between £300M and £400M with revenues that reached as high as $128M in 2018. The company has achieved at least a 200% growth sales year upon year since its birth, showing the fantastic planning and ambition that was instilled throughout the project before it even began.
Consumer confidence was the thing that really helped GymShark to take off and build from the ground up. As the company was started, it handed out free clothing items, such as t shirts, at bodybuilding events across the UK in exchange for people posting about them on social media. This helped the business become a recognisable brand, and one that customers could trust right from it's conception.
GymShark bidding war begins
Now that a slice of GymShark is up for grabs, the private equity owner of Dr Martens has thrown their hat in the ring and joined the list of investors looking to purchase a stake in the online sportswear retailer.
The founder of GymShark has become one of the UKs wealthiest under-30s thanks to the mammoth success of the business. Now, the company is reportedly planning a £1million valuation of the company by way of offering up a slice of it for purchasing in a minority stake sale.
Sky News have reported that Permira has taken to the bidding war for the minority stake as well as Inflexion Private Equity, General Atlantic, TSG Partners and L Cattertonare. The sale process for the minority stake in GymShark is being run by PwC.
If the deal reaches its conclusion and goes ahead, it would be the online retailers' first major external investment. This could excel GymShark's brand to an even higher level as it may potentially attach to them to another large name within the world of business. If they become partly-owned by the likes of Dr Martens, they would have the ability to do huge crossover events where they could potentially bran and market their products together or bring out a limited range of crossover products such as the clothing retailer Vans often do with other brands.
Ben Francis founded the company when he was just 19, though he now owns around two-thirds of GymShark's current shares. His forward thinking attitude and relentless business ideas have lead him to be worth around £138 million. His level of wealth at such a young age has made him one of Britain's finest young entrepreneurs of recent times.
Shaking up the high street
Mere weeks before the UK lockdown began, GymShark opened its first ever pop-up store, which was based in London. This sort of behaviour seemed to be coming across as a form of testing the market. GymShark is now such a large brand that it would really be no surprise to see them move into the physical retail market and have stores across the vast majority of UK city centres. The plans were of course interrupted due to the reactionary UK lockdown to combat the spread of Covid-19, but it seems the online retailer has big plans for the future and doesn't want to remain pigeonholed as a brand that only operate in an online space.
Modern and exciting businesses such as GymShark hopping onto the high street could play a large part in revitalising it once we finally reach the conclusion of Coronavirus. Shoppers will be looking for new things to catch their eyes and with the likes of Sports Direct not performing as well over recent years, could GymShark become the newest leading member of sportswear on the high street? It very likely could as its price point and business model have transferred over perfectly in an online space and created a connection with the public and on a huge scale. With the reopening of gyms and leisure centres taking flight recently, this could be the perfect time for GymShark to fill a gap in the high street while other businesses have their guard lowered.
Build up the trust
Much like any relationship in life, the more trust you build between your business and your customers, the stronger that connectional bond will become. Cater to your consumers' needs and supply a quality product in order to build an instant level of confidence from an outside perspective. The more trusting customers you have and positivity you can surround your business with, will mean more growth and success opportunities you'll find yourself being at the centre of.