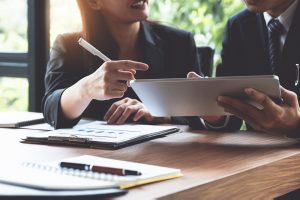 Last year you may have heard all about bounce back loans, which were designed to help business ventures that had found themselves under financial distress due to the ongoing Coronavirus pandemic. The schemes proved useful to many companies but have now unfortunately been stopped.
However, the struggles of business owners have not stopped, and the difficulties presented by the global pandemic will be felt as we march on into the future. This clearly means many of us are still searching for alternative methods of gaining funding, which is where we come in to help.
The Express have reported on the end of the government led schemes, "Rishi Sunak launched Bounce Back Loans (BBL) in early 2020 and while this support was designed to primarily help small businesses, Martin Lewis confirmed the self-employed could also benefit. The Money Saving Expert received written confirmation from the Treasury that the loans from BBL could be used to support "usual income" and this could be used to help individuals who had "fallen through the cracks" of SEISS".
Now the loaning schemes are over and completely finished with, it is time for many business owners to turn their attention elsewhere, and ultimately continue on in the search for reliable funding methods.
Insolvency arrangements
If your business' debts have pushed it into a state of insolvency and its liabilities are now outweighing its assets, financial solutions may not be the answer. In these conditions, formal bankruptcy courses of action can go about as alternatives to Bounce Back and COVID-19 Business Interruption Loans. 
Company Voluntary Arrangements
Quite possibly the most famous bankruptcy method is a Company Voluntary Arrangement (CVA). This is where the organisation reimburses a part of its debt without collateral at a customised, reasonable rate consistently. Bank pressure is stopped for the reimbursement time frame, and once it closes (generally following five years), the leftover obligation that the business cannot afford is completely written off.
Funding for businesses still in need – you are not alone!
We offer unsecured retail business loans that allow a lump sum of money to become available to you, so that you can get your business back up and running as normal. You will likely find that the majority of lenders offer loans that require a personal guarantee. This is simply not the case with us, as we fully understand the difficulties that Coronavirus has brought upon people, which have been simply unavoidable. Thus, many small business ventures require something more easily obtainable and risk-free.
The most conventional type of loaning is via a bank overdraft, despite the fact that for bigger sums with longer reimbursement periods, most retailers will opt for secured loans. These kinds of loans are generally accessible from banks and other conventional moneylenders and will as a rule require a solid monetary history. The independent company advance will for the most part give low fixed financing costs, with reimbursements set at equivalent sums which are compensated every month throughout a previously set timeframe.
Criteria between lenders differs quite significantly most of the time, however when all is said in done moneylenders will be hoping to loan to organisations with a solid financial record and a brilliant credit score. PDQ Funding interest rates are tantamount with an overdraft and the reimbursement terms will be subject to the structure of your business venture.
Our quick four bullet points on things you need to know about our unsecured finance:
Applications can take just 10 minutes to receive a lump sum of £5,000 – £200,000
Repayments are to be made every month at a set interest rate
The loan is unsecured, but you may be asked to sign a guarantee
If your credit score isn't great at the moment, you can still be accepted
It is clear to see that things are not easy for people right now and many businesses across the UK will continue to struggle for some time. This is all due to what has happened in regard to COVID-19, such as social distancing guideline that have forced firms to be put on hold, as well as many other damaging things.
Now that bounce back loans have been done away with; people need alternative methods of financing that can help to cover the costs of a wide range of situations.
We've helped thousands of small business ventures to pay for the following:
Training new staff
Purchasing new stock or equipment
Refurbishing premises
Relocation
Advertising
Helping with cash flow
Building a new website
and even more
There are a wide variety of ways you can utilise one of our business loans or cash advances. For example, you could potentially invest in new stock, change the location of your company or help to cover your monthly wage costs; the decision is entirely up to you. You can apply for a free no obligation quote today and find out if your business qualifies for our services. We can also deliver you more information on how this may be of use to your business, should you require us to do so.
Unsecured funding 
An unsecured business advance from PDQ Funding could go about as a redeeming quality for your business and permit it to bounce back from the interruption brought about by Coronavirus. Do your best to stop your business from simply fading away, it really doesn't have to be like that.
How to apply for a alternative loan funding
Step 1:
Visit our application page and provide the relevant information. This will ensure that we match you with an ideal lender. We will then ask you for further information about your business. You'll need to be ready to tell us the following:
The name of your business
How long you've been in business
Your average monthly card sales
The amount you are looking to borrow
Step 2:
We will then require a few personal details, so please be ready to tell us:
Your title, along with you first name and surname
Position you hold within the business that is seeking a loan
Email and telephone number, so that we can stay in further contact with you
Step 3:
Read through our terms and conditions carefully, and if you're happy to continue, click 'get a quote'. From here your application will be processed and reviewed by a member of our business finance suppliers' team, who will help you find the correct lender for your emergency business loan.
Step 4:
We will then be in touch with you to confirm the conditions of your agreed business loan application.
Step 5:
When your application is fully finished, it will be sent off and approved by a suitable lender. You can then have a talk with them regarding the terms of the loan. These terms will include interest rates, as well as how much the borrower will repay each month. The loan is then provided to you on an agreed and transparent basis. As a lender we support the growth of your business with our returning Business Cash Advance.