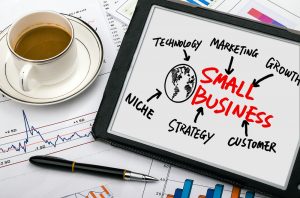 Being a small business owner can be a very rewarding experience, both financially and on a more personally fulfilling level. However, it can also be a career path which carries some negative aspects too, especially when things start to go wrong from time to time.
Running a business comes with its ups and downs, regardless of the size of it, but small businesses can often feel these ever-changing emotions more powerfully than the bigger corporations of the world.
If you have a bad sales month, a large business may have the backup funding to withstand it, whereas a smaller or more independent business venture would really be put on the back foot by such a thing. If you're thinking about starting your very own firm for the first time, we want you to be aware of the highs and the lows that may face you on your journey.
Positives to owning a small business
 There are many ups to owning your own business, here are just a handful of the positive aspects of being a small business owner:
You'll have total control
 You'll be in a position to make all of the important decisions about where your business is going. You'll be captain of the ship, regardless of how many people end up working there; the staff will be employed by you and working for you. If you want to change a big part of your firm, you'll be allowed to do that with no questions asked because at the end of the day, the business is yours and you're completely in control of it.
Of course, this also means that when you falter as a small business owner, you will fall on your own sword and be completely accountable for what you get wrong. But, at the very same time, you'll be the one to thank when you make successful decisions that bolster the business venture. As well as this, you'll benefit from all of the positive things that happen to the business: if the profits are going up, you'll find yourself with more cash to use in your personal life, too.
You'll be able to let your creative side loose
This will involve designing your business' logo, coming up with a name for it, and picking everything from the colour scheme of your website, to the sign-off messages on its emails. Many people enjoy this part of business development and if it is something you have a passion for, there's no doubting that you'll feel the same way.
Branding and imaging surrounding a business is of great importance in 2020, as it has been for such a long time now. The appearance of your company is likely to be the first thing your customer sees of it, from the front of your shop entrance area, to the design of your logo. How these things look will create an instant impact on your customer, as they'll make a mental judgement almost straight away on whether or not they want to shop with your business.
You'll want to spend a decent amount of time creating your designs before you go ahead and press the 'publish' button on your website. So, ensure you're finalising all of the big design decisions with enough time left over for you to take care of other aspects of the company. Just be sure to enjoy being able to show off your creativity while you can.
You'll likely find yourself with more opportunities
Running a small business often presents you with more entrepreneurial opportunities than you may otherwise have received. New businesses help the local economy without doubt, so you may find that people are thankful for your services and actively want to help you out in the times where you need a helping hand.
When business is going well, life is going well 
There is no denying that when you own a business and its doing well, making profit and smashing your expectations on all fronts, your overall life just seems to be following the same path. This is because when you begin to run your own business it truly does become a huge part of your life, and therefore you share a connection with it. At the same time you'll need to consider that your life can become stressful when things aren't going so well, but we'll touch on that in more detail a little later on in the article. 
It is a highly rewarding experience
When you first create your business plan, listing the goals and big points you'll be aiming for further on down the line, you'll be excited and likely a little anxious, too. However, when you start to see your venture begin to tick off some of those things that may have even seemed unreachable at the time you first put them down on paper, you'll feel so accomplished and have a great sense of achievement. Your business will have reached the point you always dreamed of; the tough part is actually getting to those rewarding times, but they may come far more often than you may except.
You get to see your imagination come to life
Building a business from the ground up involves the ideas you put on paper developing into a website, a high street shop, an office space, a team of reliable employees, or even an e-commerce store. You'll get to see your own ideas come to life and watch your company grow from strength to strength right in front of your eyes.
Negative aspects of owning a small business
There is no doubting that as a small business owner, you'll face difficult periods of time every now and then. Let's take a look at a few of them now:
It is a huge time commitment
When someone opens a small business, it's likely, at least in the beginning, that they will have little to no employees whatsoever. This leaves all of the duties and responsibilities to the owner of the firm in question. Small business owners often have to work ridiculously long hours due to this and it ca become a massive time commitment. This means less time spent with family and friends, as well as spending less time on hobbies, playing sports and relaxing in your own free time. The amount of free time you have will absolutely head on a downward spiral when you begin to run your business venture.
It is a huge financial commitment
As well as being a large time-commitment, it is also a massive financial commitment. Perhaps you're planning on swapping your full-time job with a steady wage packet, for the opening of your new business venture. This change of career path can be rather daunting at first and it is always a financial risk. There is no sure-fire way to know that your unique business idea will be a success, no matter what it is.
It is always a smart idea to wait until you have dome savings in your bank account to fall back on when you need them, before trading in your reliable line of employment for your own small company.
You can easily enter a crowded market
There is so much competition in the world of business right now, regardless of what sector you enter, you'll likely face difficulties when trying to distance yourself from your competitors. Attempting to steer clear of what the businesses on the market are already doing and what they're offering is no easy task. This means that you can end up becoming somewhat of a replica of another business venture without even trying to.
If your idea is unique enough this won't always happen, but it is becoming increasingly difficult to not appear as a bit of a copycat among the vast online competition. 
…the same can be said for social media
If your product placement strategy is to appear on as many social media sites as possible, you'll ultimately face flaws. By doing this, you're instilling all the power into active users who have to first go out of their way to find your product, to then go on a further link to interact with it or purchase it.
While this form of modern marketing can work for some, it heavily relies on luck as there are so many social media business accounts out there. It is now almost impossible to stand out in the huge crowd on either Facebook, Instagram or Twitter. Your marketing plan needs to be more out of the box than just assuming the creation of a social media account will fix your problems.
If you have a strong marketing strategy that you believe in which involves social media, then have confidence in yourself and go for it. But, the likelihood of making a big splash in the infinite pool of social networking sites is very slim at this current moment in time, because there is so much to compete with.
You have to try to stay motivated
By remaining positive, even after facing the odd setback, you'll have a much better chance of achieving your long and short term goals. Any small business owner will have to go through some tricky patches from time to time, so it doesn't have to be treated as the end of the world if a few things start going a little bit pear shaped.
If you're not feeling well within yourself, it'll most probably reflect in your work too, so clear your mind and be ready for the challenge of work each day. Making sure you're healthy is a great way to bring back some positivity after you've been lacking it for a while. Your well-being should come before anything else, so do the right things and maintain a healthy active lifestyle. It isn't always easy to keep yourself motivated during times of struggle, so if your business is facing financial difficulties for example, you may lose the will to keep pouring your heart into your venture.
Things can easily go wrong
Being your own boss may sound like great fun, but it also leaves you in a position where there is nobody to fall back on when things start to go wrong. The truth of the matter is that running a business venture of your own can be risky business and even leave you in a great deal of debt, due to unpaid bank loans and assets on the line. You don't want to be losing your home or your car because your business has failed, so try to avoid that sort of situation and only create a business if you truly believe that your idea is good enough. If you're not filling a gap in the market, you're unlikely to make it as a successful business in this day and age.
Making mistakes can be costly
There are many different ways for a small or independent business to be wasteful with its hard-earned money and avoiding doing so can be one of the biggest early challenges in a business owners' career. The truth is it takes time to develop a high level of business savviness and the deeper you get into your career, the more you'll know. You can always read further to brush up on your business skills, but by making mistakes, you can often learn to not make them once again in the future. However, if you can avoid those said mistakes the first time round, you'll keep hold of your money, which is always the ideal outcome.
To summarise
Choosing to run a small business venture is most certainly risky. You will run the risk of losing money, time and other career opportunities by starting up a new firm of your own. Although, if you manage to develop a successful venture, which earns you a decent living, you'll likely feel very accomplished, rewarded and be the owner of something that brings you a great sense of pride.